Guide To Fishing At Canyon Lake In Southern CA
What to fish for...
Fishing for largemouth bass, smallmouth bass, spotted bass, channel catfish, black crappie, walleye, rainbow trout, white bass and striped bass at Canyon Lake in California.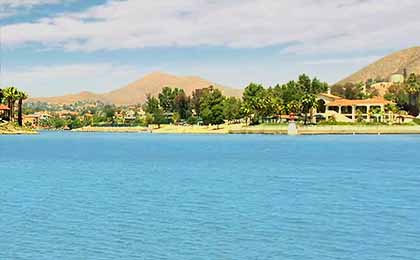 Nestled within a gated community, Canyon Lake is a 525 acre waterway, in Riverside County. The lake is home to bass, catfish, crappie, walleye, trout and striped bass. The lake is for use by property owners, and their guests with proper permits. A CA fishing license is required, and all CA fishing regulations apply.
Canyon Lake, nestled in the picturesque California countryside, offers anglers a delightful fishing experience surrounded by natural beauty. The lake is known for its diverse fish population, making it an attractive destination for fishing enthusiasts. One of the popular species found in Canyon Lake is the bass, including both largemouth and smallmouth bass. Anglers can test their skills and techniques while targeting these elusive game fish, known for their aggressive strikes and strong fighting abilities.
In addition to bass, Canyon Lake is home to other sought-after species such as rainbow trout, catfish, and panfish. Rainbow trout are stocked in the lake, providing ample opportunities for anglers to reel in these vibrant and tasty fish. Catfish, including channel catfish and flathead catfish, can be found in the lake's depths, enticing those seeking a challenging catch. Panfish, such as bluegill and crappie, also inhabit the lake, offering fun-filled fishing experiences for both novice and experienced anglers.
Boating is a popular activity at Canyon Lake, allowing anglers to explore the expansive waters and access prime fishing spots. The lake features boat ramps for launching various watercraft, including fishing boats, pontoon boats, and kayaks. Anglers can cruise along the calm waters, search for their desired catch, and enjoy the serene atmosphere of the lake while surrounded by stunning scenery.
Camping facilities at Canyon Lake provide an opportunity to extend the fishing adventure and immerse oneself in the tranquility of nature. The lake offers campgrounds equipped with amenities suitable for tent camping and RVs, accommodating a range of camping preferences. Setting up camp near the lake provides easy access to fishing spots, allowing anglers to maximize their time on the water and enjoy the peaceful ambiance of the surroundings.
Beyond fishing, Canyon Lake offers a host of recreational activities for visitors. The lake is ideal for swimming, water skiing, and jet skiing, providing fun-filled moments for water enthusiasts. The nearby hiking trails and scenic vistas offer opportunities for nature walks and photography. With its abundant fish species, boating options, camping facilities, and various recreational activities, Canyon Lake is a prime destination for anglers and outdoor enthusiasts looking for a memorable fishing experience in California.
Primary fish species residing in Canyon Lake.
Click images for fishing tips and details about each species.
Canyon Lake Amenities
Marina: NO
Boat Rental: NEARBY
Boat Launch Ramp: YES
Campgrounds: YES
RV Hookups: YES
Lodging: NEARBY
Convenience Store: NEARBY
Bait & Tackle: NEARBY
Restaurant: YES
Today's Weather & Forecast
Public Boat Launch Ramps & Landings
East Port Park Boat Ramp
Located mid lake, on the far east tip of the lake, off Goetz Road, this is a two-lane, concrete ramp with a dock and plenty of paved parking.
Holiday Harbor Boat Launch Ramp
Located mid lake, on the north side of the lake, off Village Way Drive, this is a multi-lane, concrete ramp with a dock and plenty of paved parking.
Click here for a California fishing license.
Campgrounds & RV Parks Nearby
Happy Camp Campground - 951 246-1765
Canyon Lake CA Map - Fishing & Camping Areas
Lake Video
Contact Information
Canyon Lake
Canyon Lake Property Owners Association
1512 Railroad Canyon Rd
Canyon Lake, CA 92587
951 244-6841
Fishing lakes in each state.
Canyon Lake in Southern California.
Private community fishing in southwest CA.
Fishing at Canyon Lake, in California.