Fishing At Lake Nacimiento In Central CA
What to fish for...
Guide to fishing for largemouth bass, smallmouth bass, channel catfish, white catfish, black crappie, white crappie, rainbow trout, bluegill, green sunfish, redear sunfish and white bass at Lake Nacimiento in California.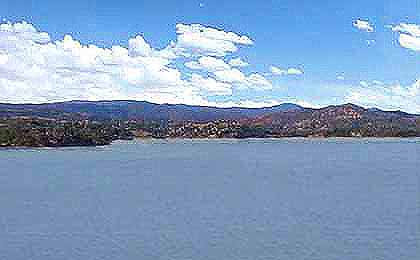 With over 160 miles of shoreline, there is room for plenty of anglers at Lake Nacimiento. Known for its healthy population of white bass, Nacimiento also offers decent fishing for bass, catfish, crappie, trout and sunfish. This 5,400 acre lake, located near the west coast in San Luis Obispo County, is a favorite of kayak anglers as well others fishing from a broad range of boats.
The purpose of this page is to deliver an overview of this lake, the fishing options, and area amenities. Our goal is to provide info to first time visitors, as well as beginner and novice anglers. We gathered details from personal experience, numerous trusted websites that each offer select bits of information, and videos of fishing activity on the lake. These websites include the California Department of Fish and Wildlife, marinas at the lake, campgrounds, boat rental agencies and others. By consolidating this information to one page it allows visitors to see the entire picture, all in one place.
Lake Video
Nestled in the stunning Central Coast region of California, Lake Nacimiento is a popular destination for fishing enthusiasts. The lake is known for its abundant fish populations, offering anglers a rewarding experience. A variety of fish species can be found in Lake Nacimiento, including largemouth and smallmouth bass, catfish, crappie, bluegill, and rainbow trout. Whether you're a seasoned angler or a beginner, the lake provides ample opportunities to reel in some impressive catches.
Apart from fishing, boating, and camping, Lake Nacimiento offers additional recreational activities for visitors. The lake's clear waters are ideal for swimming, and designated swimming areas provide a safe and enjoyable experience. The surrounding hills and trails are perfect for hiking, mountain biking, and nature walks, offering stunning views of the lake and the surrounding landscape. Wildlife enthusiasts can spot a variety of birds, deer, and other wildlife species that call the area home.
Lake Nacimiento in California is a prime destination for fishing, boating, camping, and outdoor enthusiasts. With its diverse fish species, ample boating opportunities, and scenic camping areas, the lake provides an ideal setting for memorable outdoor experiences. Whether you're casting your line, cruising on the water, exploring hiking trails, or simply unwinding by the lakeside, Lake Nacimiento offers something for everyone to enjoy amidst the natural beauty of the Central Coast region.
Multiple access points around the lake create plenty of opportunities for fishing from shore. Well known for quality bass fishing this is a favorite of bass tournament anglers.
Primary fish species residing in Lake Nacimiento.
Click images for fishing tips and details about each species.
Lake Nacimiento Amenities
Marina: YES
Boat Rental: YES
Boat Launch Ramp: YES
Campgrounds: YES
RV Hookups: YES
Lodging: YES
Convenience Store: YES
Bait & Tackle: NEARBY
Restaurant: NEARBY
Today's Weather & Forecast
Boating is a favored activity at Lake Nacimiento, and the lake offers plenty of space for watercraft of all sizes. Whether you have a motorized boat, kayak, canoe, or paddleboard, you'll find suitable launch ramps and marinas to access the water. Boaters can enjoy leisurely cruises, water sports, or find the perfect fishing spot away from the shore. The calm waters and scenic surroundings make boating on Lake Nacimiento a memorable experience.
Public Boat Launch Ramps & Landings
Asbury Creek Boat Ramp
Located in the western arm of the lake, south side, off Boat Launch Road, this is a one-lane, concrete ramp with limited parking.
Heritage Road Boat Launch Ramp
Located in the southeast corner of the lake, off Heritage Road, this is a three-lane, concrete ramp with a dock and paved parking.
Lake Nacimiento Resort Boat Ramp
Located in the northeast corner of the lake, off Resort Drive, this is a three-lane, concrete ramp with a dock and lots of paved parking.
Click here for a California fishing license.
For those seeking a camping adventure, Lake Nacimiento offers various camping options to suit different preferences. The lake features several campgrounds with both tent and RV sites. These campgrounds provide amenities such as picnic tables, fire rings, restrooms, and showers. Whether you prefer a lakeside camping spot or a more secluded area nestled in the oak-covered hills, Lake Nacimiento provides a serene environment for campers to relax, unwind, and enjoy the beauty of nature.
Campgrounds & RV Parks Nearby
Lake Nacimiento Resort Campground - 805 237-4924
Lake Nacimiento CA Map - Fishing & Camping Areas
Contact Information
Lake Nacimiento
Lake Nacimiento Resort
10625 Nacimiento Lake Dr
Bradley, CA 93426
805 237-4924
Fishing lakes in each state.
Lake Nacimiento in Central California.
Some of the best white bass fishing in west-central CA.
Fishing at Lake Nacimiento, in California.