Fishing At Lake Tahoe In Central CA
What to fish for...
Guide to fishing for largemouth bass, smallmouth bass, rainbow trout, brown trout, lake trout and kokanee salmon at Lake Tahoe in California.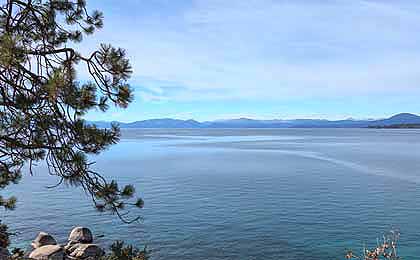 As the largest freshwater lake in California and Nevada, Lake Tahoe is unique in many ways. It is over 1,600 feet deep with a surface elevation just over 6,200 feet. Known for its natural beauty the lake is an attraction for tourists from all over the world. In winter the skiing is spectacular at ski runs overlooking the lake.
Lake Tahoe, located on the border of California and Nevada, is not only renowned for its stunning beauty but also offers exceptional fishing opportunities. The lake is home to a variety of fish species, making it a favorite destination for anglers. Among the popular species found in Lake Tahoe is the Mackinaw trout, also known as lake trout. These large and elusive fish can reach impressive sizes, providing a thrilling challenge for anglers seeking a trophy catch. Additionally, the lake is populated with species such as kokanee salmon, rainbow trout, brown trout, and smallmouth bass, ensuring a diverse and exciting fishing experience.
Boating is a popular activity on Lake Tahoe, allowing anglers to explore the expansive waters and access prime fishing spots. Whether you prefer motorized boats, sailboats, kayaks, or paddleboards, there are numerous rental options available to suit your boating preferences. With crystal-clear waters and breathtaking mountain scenery, boating on Lake Tahoe is a memorable experience in itself.
Camping enthusiasts will find a range of camping options near Lake Tahoe. From developed campgrounds with modern amenities to more rustic and secluded sites, there are choices to cater to every camping style. Wake up to the sound of nature, enjoy the fresh mountain air, and spend evenings around a campfire, creating lasting memories with family and friends. Camping near Lake Tahoe provides easy access to the fishing opportunities as well as the chance to explore the surrounding hiking trails and enjoy other outdoor activities.
It's important to note that Lake Tahoe has specific regulations and guidelines to preserve its natural beauty and protect its ecosystem. Anglers should familiarize themselves with the fishing regulations and obtain the necessary licenses before casting their lines. Additionally, boaters should be aware of boating safety rules and regulations to ensure a safe and enjoyable experience on the lake.
Overall, Lake Tahoe offers a remarkable fishing experience with its diverse fish species, boating options, and picturesque camping locations. Whether you're an avid angler seeking a trophy catch, a nature enthusiast looking to explore the scenic beauty, or a camping enthusiast wanting to immerse yourself in the great outdoors, Lake Tahoe provides a unique and unforgettable experience for all.
During the warmer months the lake attracts boating, sailing and fishing enthusiasts. With communities at the North Shore and the South Shore, as well as spotted locations around the entire lake, one can find restaurants, lodging, camping, horseback riding and many other tourist attractions all within minutes of the water.
Fishing At Lake Tahoe
Brown, rainbow and lake trout (mackinaw) plus Kokanee Salmon are the target of anglers in this pristine, cold water. The lake record brown trout is over 15 pounds, the lake record for mackinaw trout is over 37 pounds and the lake record for rainbow trout is over 11 pounds. Fishing guides and charter services are wise to consider when fishing at Lake Tahoe.
Primary fish species residing in Lake Tahoe.
Click images for fishing tips and details about each species.
Lake Tahoe Amenities
Marina: YES
Boat Rental: YES
Boat Launch Ramp: YES
Campgrounds: YES
RV Hookups: YES
Lodging: YES
Convenience Store: YES
Bait & Tackle: YES
Restaurant: YES
Lake Tahoe Fishing Reports, Forums & Blogs
Eagle Point Sportfishing Fishing Reports - 530 577-6834
Tahoe Angler Sportfishing Reports 530 542-2019
Camping & Campgrounds At Lake Tahoe
Campground By The Lake - 530 542-6096
Meeks Bay Resort & Marina - 530 525-6946
Tahoe Valley RV and Camping Resort - 530 541-2222
Lake Tahoe State Park
Located northeast of the lake, Lake Tahoe State Park is in Nevada and offers a variety of camping and outdoor activities.
Today's Weather & Forecast
Average high and average low, monthly temperatures at Lake Tahoe.
January 43° - 17°
February 44° - 18°
March 49° - 24°
April 54° - 27°
May 64° - 32°
June 72° - 37°
July 81° - 41°
August 80° - 40°
September 74° - 35°
October 63° - 28°
November 51° - 22°
December 43° - 17°
Fishing Boat Rentals
Camp Richardson Marina
Rentals: Pontoon boats and kayaks
530 542-6570
Tahoe Waves Boat Rental
Rentals: Pontoon boats
530 429-2837
Marinas
Camp Richardson Marina
1900 Jameson Beach Rd
South Lake Tahoe, CA 96158
530 542-6570
North Tahoe Marina
7360 N Lake Blvd
Tahoe Vista, CA 96148
530 546-8248
Obexer's Boat Company Marina
5300 W Lake Blvd
Homewood, CA 96141
530 525-7962
Ski Run Marina
900 Ski Run Blvd
South Lake Tahoe, CA 96150
530 544-9500
Tahoe Keys Marina & Yacht Club
2435 Venice Dr E
South Lake Tahoe, CA 96150
530 541-2155
Public Boat Launch Ramps & Landings
Lake Forest Boat Ramp
Located in the northwest corner of the lake, off Lake Forest Road, this is a three-lane, concrete ramp with a dock and paved parking.
Tahoe Vista Recreation Area and Boat Launch
Located north side of the lake, off National Avenue, this is a two-lane, concrete ramp with a dock. There is no parking for vehicles with boat trailers.
Meeks Bay Resort & Marina - 530 525-6946
Obexer's Boat Ramp - 530 525-7962
Click here for a California fishing license.
Lake Tahoe CA Map - Fishing & Camping Areas
Lake Video
Contact Information
Lake Tahoe
City Of South Lake Tahoe
Parks & Recreation
1180 Rufus Allen Blvd
South Lake Tahoe, CA 96150
530 542-6197
Fishing lakes in each state.
Lake Tahoe in Central California.
World-class lake trout, rainbow trout, brown trout and kokanee salmon fishing in east-central CA.
Fishing at Lake Tahoe, in California.