Guide To Great Trout Fishing Locations In Colorado
All about fishing for rainbow, cutthroat, brook, brown and lake trout in area lakes and streams.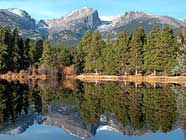 The 5 primary trouts are the rainbow, brook, brown, cutthroat and lake trout. Browns are considered the most difficult to catch and brookies are the easiest. Pure cold water is key to survival of the trouts. Watch trout fishing videos to see trout anglers in action.
Colorado is renowned for its world-class trout fishing, offering anglers the opportunity to target a variety of trout species in both its pristine lakes and picturesque rivers. The state's waters are home to several trout species, including rainbow trout, brown trout, cutthroat trout, brook trout, and lake trout.
Rainbow trout are one of the most abundant and popular trout species in Colorado. They can be found in lakes, reservoirs, and rivers throughout the state. Known for their beautiful colors and acrobatic fights, rainbow trout provide thrilling angling experiences. Whether fly fishing in the iconic South Platte River or casting in scenic mountain lakes like Blue Mesa Reservoir, anglers have ample opportunities to pursue rainbow trout in Colorado's waters.
Brown trout are another prized species for trout anglers in Colorado. These cunning fish are known for their elusive nature and can be found in both lakes and rivers. Renowned locations like the Fryingpan River, the Gunnison River, and the Roaring Fork River provide excellent habitats for brown trout. Anglers often employ various techniques, including nymphing, dry fly fishing, and streamer fishing, to entice these wary and often large brown trout.
Colorado's rivers, such as the Arkansas River, the Colorado River, and the Yampa River, offer exceptional opportunities for anglers to target native cutthroat trout. Cutthroat trout are highly valued for their beauty, historical significance, and the challenge they present to anglers. These trout are often caught using dry flies or nymphs in swift-moving, crystal-clear streams, providing a thrilling experience for those who appreciate the art of fly fishing.
In terms of state records, Colorado has recognized impressive catches throughout the years. The current state record for rainbow trout is over 19 pounds, while the brown trout record stands at around 30 pounds. These records serve as a testament to the trophy-sized trout that can be found in Colorado's waters, motivating anglers to test their skills and potentially land a record-breaking fish.
Colorado's trout fishing opportunities are a haven for anglers of all skill levels, from beginners to seasoned experts. Whether casting lines in serene mountain lakes or wading in rushing rivers, the state's diverse trout species and stunning fishing locations make it a premier destination for trout enthusiasts.

Trout Lakes
Adobe Creek Reservoir, Aurora Reservoir, Blue Mesa Reservoir, Carter Lake, Chambers Lake, Chatfield Reservoir, Cherry Creek Reservoir, Crystal Creek Reservoir, Dillon Reservoir, Echo Canyon Reservoir, Eleven Mile Reservoir, Grand Lake, Green Mountain Reservoir, Gross Reservoir, Horsetooth Reservoir, Lake Granby, Lake Isabel, Lake Pueblo, Lake San Cristobal, Lathrop State Park, McPhee Reservoir, Morrow Point Reservoir, Navajo Reservoir, North Delaney Lake, North Sterling Reservoir, Pueblo Reservoir, Quincy Reservoir, Rampart Reservoir, Ridgway Reservoir, Rifle Gap Reservoir, Ruedi Reservoir, Shadow Mountain Lake, Sloan Lake, Spinney Mountain Reservoir, Stagecoach Reservoir, Standley Lake, Taylor Park Reservoir, Twin Lakes Reservoir, Williams Fork Reservoir, Wolford Mountain Reservoir are some of the major lakes in CO and all have a trout population.
Rivers & Streams
Most streams, creeks and rivers in the state provide some level of trout fishing. Some of the top destinations include Blue River, Frying Pan River, Gore Creek, North Platte River, Rio Grande, Roaring Fork, South Platte River, The Animas River, The Arkansas River Headwaters, The Colorado River, The Dream Stream, The Gunnison River and The Yampa River.
Trout Species In The State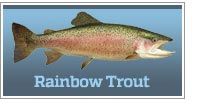 World record: 42 lbs 2 oz
State Record: 19 lbs 10 oz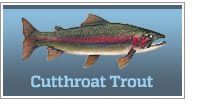 World record: 41 lbs 0 oz
Native Cutthroat
State Record: 16 lbs 0 oz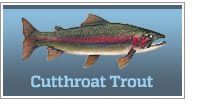 World record: 41 lbs 0 oz
Snake River
State Record: 17 lbs 2.6 oz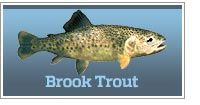 World record: 14 lbs 8 oz
State Record: 7 lbs 10 oz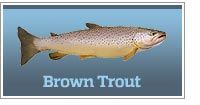 World record: 40 lbs 4 oz
State Record: 30 lbs 8 oz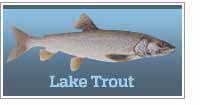 World record: 72 lbs 0 oz
State Record: 50.35 lbs
Click the images and links above for species details.
Select the best trout lures and baits
Trout spinners, crankbaits and jerkbaits work well for shallow, reasonably active fish. Salmon eggs, worms and prepared baits will work at virtually all depths.
The state record rainbow trout came out of Morrow Point Reservoir.
Twin Lakes produced the state record native cutthroat trout.
Blue River produced the state record Snake River cutthroat trout.
The state record brook trout was caught from Upper Cataract Lake.
The state record brown trout came form Roaring Judy Ponds.
Blue Mesa Reservoir served up the state record lake trout (Mackinaw).
The state record golden trout was taken from Kelly Lake.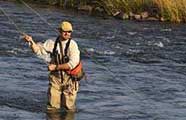 For information regarding trout stocking in Colorado, visit the Colorado Division of Wildlife website. Also readthis article - Native Colorado Cutthroat Trout Fishing.
---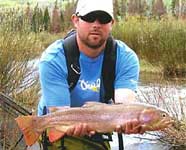 Aaron Grondin caught this excellent trout at Steamboat Springs, Colorado.
---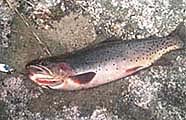 This 19" cutthroat trout was caught by Gary Cudmore. Here's how. I practice catch and release and find the Cutthroat trout to be a beautiful looking fish native to Colorado. I live at Copper Mountain Colorado and start many of my days with a 1-2 hour fishing session. I fish the Clinton Gulch reservoir about 10 minutes from Copper Mountain. This reservoir is very cold and about 230 feet deep and does get heavy fishing pressure.Most fishermen either use bait or flies- I prefer lures and ultra light tackle for a couple of reasons.It is a more active style of fishing than still fishing with bait and with lures I can catch and release without harming the fish. I use a 3/8 ounce silver spoon, fairly big for the ultrahigh tackle but if you want to catch big fish you need to use a big lure.The fish in the picture is 19\", just 1" short of receiving a Master Angler certificate from Colorado DOW, the requirement is 20". Please enjoy the photo of a handsome male Cutthroat that was released to be caught another day.
---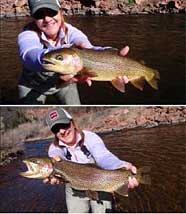 Jamie Jackson, of Longmont CO., says she is a proud girly girl that is a member of the "20/20 club".
Jamie caught this nice rainbow trout and cutthroat trout both from the Frying Pan River, in Basalt Colorado - Spring break 2015.
---
Additional trout information
Trout Conservation
Trout Unlimited
Trout locations and info, by state.
Learn the habits of a trout
Trout are considered some of the most difficult fish to fool. Once you locate Colorado waters with a population of trout, the challenge becomes identifying trout flies and lures that will trigger strikes. Visit the trout fishing page to learn more about the habitat each of the trouts prefer.
COLORADO