Guide To Fishing At Lake Zoar
AKA: Zoar Lake, Zoar Reservoir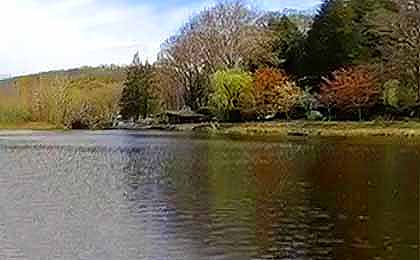 Populated with a wide variety of fish species, Lake Zoar is a 910-acre lake in the southwest corner of Connecticut. There are 23 miles of shoreline to explore while chasing bass, catfish, crappie, trout, perch, pike and several sunfish species.
Lake Zoar, located in southwestern Connecticut, is a popular destination for fishing enthusiasts seeking a diverse fishery and a peaceful outdoor experience. Spanning over 900 acres, this picturesque lake offers anglers ample opportunities to catch a variety of fish species.
One of the popular fish species found in Lake Zoar is bass. Anglers can target both largemouth bass and smallmouth bass, which thrive in the lake's fertile waters. The lake's structure, including submerged rocks, fallen trees, and weed beds, provides ideal habitat for bass to thrive. Anglers often employ various techniques such as casting with plastic worms, jigs, or crankbaits to entice these prized game fish.
In addition to bass, Lake Zoar is also home to other popular species including walleye, pike, and panfish such as crappie, perch, and sunfish. Anglers can enjoy the thrill of catching walleye during their peak feeding times, typically at dusk and dawn. Pike, known for their voracious appetite, can also provide exciting action on the lake. Panfish angling can be rewarding for both adults and children, offering a fun and accessible fishing experience.
Boating is a popular activity on Lake Zoar, allowing anglers to explore different areas of the lake and access prime fishing spots. The lake permits both motorized and non-motorized boats, providing flexibility for anglers to choose their preferred mode of transportation. Anglers can enjoy boating and fishing simultaneously, making it a convenient option for a day on the water.
Camping facilities are not available directly at Lake Zoar, but there are nearby state parks and campgrounds where anglers can find camping amenities. These locations offer a range of accommodations such as tent sites, RV hook-ups, picnic areas, and access to hiking trails, ensuring a comfortable and enjoyable camping experience during your fishing trip.
When planning a fishing trip to Lake Zoar, it's important for anglers to familiarize themselves with the fishing regulations specific to the lake, including size and creel limits for different fish species. Adhering to these regulations helps maintain the health of the fish population and supports sustainable fishing practices.
Lake Zoar in Connecticut offers anglers a scenic and rewarding fishing experience, with its diverse fish species, boating opportunities, and surrounding natural beauty. Whether you're targeting bass, walleye, or panfish, Lake Zoar provides a tranquil setting for anglers to enjoy a memorable fishing adventure in the heart of Connecticut's countryside.
Fishing from the bank is popular here, as well as fishing from canoes, kayaks and fishing boats. Be aware of speed limits for boating here. Access is easy via parks and public facilities located around the lake. Kettletown State Park, which closes from early September to mid May annually, and Jackson Cove Park (day-use only) is closed from November 15th to March 15th. Both parks are located on the northeast side of the lake.

What to fish for...
Fishing for largemouth bass, smallmouth bass, channel catfish, white catfish, black crappie, walleye, rainbow trout, brook trout, bluegill, green sunfish, pumpkinseed sunfish, redbreast sunfish, rock bass, white perch, yellow perch and northern pike at Lake Zoar in Connecticut.
Primary fish species residing in Lake Zoar
Click images for fishing tips and details about each species.
Lake Zoar Amenities
Marina: YES
Boat Rental: YES
Boat Launch Ramp: YES
Campgrounds: YES
RV Hookups: YES
Lodging: NEARBY
Convenience Store: YES
Bait & Tackle: NO
Restaurant: YES
Today's Weather & Forecast
Public Boat Launch Ramps & Landings
Lake Zoar Boat Launch Ramp
Located mid lake, northeast side, off Scout Road, this is a two-lane, concrete ramp with a dock and paved parking.
Click here for a Connecticut Fishing License.
Campgrounds & RV Parks Nearby
Kettletown State Park Campground - 203 264-5678
Lake Zoar CT Map - Fishing & Camping Areas
Lake Video
Contact Information
Lake Zoar
Kettletown State Park Campground
1400 Georges Hill Rd
Southbury, CT 06488
203 264-5678
Fishing lakes in each state.
Lake Zoar in Connecticut.
CONNECTICUT


Information about fishing lakes in Connecticut
Fishing for bass, catfish, crappie, trout, perch, pike and sunfish, at Lake Zoar, in southwest CT.
Fishing on Lake Zoar.