Fishing At Newton Lake
AKA: Newton Reservoir
What to fish for...
Guide to fishing for largemouth bass, channel catfish, black crappie, bluegill and white bass at Newton Lake in Illinois.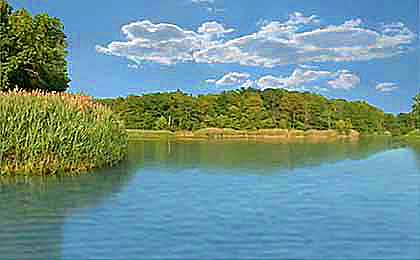 This 1,700 acre lake is located next to the Newton Power Station in southeast Illinois. Newton Lake offers a variety of fishing opportunities as well as other boating activities.
Newton Lake, in Illinois, is a true angler's paradise. Situated in Jasper County, this expansive reservoir offers exceptional fishing opportunities and a serene natural environment. The lake is renowned for its diverse fish species, attracting fishermen from far and wide.
Bass fishing is a highlight at Newton Lake, which is present in abundance. The lake's healthy bass population ensures an exciting angling experience for enthusiasts of all skill levels. Anglers can enjoy the thrill of reeling in trophy-sized bass and testing their fishing techniques against these feisty fighters.
In addition to bass, Newton Lake boasts thriving populations of other popular fish species. Bluegill, crappie, white bass, sunfish, and catfish can all be found in the lake's waters. Bluegill and sunfish provide excellent opportunities for family-friendly fishing outings, as these smaller species are plentiful and eager to bite. Crappie, known for their delicious taste and challenging nature, attract anglers seeking a rewarding fishing experience. White bass, with their strong fighting ability, provide excitement for those looking for a spirited battle on the water. Catfish, including channel catfish and flathead catfish, offer a unique and thrilling angling experience for those targeting these bottom-dwelling predators.
Newton Lake is not only a fishing haven but also an ideal destination for boating enthusiasts. Its expansive size allows for various water activities, such as cruising, water skiing, and pontoon boating. The calm waters and picturesque surroundings make boating on Newton Lake a memorable experience. Whether you prefer a leisurely ride or an adrenaline-filled adventure, the lake offers something for everyone.
For those who want to extend their stay, Newton Lake provides camping facilities. The lake features well-maintained campgrounds that offer a peaceful and scenic setting. Camping at Newton Lake allows visitors to fully immerse themselves in the beauty of nature, with opportunities to enjoy fishing from the shore or simply unwind in the tranquil surroundings. The campgrounds provide amenities such as picnic areas, hiking trails, and fishing docks, ensuring a comfortable and enjoyable camping experience.
In summary, Newton Lake in Illinois is a fishing paradise that caters to anglers of all levels of expertise. With its abundant bass, bluegill, crappie, white bass, sunfish, and catfish populations, the lake offers diverse fishing opportunities. Additionally, the expansive waters of Newton Lake provide a perfect setting for boating activities, and the campgrounds offer a serene retreat for those looking to immerse themselves in nature. Whether you're a fishing enthusiast, a boating lover, or a nature enthusiast, Newton Lake promises an unforgettable outdoor experience.
Pontoon boats, fishing boats, pleasure boats, kayaks and canoes are all welcome, but a 25-horsepower limit is in force for all boats (boats with larger engines are allowed on the lake but must be powered with alternative motors). Bass, catfish and white bass are the primary target of anglers, but crappie and bluegill are often cooperative as well. With 52 miles of shoreline there is plenty of water for everyone to fish. Access to the shoreline for bank fishing is somewhat limited. Try areas around boat ramps or the Newton Lake Conservation Area.

Primary fish species residing in Newton Lake
Click images for fishing tips and details about each species.
Newton Lake Amenities
Marina: NO
Boat Rental: YES
Boat Launch Ramp: YES
Campgrounds: NO
RV Hookups: NO
Lodging: NEARBY
Convenience Store: NO
Bait & Tackle: NEARBY
Restaurant: NEARBY
Today's Weather & Forecast
Public Boat Launch Ramps & Landings
Newton Lake East Boat Launch Ramp
Located mid lake, east side, off N 500th Street, this is a two-lane, concrete ramp with a dock and paved parking.
Newton Lake West Boat Launch Ramp
Located in the southwest section of the lake, off E 300th Avenue, this is a two-lane, concrete ramp with a dock and paved parking.
Click here for a Illinois Fishing License.
No Campgrounds Or RV Parks Nearby
Newton Lake IL Map - Fishing & Camping Areas
Lake Video
Contact Information
Newton Lake
Newton Lake State Fish & Wildlife Area
3490 E. 500th Avenue
Newton, IL 62448
618 783-3478
Fishing lakes in each state.
Newton Lake in Illinois.
ILLINOIS


Information about fishing lakes in Illinois
Newton Lake offers bass, catfish and white bass fishing in southeast Illinois.
Fishing on Newton Lake, in IL.