Fishing At Waconda Lake
AKA: Glen Elder Reservoir
What to fish for...
Guide to fishing for largemouth bass, smallmouth bass, channel catfish, white crappie, walleye, bluegill and white bass at Waconda Lake in Kansas.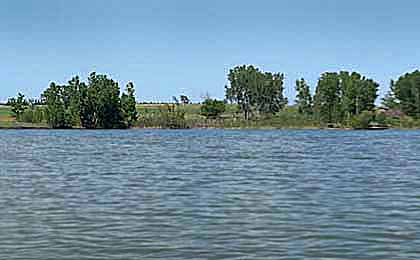 Cawker City, Glen Elder State Park and the town of Glen Elder wrap around the northern borders of Waconda Lake, creating easy access for boating fishing and camping. Outdoor enthusiasts enjoy this 12,600-acre lake, in the north-central part of the state.
The purpose of this page is to deliver an overview of this lake, the fishing options, and area amenities. Our goal is to provide info to first time visitors, as well as beginner and novice anglers. We gathered details from personal experience, numerous trusted websites that each offer select bits of information, and videos of fishing activity on the lake. These websites include the Kansas Department of Wildlife & Parks, marinas at the lake, campgrounds, boat rental agencies and others. By consolidating this information to one page it allows visitors to see the entire picture, all in one place.
Lake Video
Waconda Lake, located in north-central Kansas, is a popular fishing destination known for its beautiful scenery and abundant fish populations. Anglers are drawn to Waconda Lake for its excellent fishing opportunities and the chance to catch a variety of popular fish species.
Both largemouth and smallmouth bass can be found in Waconda Lake, providing anglers with exciting bass fishing experiences. The lake's structure, including submerged vegetation, rocky points, and fallen trees, offers ideal habitat for bass. Anglers can target these species using a variety of techniques such as casting with soft plastics, crankbaits, or topwater lures. Waconda Lake is known for producing quality-sized bass, making it a favorite spot for bass enthusiasts.
Walleye is another highly sought-after species in Waconda Lake. Anglers can target walleye by trolling with crankbaits, casting with jigs, or drifting with live bait along the lake's drop-offs, rocky structures, or points. Successful walleye fishing at Waconda Lake often requires understanding the lake's structure and employing techniques that appeal to these predator fish. Landing a walleye can be a thrilling experience for any angler.
Channel catfish are abundant in Waconda Lake, providing anglers with excellent catfishing opportunities. These bottom-dwelling fish can be targeted using a variety of baits such as cut bait, stink bait, or live bait. Fishing near the lake's deeper areas, channels, or drop-offs can increase the chances of landing a catfish. Waconda Lake's catfish population offers both quantity and quality catches, making it an ideal destination for catfish enthusiasts.
White crappie, bluegill, and white bass are additional popular species found in Waconda Lake. Anglers can target white crappie by vertical jigging near submerged structures, brush piles, or docks. Bluegill, known for their aggressive nature, offer anglers enjoyable panfishing opportunities. White bass can be caught by casting with jigs, spoons, or crankbaits near submerged structures or in open water where schools of baitfish are present. These panfish species add variety to the fishing experience at Waconda Lake.
Explore more than 100 miles of shoreline in search of largemouth, smallmouth and white bass, plus crappie, catfish and walleye. Visit Glen Elder Marina for camping and fishing supplies as well as convenience items, boat slips, fuel and live bait. Four major campgrounds offer campsites and RV hookups, as well as areas for swimming and fishing from the bank.

Primary fish species residing in Waconda Lake
Click images for fishing tips and details about each species.
Glen Elder Reservoir Amenities
Marina: YES
Boat Rental: NO
Boat Launch Ramp: YES
Campgrounds: YES
RV Hookups: YES
Lodging: YES
Convenience Store: YES
Bait & Tackle: YES
Restaurant: YES
Today's Weather & Forecast
Waconda Lake also offers amenities for boating and camping, allowing anglers to make the most of their fishing trips. Anglers can explore the lake's waters, navigate with ease, and access various fishing spots. The lake's campgrounds and recreational facilities provide convenient options for anglers looking to extend their stay and fully enjoy the outdoor experience.
Public Boat Launch Ramps & Landings
Glen Elder Marina Boat Launch Ramp
Located in the northeast section of the lake, off State Route 128, this is a two-lane, concrete ramp with paved parking.
Glen Elder Wildlife Area Boat Launch Ramp
Located mid lake, on the north side of the lake, off US Highway 24, this is a one-lane, concrete ramp with gravel parking.
Northeast Boat Launch Ramp
Located in the northeast section of the lake, off US Highway 24, this is a two-lane, concrete ramp with a dock and gravel parking.
Southeast Boat Launch Ramp
Located in the southeast section of the lake, off 1 Road, this is a one-lane, concrete ramp with gravel parking.
Click here for a Kansas Fishing License.
Campgrounds & RV Parks Nearby
Kanza Campground - 785 545-3345
Pawnee Campground - 785 545-3345
Kaw Campground - 785 545-3345
Arikaree Campground - 785 545-3345
Waconda Lake KS Map - Fishing & Camping Areas
Contact Information
Waconda Lake
Glen Elder State Park
2131 180 Rd
Glen Elder, KS 67446
785 545-3345
Fishing lakes in each state.
Glen Elder Reservoir in KS
KANSAS


Fishing for walleye, white bass and catfish in north-central KS.
Waconda Lake, in Kansas.