Guide To Great Trout Fishing Locations In Maine
All about fishing for rainbow, brook, brown and lake trout in local lakes and streams.
Trout Waters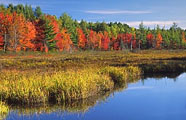 With all the clear cold water in Maine, it's no wonder that you can find trout in most waters. Virtually all streams and rivers contain trout. Major lakes with a healthy trout population include Allagash Lake, Androscoggin Lake, Aziscohos Lake, Baskahegan Lake, Big Lake, Chamberlain Lake, China Lake, Chesuncook Lake, Cobbosseecontee Lake, Damariscotta Lake, Eagle Lake, East Grand Lake, Flagstaff Lake, Graham Lake, Grand Lake Matagamon, Great Pond, Lobster Lake, Long Lake, Messalonskee Lake, Millinocket Lake, Moosehead Lake, Mooselookmeguntic Lake, Munsungan Lake, Pemadumcook Lakes, Portage Lake, Rangeley Lake, Richardson Lakes, Sebago Lake, Sebec Lake, Schoodic Lake, Square Lake, St Froid Lake, Thompson Lake, Webb Lake and West Grand Lake. Ice fishing for trout is an option ant numerous lakes when winter sets in on Maine.

Trout Species In The State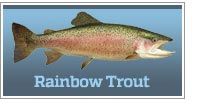 World record: 42 lbs 2 oz
State Record: 13 lbs 9 oz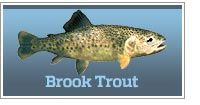 World record: 14 lbs 8 oz
State Record: 9 lbs 2 oz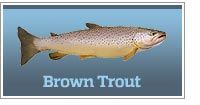 World record: 40 lbs 4 oz
State Record: 23 lbs 5 oz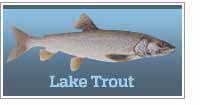 World record: 72 lbs 0 oz
State Record: 39 lbs 2 oz
Click the images and links above for species details.
Select the best trout lures and baits
Trout spinners, crankbaits and jerkbaits work well for shallow, reasonably active fish. Salmon eggs, worms and prepared baits will work at virtually all depths.
Maine State Record Trout
The state record rainbow trout was caught from Quarry Pond.
The state record blueback trout was taken out of Pushineer Pond.
The state record brook trout was taken out of Mousam Lake.
The state record brown trout came from Square Pond.
The state record lake trout was caught in Richardson Lake.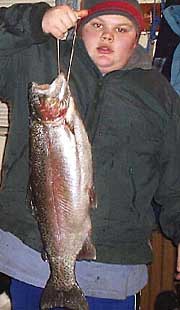 Visit the Maine Department of Inland Fisheries & Wildlife website for information on trout stocking in Maine.
The 5 primary trouts are the rainbow, brook, brown, cutthroat and lake trout. Browns are considered the most difficult to catch and brookies are the easiest. Pure cold water is key to survival of the trouts.
Watch trout fishing videos to see trout anglers in action.
Additional trout fishing information
Trout Conservation
Trout Unlimited
Trout locations and info, by state.
The habits of trout.
Trout are considered some of the most difficult fish to fool. Once you locate Maine waters with a population of trout, the challenge becomes identifying trout flies and lures that will trigger strikes. Visit the trout fishing page to learn more about the habitat each of the trouts prefer.
MAINE