Guide To Michigan Crappie Fishing
Fishing for white and black crappie.
Michigan offers excellent opportunities for crappie fishing, with two primary species that attract anglers: black crappie and white crappie. These popular gamefish can be found in various lakes, reservoirs, and rivers throughout the state. Black crappie are more prevalent in Michigan and can be found in abundance in waters such as Lake St. Clair, Houghton Lake, and Lake Erie. White crappie, though less common, can also be found in certain lakes and rivers across the state.
Crappie are known for their delicious flesh and willingness to bite, making them a favorite target for many anglers. Both black crappie and white crappie can be caught using a variety of techniques, including casting with small jigs, using live bait such as minnows or worms, or trolling with crankbaits or spinnerbaits. Anglers often target crappie near submerged structures, such as fallen trees, brush piles, or weed beds, where these fish seek cover and prey.
Spring and fall are particularly productive seasons for crappie fishing in Michigan. During the spring, crappie move into shallower water to spawn, making them more accessible to anglers. In the fall, crappie become active again as they prepare for the colder months ahead. However, crappie fishing can still be rewarding throughout the year, with different techniques and locations varying based on the season and water conditions.
When targeting crappie in Michigan, it's important to be aware of local fishing regulations and size limits. Respecting bag limits and practicing selective harvest can help ensure the sustainability of crappie populations for future generations of anglers.
Michigan's crappie fishing offers a thrilling and rewarding experience for anglers of all skill levels. Whether you prefer the challenge of locating black crappie or the pursuit of white crappie, the state's diverse waters provide ample opportunities to enjoy this popular sport. So grab your fishing gear, explore the lakes and rivers of Michigan, and get ready for an exciting crappie fishing adventure in the Great Lakes State.
Crappie Waters In MI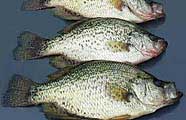 Locals are fortunate to have a number of lakes with healthy schools of crappie. They include Black Lake, Brevoort Lake, Burt Lake, Elk Lake, Fletcher Pond, Hamlin Lake, Higgins Lake, Houghton Lake, Indian Lake, Lake Charlevoix, Lake Erie, Lake Gogebic, Lake Michigamme, Lake Michigan, Lake St Clair, Lake Superior, Mullett Lake, Sanford Lake, Torch Lake and Wixom Lake. Catching crappie while ice fishing is popular at many lakes throughout the state. In addition you will find crappie in private ponds, a few rivers, park lakes and some of the smaller lakes across Michigan.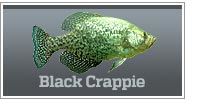 World record: 6 lbs 0 oz
State Record: 4.12 lbs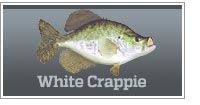 World record: 5 lbs 3 oz
State Record: 3.39 lbs
Click the images and links above for species details.
Top 5 Crappie Fishing Lures For Michigan
Crappie jigs work well in water from 2' to 40' deep, and are the most popular artificial lure for crappie ever. When crappie are shallow, spinners, small crankbaits and underspins are the often very productive. As they move deeper, spoons are among the top producers if the crappie are active. Review details for the best crappie rig options. Understanding the seasonal movements of crappie can enhance your chances of using these lures in the ideal locations.
The state record white crappie came from Stony Creek Lake.
The state record black crappie was taken from Lincoln Lake.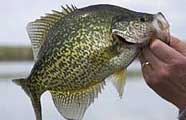 Crappie are actually a member of the sunfish family and can be found in many Michigan lakes. Crappie are known by many different local names. Paper mouth, goggleye, bridge perch, slabs and speckled perch, are just a few.
Crappie Fishing Basics Video
Check out crappie information, by state.
The life cycle of crappie.
The more you know about crappie, the easier it will be to locate and catch them in Michigan lakes and rivers. Visit the crappie fishing page for details about their seasonal migrations.
MICHIGAN