Michigan Salmon Fishing
Guide to fishing for Atlantic and coho salmon in MI.
Michigan is renowned for its exceptional salmon fishing, attracting anglers from near and far to experience the thrill of targeting these powerful and prized gamefish. The state offers opportunities to catch several salmon species, including Chinook salmon, coho salmon, Atlantic salmon, and pink salmon.
Chinook salmon, also known as king salmon, are the largest and most sought-after species among Michigan's salmon. They can reach impressive sizes, with some individuals weighing over 30 pounds. Chinook salmon are known for their aggressive nature and powerful runs, providing anglers with exhilarating battles. Lakes such as Lake Michigan, Lake Huron, and Lake Superior are prime destinations for Chinook salmon fishing, with the St. Joseph River, Manistee River, and Pere Marquette River being popular spots for river fishing.
Coho salmon, also referred to as silver salmon, are another prized salmon species in Michigan. Although smaller than Chinook salmon, they are known for their acrobatic jumps and strong fighting ability. Coho salmon are often caught in similar waters as Chinook salmon, particularly in the Great Lakes and their tributary rivers. They provide exciting angling opportunities throughout the fishing season.
Atlantic salmon, while less common than Chinook and coho salmon, can still be found in certain Michigan waters. These salmon are known for their aggressive strikes and feisty fights. Lake Huron and its tributaries, such as the Au Sable River, are known for their Atlantic salmon fisheries. Anglers specifically target these fish using techniques such as fly fishing or trolling.
Michigan's salmon fishing season varies depending on the specific species and the location. Anglers can enjoy salmon fishing from spring through fall, with peak seasons typically occurring in late summer and early fall. It is important for anglers to familiarize themselves with local fishing regulations, including size limits, bag limits, and specific rules for each salmon species.
Michigan's salmon fisheries offer thrilling opportunities for anglers of all levels to test their skills and reel in these impressive fish. Whether targeting Chinook salmon, coho salmon, Atlantic salmon, or even pink salmon, anglers can enjoy the challenge and excitement of salmon fishing in the beautiful lakes and rivers of Michigan.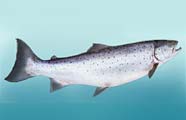 Salmon fishing in MI surrounds mostly the four great lakes of Lake Erie, Lake Huron, Lake Michigan and Lake Superior, plus Manistee Lake. The rivers feeding into these lakes are migration routes for salmon spawning and during the spawn may contain large numbers of salmon.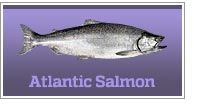 World record: 79 lbs 2 oz
State Record: 32.62 lbs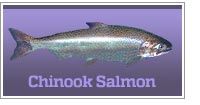 World record: 97 lbs 4 oz
State Record: 46.06 lbs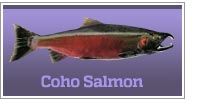 World record: 33 lbs 7 oz
State Record: 30.56 lbs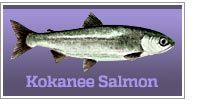 World record: 9 lbs 10 oz
State Record: 1.94 lbs
Click the images and links above for species details.
The state record atlantic salmon was taken from Lake Michigan.
The state record chinook (king) salmon came out of the Grand River.
The state record coho salmon was pulled from the Platte River.
The state record kokanee salmon came from the Clinton River.
Ernest Miller offers insight into salmon fishing for Pink Salmon in the Soo.
About The Pacific Salmon Family
Pacific Salmon are born in and remain in freshwater streams for the early years of life. The number varies by species. Afterward they migrate to the Pacific Ocean waters where they bulk up and prepare for their once in a lifetime spawning run up the freshwater stream where they were born. They will instinctively return to their birthplace, spawn and die. They are found in the streams which empty into the ocean, and adjoining ocean waters.
The preferred method for catching salmon is fly fishing. Depending on the activity level, salmon may be caught on wet or dry flies. For more details check here for articles about fly fishing.
Salmon Organizations
Michigan Salmon Fishing
The preferred method for catching salmon is fly fishing. Depending on the activity level, salmon may be caught on wet or dry flies, as well as a variety of other lures and baits.
Salmon fishing waters and information, by state.
Learn the life cycle of salmon
The more you know about the life cycle and seasonal migration of salmon, the more likely you are to be looking in the right area next time you visit Michigan salmon fishing waters. Visit the salmon fishing page for more information about the life cycle of the different species of salmon.
Contribute MI Salmon Fishing Knowledge
If you have information, articles or photos relating to salmon fishing in Michigan, which you would like to see published here, please submit them for consideration.
MICHIGAN


Best salmon fishing waters in Michigan!