Crappie Fishing In Montana
Guide to fishing for white and black crappie.
Montana may not be widely known for crappie fishing, but the state does offer opportunities to target both black crappie and white crappie in certain lakes and reservoirs. The purpose of this page is to share basic information about crappie fishing and crappie lakes in the state. Crappie are highly sought after by anglers for their tasty fillets and the challenge they present when it comes to locating and enticing these elusive fish.
Crappie Fishing Basics Video
When it comes to crappie fishing in Montana, Fort Peck Reservoir is one of the top destinations. This large reservoir provides suitable habitat for both black and white crappie. Anglers can find crappie near submerged structures such as submerged trees, brush piles, or rock formations. Using light tackle with small jigs, soft plastic baits, or live minnows can be effective for targeting crappie in Fort Peck Reservoir.
Other lakes and reservoirs where anglers can find crappie in Montana include Nelson Reservoir, Lake Frances, and Lake Elmo. These bodies of water offer the right conditions for crappie to thrive, such as ample forage and appropriate water temperatures.
Both black crappie and white crappie share similar characteristics, but they can differ in coloration and preferred habitats. Black crappie tend to have darker patterns and thrive in clearer waters, while white crappie are lighter in color and are often found in murkier or more turbid waters. Anglers targeting crappie in Montana should be prepared to adjust their tactics based on the specific species they are targeting and the conditions of the water body they are fishing.
The best time to fish for crappie in Montana is typically during the spring and fall, when the water temperatures are favorable and crappie are more active. Early morning or late evening can be particularly productive times to target crappie, as they tend to be more active during low-light periods.
It's important for anglers to review Montana's fishing regulations and obtain the necessary licenses before pursuing crappie fishing. Specific rules may apply to bag limits, size limits, and other regulations to ensure the sustainability of the crappie populations and the overall fishery.
While crappie fishing may not be as prevalent in Montana as trout or other species, dedicated anglers can still find success and enjoy the challenge of catching black crappie and white crappie in select lakes and reservoirs. With the right knowledge and tactics, anglers can experience the thrill of landing these prized panfish and relish their delicious fillets.
Crappie Waters In MT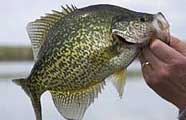 Due to the cold water and short growing season, crappie fishing in Montana is limited. A handful of major lakes with crappie include Bighorn Lake, Fort Peck Lake, Fresno Reservoir, Nelson Reservoir, Tiber Reservoir and Tongue River Reservoir. The bulk of the black crappie are located in the eastern half of the state. You may also find crappie in private ponds, rivers and some of the smaller lakes in the warmer sections of the state.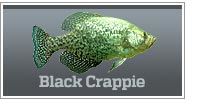 World record: 6 lbs 0 oz
State Record: 3.13 lbs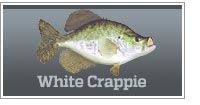 World record: 5 lbs 3 oz
State Record: 3.68 lbs
Click the images and links above for species details.
Top 5 Crappie Fishing Lures For Montana
Crappie jigs work well in water from 2' to 40' deep, and are the most popular artificial lure for crappie ever. When crappie are shallow, spinners, small crankbaits and underspins are the often very productive. As they move deeper, spoons are among the top producers if the crappie are active. Review details for the best crappie rig options. Understanding the seasonal movements of crappie can enhance your chances of using these lures in the ideal locations.
Montana State Record Crappie
The state record black crappie was caught from Tongue River Reservoir.
The state record white crappie came out of the Tongue River.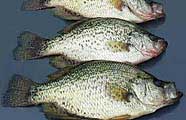 Small jigs, live minnows, small spinners and other small lures will catch crappie. Use light line (six pound or less) and work the baits slowly - especially in cold water.
Crappie are actually a member of the sunfish family and can be found in many Montana lakes. Crappie are known by many different local names. Paper mouth, goggleye, bridge perch, slabs and speckled perch, are just a few.
Check out crappie information, by state.
The life cycle of crappie.
The more you know about crappie, the easier it will be to locate and catch them in Montana lakes and rivers. Visit the crappie fishing page for details about their seasonal migrations.
MONTANA