Fishing At Hungry Horse Reservoir
AKA: Hungry Horse Lake
What to fish for...
Guide to fishing for bull trout and cutthroat trout at Hungry Horse Reservoir in Montana.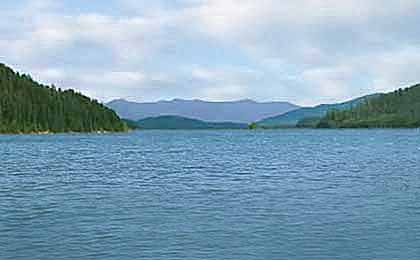 Tauting over 170 miles of shoreline, Hungry Horse Reservoir is a 23,500-acre lake located in the northwest part of the state, 5 miles east of Columbia Falls. Anglers come for the cutthroat and bull trout fishing.
The purpose of this page is to deliver an overview of this lake, the fishing options, and area amenities. Our goal is to provide info to first time visitors, as well as beginner and novice anglers. We gathered details from personal experience, numerous trusted websites, and videos of fishing activity on the lake. These websites include the Montana Fish, Wildlife And Parks Department, marinas at the lake, campgrounds, boat rental agencies and others. By consolidating this information to one page it allows visitors to see the entire picture, all in one place.
Lake Video
Hungry Horse Reservoir, located in northwestern Montana, is a renowned fishing destination known for its scenic beauty and excellent fishing opportunities. This reservoir covers approximately 23,000 acres and offers anglers a diverse range of fish species to target.
One of the popular fish species found in Hungry Horse Reservoir is the bull trout. Bull trout are highly prized for their size and fighting ability. Anglers can target bull trout using techniques such as trolling with large spoons or plugs or casting with streamer flies. Hungry Horse Reservoir is known for producing some trophy-sized bull trout, attracting anglers from near and far.
Rainbow trout is another sought-after species in Hungry Horse Reservoir. These feisty fish provide an exciting fishing experience and can be targeted using various methods such as fly fishing, spin fishing, or bait fishing. The reservoir is regularly stocked with rainbow trout, ensuring a consistent fishery and offering anglers the opportunity to catch these beautiful fish.
Kokanee salmon is also present in Hungry Horse Reservoir. These landlocked salmon offer anglers fast-paced action and are often targeted by trolling with downriggers or by casting with spoons or lures. The kokanee salmon population in the reservoir provides additional angling opportunities and adds to the diversity of fish species.
Anglers visiting Hungry Horse Reservoir should be aware of fishing regulations and obtain the appropriate licenses. It's important to follow catch limits, size restrictions, and specific rules regarding certain fish species to ensure the sustainability of the fish populations and the preservation of the reservoir's ecosystem.
With its stunning surroundings, diverse fish species, and excellent fishing and boating opportunities, Hungry Horse Reservoir offers anglers a memorable fishing experience in Montana. Whether it's targeting bull trout, pursuing rainbow trout, or casting for kokanee salmon, Hungry Horse Reservoir provides a picturesque and rewarding angling adventure amidst the beauty of Montana's landscapes.
Boating enthusiasts come for the scenic views and water sport activities. Numerous boat launch ramps and campgrounds are available to the public. Steep, rugged shorelines limit access for fishing from the bank except nearby camping areas.

Primary fish species residing in Hungry Horse Reservoir
Click images for fishing tips and details about each species.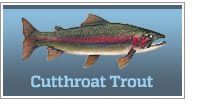 Hungry Horse Reservoir Amenities
Marina: NO
Boat Rental: NO
Boat Launch Ramp: YES
Campgrounds: YES
RV Hookups: NEARBY
Lodging: NEARBY
Convenience Store: NEARBY
Bait & Tackle: NEARBY
Restaurant: NEARBY
Today's Weather & Forecast
Boating is a popular activity on Hungry Horse Reservoir, and anglers can access the lake using the public boat ramps available. The reservoir allows for motorized boats, providing anglers with the opportunity to explore different areas of the reservoir and access prime fishing spots. Whether it's trolling for bull trout, casting for rainbow trout, or cruising along the scenic shoreline, boating enhances the overall fishing experience on Hungry Horse Reservoir.
Public Boat Launch Ramps & Landings
Doris Point Boating Site Boat Launch Ramp
Located in the northwest section of the lake,west side, off West Side Road, this is a two-lane, concrete ramp with a dock and paved parking.
Emery Bay Boat Launch Ramp
Located in the northeast section of the lake, north side, off East Side Road, this is a one-lane, concrete ramp with gravel parking.
Riverside Boating Site, Boat Launch Ramp
Located mid lake, east side, off East Side Road, this is a one-lane, concrete ramp with gravel parking.
Click here for a Montana Fishing License.
Camping facilities can be found near Hungry Horse Reservoir, offering anglers the opportunity to extend their fishing trips and fully enjoy the natural beauty of the area. Campgrounds provide amenities such as picnic areas, fire pits, and restrooms, making it convenient for anglers and their families to immerse themselves in the peaceful ambiance of the lake.
Campgrounds & RV Parks Nearby
Mountain Meadow RV Park - 406 387-9125
Emery Bay Campground - 406 646-1012
Lost Johnny Point Campground - 877 646-1012
Graves Bay Campground - 406 387-3800
Hungry Horse Reservoir MT Map - Fishing & Camping Areas
Contact Information
Hungry Horse Reservoir
Lost Johnny Point Campground
NF-895
Martin City, MT 59926
877 646-1012
Fishing lakes in each state.
Hungry Horse Reservoir in MT
MONTANA


Fishing for cutthroat trout in northwest MT.
Hungry Horse Reservoir, in Montana.