Guide To Fishing At Merritt Lake
AKA: Merritt Reservoir
What to fish for...
Fishing for largemouth bass, smallmouth bass, channel catfish, black crappie, walleye, rainbow trout, bluegill, pumpkinseed sunfish, white bass, yellow perch, muskie and northern pike at Merritt Lake in Nebraska.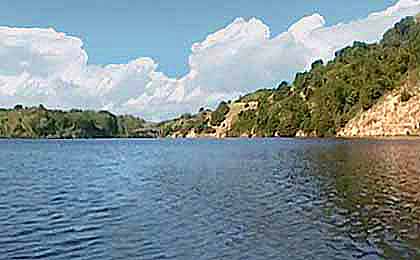 Fed by the Snake River, Merritt Reservoir is one of the better fishing lakes in the state. This is a 1,600-acre lake in the north-central part of the state offering a multitude of water sport activities. Pontoon boats, sail boats, power boats, canoes, kayaks and all kind of fishing boats are active here.
Merritt Lake, located near Valentine, Nebraska, is a hidden gem for fishing enthusiasts. Covering over 2,800 acres, this serene lake offers excellent fishing opportunities. Merritt Lake is known for its diverse fish population, making it a popular spot for anglers of all levels. The lake is home to a variety of fish species, including walleye, northern pike, largemouth bass, crappie, bluegill, and catfish. Anglers can explore the lake's shoreline, submerged structures, and weed beds to target these prized fish.
In addition to fishing, Merritt Lake provides ample opportunities for boating enthusiasts. Boaters can enjoy cruising along the lake's calm waters, taking in the beautiful surroundings and peaceful ambiance. The lake allows for various water activities, such as motor boating, kayaking, canoeing, and paddleboarding. Whether it's a leisurely boat ride or an adventurous water sports experience, Merritt Lake offers a delightful boating adventure.
Camping options are available near Merritt Lake, allowing visitors to extend their stay and fully embrace the natural beauty of the area. The lake offers campgrounds with amenities such as tent sites, RV hookups, and access to hiking trails and picnic areas. Camping near Merritt Lake provides the opportunity to wake up to serene lake views, enjoy outdoor activities, and experience the tranquility of the surroundings.
Merritt Lake's exceptional fishing prospects, boating opportunities, and nearby camping facilities make it an attractive destination for outdoor enthusiasts in Nebraska. Whether casting a line, exploring the lake by boat, or spending nights under the stars at a nearby campground, Merritt Lake promises a memorable and enjoyable experience amidst the scenic landscapes of the state.
There is plenty of camping and RV spaces around the lake, some right on the waterfront. There are plenty of places to easily launch a boat. Easy access to miles of shoreline makes this an ideal lake for fishing from the bank. There is plenty of cover in the lake with submerged trees and vegetation for fish and baitfish. Walleye are the featured species here, but there are healthy populations of bass, catfish, crappie, trout, sunfish, pike and muskie as well. The lake has plenty of "quantity" if you are planning a fish fry, and has plenty of "quality" for the catch of a lifetime.

Primary fish species residing in Merritt Lake
Click images for fishing tips and details about each species.
Merritt Reservoir Amenities
Marina: YES
Boat Rental: YES
Boat Launch Ramp: YES
Campgrounds: YES
RV Hookups: YES
Lodging: YES
Convenience Store: YES
Bait & Tackle: YES
Restaurant: YES
Today's Weather & Forecast
Fishing Boat Rentals
Merritt Trading Post
Rentals: Fishing boats, canoes and kayaks
402 376-3437
Public Boat Launch Ramps & Landings
Beeds Landing Boat Launch Ramp
Located in the southeast corner of the lake, off Beeds Landing, this is a two-lane, concrete ramp with docks and gravel parking.
Powder Horn Area Campground Boat Launch
Located in the north section of the lake, off Powderhorn Trail, this is a one-lane, concrete ramp with a dock and paved parking.
Snake River Area Campground Boat Ramp
Located mid lake, on the south side of the lake, off Merritt Reservoir Recreation Road, this is a one-lane, concrete ramp with a dock and gravel parking.
Willow Cove Area Campground Boat Ramp
Located in the northeast corner of the lake, off Highway 97, this is a one-lane, concrete ramp with paved parking.
Click here for a Nebraska Fishing License.
Campgrounds & RV Parks Nearby
Merritt Trading Post Resort Campground - 402 376-3437
Powder Horn Area Campground - 402 389-0672
Merritt Reservoir Main Area Campground - 402 471-0641
Boardman Creek Area Campground - 402 389-0672
Merritt Lake NE Map - Fishing & Camping Areas
Lake Video
Contact Information
Merritt Lake
Merritt Reservoir State Recreation Area
NE-97 & Cedar Bay
Valentine, NE 69201
402 389-0672
Fishing lakes in each state.
Merritt Reservoir in Nebraska.
NEBRASKA


Fishing at Merritt Reservoir, in Nebraska.
Excellent walleye fishing in north-central NE.