Guide To Fishing At Lake Tahoe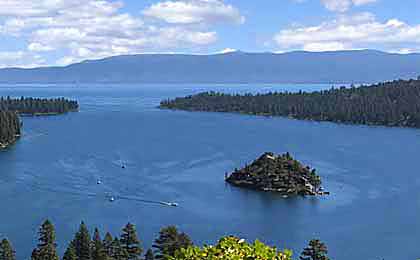 Straddling the borders of CA and NV, Lake Tahoe is a 123,000-acre lake with exceptional trout and salmon fishing. It is over 1,600 feet deep and has over 70 miles of shoreline.
Lake Tahoe is a breathtaking freshwater lake situated in the Sierra Nevada mountain range, straddling the border of California and Nevada. The majority of the lake's shoreline, approximately two-thirds, falls within the state of California, while the remaining one-third is in the state of Nevada. The lake's crystal-clear waters and stunning alpine surroundings make it a popular destination for both locals and visitors.
Fishing at Lake Tahoe offers a diverse and rewarding experience, attracting anglers of all skill levels. The lake is home to several popular fish species, including rainbow trout, brown trout, and lake trout. These species provide ample opportunities for anglers to enjoy both shore fishing and boat fishing. Rainbow trout are often found near the lake's shallower areas, while brown trout and lake trout prefer the deeper, cooler waters.
One of the unique attractions for anglers at Lake Tahoe is the opportunity to catch kokanee salmon. These landlocked salmon are the product of a successful stocking program, and they provide an exciting and challenging fishing experience.
Boating is a popular activity on Lake Tahoe, with various rental options and marinas available to accommodate visitors. Whether it's a leisurely cruise on a sailboat or a thrilling ride on a powerboat, boating allows visitors to explore the vastness of the lake and access prime fishing spots.
Camping options around Lake Tahoe are plentiful, ranging from developed campgrounds to more secluded backcountry locations. Many campgrounds offer stunning lake views and access to recreational activities like hiking, biking, and swimming.
It's worth noting that fishing regulations for Lake Tahoe may vary between the California and Nevada sections, so anglers should familiarize themselves with the specific rules and permits required before casting their lines. Overall, Lake Tahoe provides a delightful blend of fishing, boating, and camping opportunities amidst its unparalleled natural beauty, making it an unforgettable destination for outdoor enthusiasts in both Nevada and California.
During summer months the lake attracts boating, sailing and fishing enthusiasts. Fishing at Lake Tahoe draws anglers looking to hook that fish of a lifetime. Big brown, rainbow and lake trout (mackinaw) plus Kokanee salmon are found in this pristine, cold water. The lake record brown trout is over 15 pounds, the lake record for mackinaw trout is over 37 pounds and the lake record for rainbow trout is over 11 pounds. Fishing guides and charter services are good options when fishing Lake Tahoe. This scenic paradise is located on the western border of the state, at Glenbrook, NV. Over a dozen boat ramps are located around the lake for launch of all types of pleasure and fishing boats. Anglers fishing from canoes, car-toppers and kayaks are warned to beware of rough water when the wind blows on this enormous body of water.

What to fish for...
Fishing for rainbow trout, brown trout, lake trout and kokanee salmon at Lake Tahoe in Nevada.
Primary fish species residing in Lake Tahoe
Click images for fishing tips and details about each species.
Lake Tahoe Amenities
Marina: YES
Boat Rental: YES
Boat Launch Ramp: YES
Campgrounds: YES
RV Hookups: YES
Lodging: YES
Convenience Store: YES
Bait & Tackle: YES
Restaurant: YES
Today's Weather & Forecast
Fishing Boat Rentals
Action Water Sports of Incline Village
Rentals: Kayaks
775 831-4386
Katoma LLC Boat Rentals
Rentals: Pontoon boats
775 297-2970
Specialty Boat Rentals
Rentals: Pontoon boats
916 879-0200
Tahoe Blue Boat Rentals
Rentals: Pontoon boats
775 241-8227
Public Boat Launch Ramps & Landings
Cave Rock Boat Launch Ramp
Located mid lake, east side, off Lincoln Highway, this is a two-lane, concrete ramp with a dock and paved parking.
Sand Harbor Boat Launch Ramp
Located in the northeast section of the lake, off Tahoe Blvd, this is a four-lane, concrete ramp with docks and paved parking.
Ski Beach Boat Launch Ramp
Located in the northeast section of the lake, off Lakeshore Blvd, this is a two-lane, concrete ramp with paved parking.
Marinas
Round Hill Pines Beach Resort Marina
300 Highway 50
Zephyr Cove, Nevada 89448
775 588-3054
Zephyr Cove Marina
760 US-50
Zephyr Cove, NV 89448
775 589-4901
Click here for a Nevada Fishing License.
Campgrounds & RV Parks Nearby
Lake Tahoe Nevada State Park Campground - 775 831-0494
Nevada Beach Campground - 530 543-2600
Zephyr Cove RV Park - 775 589-4907
Lake Tahoe Fishing & Camping in California
Lake Tahoe NV Map - Fishing & Camping Areas
Lake Video
Contact Information
Lake Tahoe
Nevada Beach Campground
Bittlers Rd
Zephyr Cove, NV 89448
530 543-2600
Fishing lakes in each state.
Lake Tahoe in Nevada.
NEVADA


Information about fishing lakes in Nevada
Fishing for trout and salmon in western NV.
Fishing on Lake Tahoe.