Guide To Fishing At Atwood Lake
AKA: Atwood Park Lake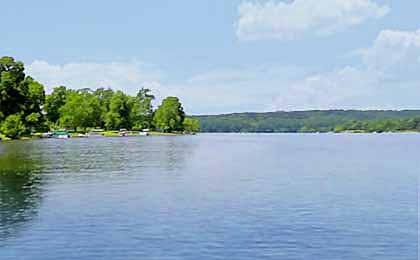 The primary draw at Atwood Lake is the fishing. This 1,500-acre lake in the northeast part of the state has 28 miles of shoreline, two marinas, several boat launch ramps, boat rentals and many other amenities.
Atwood Lake, located in eastern Ohio, is a popular destination for outdoor enthusiasts, offering a wide range of recreational activities, including fishing, boating, and camping. The lake covers approximately 1,540 acres, providing ample room for anglers to explore and pursue various fish species.
Atwood Lake is well-known for its excellent fishing opportunities, particularly for largemouth bass and crappie. Anglers can also target other species such as channel catfish, white bass, and bluegill. The lake's diverse fishery ensures that anglers of all preferences can find success and enjoy a rewarding fishing experience. Whether casting from the shore, fishing from a boat, or utilizing the lake's fishing piers, Atwood Lake offers a range of angling options.
Boating enthusiasts will find plenty to enjoy at Atwood Lake as well. The lake permits various types of watercraft, including powerboats, pontoons, sailboats, and kayaks. Boaters can explore the lake's scenic coves, cruise along its tree-lined shores, or participate in water sports activities. Multiple boat ramps and marinas are available for easy access to the water.
For those seeking a longer stay, Atwood Lake offers camping facilities and accommodations. The Atwood Lake Park Campground provides campsites with electric hookups, as well as cabins and rental cottages for those looking for more comfort. Camping near the lake allows anglers to maximize their fishing time and enjoy the peaceful ambiance of the surrounding nature.
Atwood Lake's combination of fishing, boating, and camping opportunities makes it an attractive destination for outdoor enthusiasts in Ohio. Whether you're an angler looking to reel in some impressive catches, a boater seeking a scenic adventure, or a camper wanting to experience nature's tranquility, Atwood Lake provides a perfect setting for an enjoyable outdoor getaway.
Camping, RV hookups and lodging are close by the lake to enhance your stay when you come to fish for bass, northern pike, crappie, saugeye, catfish, sunfish and perch. There is a fishing pier which is ADA accessible. Otherwise there is very limited areas for fishing from the bank, but resourceful anglers can always find a way to wet a line. Big saugeye and yellow perch are favorites when ice fishing in winter.
What to fish for...
Fishing for largemouth bass, channel catfish, black crappie, white crappie, bluegill, yellow perch, northern pike and saugeye at Atwood Lake in Ohio.

Primary fish species residing in Atwood Lake
Click images for fishing tips and details about each species.
Atwood Lake Amenities
Marina: YES
Boat Rental: YES
Boat Launch Ramp: YES
Campgrounds: YES
RV Hookups: YES
Lodging: NEARBY
Convenience Store: YES
Bait & Tackle: YES
Restaurant: YES
Today's Weather & Forecast
Fishing Boat Rentals
Atwood Lake Boats
Rentals: Fishing boats, kayaks and pontoon boats
330 364-4703
Atwood Lake Boats Marina East
Rentals: Fishing boats, kayaks and pontoon boats
330 735-2323
Public Boat Launch Ramps & Landings
Atwood Lake Boats Marina East Boat Ramp
Located in the northeast section of the lake, north side, off Magnolia Road SW, this is a two-lane, concrete ramp with a dock and paved parking.
US Army Corps Of Engineers Boat Launch Ramp
Located in the southwest corner of the lake, off Highway 212, this is a two-lane, concrete ramp with paved parking.
Marinas
Atwood Lake Boats
9298 Atwood Lake Rd NE
Mineral City, OH 44656
330 364-4703
Atwood Lake Boats Marina East
1601 Magnolia Rd SW
Dellroy, OH 44620
330 735-2323
Click here for a Ohio Fishing License.
Campgrounds & RV Parks Nearby
Atwood Lake Park - 330 343-6780
Atwood Lake OH Map - Fishing & Camping Areas
Lake Video
Contact Information
Atwood Lake
Atwood Lake Park
9500 Lakeview Rd
Mineral City, OH 44656
330 343-6780
Fishing lakes in each state.
Atwood Lake in OH
OHIO


Fishing for bass, northern pike and crappie in northeast OH
Atwood Lake, in Ohio.