Ohio Salmon Fishing
Guide to fishing for coho salmon in OH.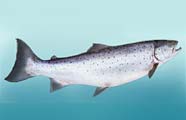 Ohio is not traditionally known for salmon fishing, as the state does not have a native population of Pacific salmon species. However, the Ohio Department of Natural Resources (ODNR) has implemented stocking programs to provide anglers with opportunities to catch landlocked salmon in certain reservoirs and lakes.
One of the main species targeted by Ohio anglers is the Chinook salmon, also known as king salmon. These fish are stocked in Lake Erie and a few inland reservoirs, such as Pleasant Hill Lake and Clear Fork Reservoir. Chinook salmon can grow to impressive sizes, with individuals exceeding 20 pounds not uncommon. Anglers typically target them using trolling techniques and deep-water fishing methods.
Another salmon species stocked in Ohio is the coho salmon. Coho salmon are smaller in size compared to Chinook salmon but still provide a thrilling fight when hooked. They are typically stocked in Lake Erie and can be caught by trolling or casting nearshore areas during their migratory periods.
While Ohio's salmon fishing opportunities are limited compared to other states, there have been notable catches that have set state records. The Ohio record for Chinook salmon stands at over 34 pounds, caught in Lake Erie, showcasing the potential for trophy-sized fish. Coho salmon state records are also impressive, with the largest caught weighing over 19 pounds.
Anglers interested in pursuing salmon in Ohio should consult the ODNR's website and fishing regulations for the latest information on stocking locations, seasons, and bag limits. It's important to note that the availability of salmon fishing can vary from year to year, depending on stocking schedules and environmental factors. Nevertheless, for those seeking the thrill of battling these iconic fish species, Ohio provides a unique opportunity to experience salmon fishing within its borders.
The best salmon fishing in Ohio is on Lake Erie and tributaries feeding into it hold salmon during the spawn.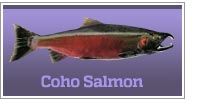 World record: 33 lbs 7 oz
State Record: 13.63 lbs
Click the images and links above for species details.
Lake Erie produced the state record chinook (king) salmon.
The state record coho salmon was taken out of the Huron River.
Conneaut Creek yielded the Ohio state record pink salmon.
About The Pacific Salmon Family
Pacific Salmon are born in and remain in freshwater streams for the early years of life. The number varies by species. Afterward they migrate to the Pacific Ocean waters where they bulk up and prepare for their once in a lifetime spawning run up the freshwater stream where they were born. They will instinctively return to their birthplace, spawn and die. They are found in the streams which empty into the ocean, and adjoining ocean waters.
The preferred method for catching salmon is fly fishing. Depending on the activity level, salmon may be caught on wet or dry flies. For more details check here for articles about fly fishing.
Ohio Salmon Fishing
The preferred method for catching salmon is fly fishing. Depending on the activity level, salmon may be caught on wet or dry flies, as well as a variety of other lures and baits.
Salmon Organizations
Salmon fishing waters and information, by state.
Learn the life cycle of salmon
The more you know about the life cycle and seasonal migration of salmon, the more likely you are to be looking in the right area next time you visit Ohio salmon fishing waters. Visit the salmon fishing page for more information about the life cycle of the different species of salmon.
OHIO


Best salmon fishing waters in Ohio!