Fishing At Duck Harbor Pond
AKA: Duck Harbor Lake, Duck Harbor Reservoir
What to fish for...
Guide to fishing for largemouth bass, smallmouth bass, walleye, brown trout, bluegill, pumpkinseed sunfish and yellow perch at Duck Harbor Pond in Pennsylvania.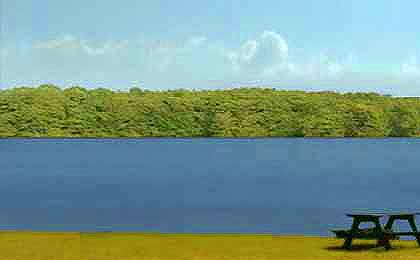 Located in the northeast corner of Pennsylvania, Duck Harbor Pond is a 280-acre lake with limited amenities for campers and anglers. There is a public boat ramp on the north side of the lake, but no camping facilities in the area. Trout, bass, walleye, sunfish and perch populate the lake. The stocked trout are catch able and fishing success varies from slow to excellent at times. In winter, ice fishing for is popular for largemouth bass, smallmouth bass, walleye and bluegill.
Nestled in the pristine woodlands of Wayne County, Pennsylvania, Duck Harbor Pond is a hidden treasure for fishing enthusiasts seeking a serene angling experience. Spanning over 500 acres, this picturesque pond offers excellent fishing opportunities for a variety of species. Anglers are drawn to Duck Harbor Pond to target popular fish such as largemouth bass, smallmouth bass, pickerel, perch, and panfish like crappie and bluegill. The pond's tranquil waters and natural habitat create an ideal setting for a peaceful and fruitful fishing adventure.
While fishing is the main attraction at Duck Harbor Pond, boating is not allowed on the pond, ensuring a peaceful and undisturbed environment for anglers. This restriction enhances the serenity of the pond, allowing fishermen to focus on their fishing techniques and immerse themselves in the natural beauty of the surroundings.
Camping is not available directly at Duck Harbor Pond, but nearby camping options make it convenient for visitors to extend their stay. State parks and campgrounds in the surrounding area provide facilities for those who wish to combine their fishing trip with a camping experience. This allows anglers to fully immerse themselves in the tranquility of nature, enjoying the starry nights and the peaceful ambiance of the woodlands.
As visitors explore Duck Harbor Pond and its surrounding woodlands, they can appreciate the serene landscapes that envelop the area. The dense forests, abundant wildlife, and the mirror-like surface of the pond create a picturesque backdrop for outdoor activities. Nature enthusiasts can explore the nearby hiking trails, enjoy birdwatching, or simply bask in the tranquility of the natural environment.
Duck Harbor Pond, with its serene fishing opportunities, restricted boating regulations, and nearby camping options, offers a peaceful retreat for outdoor enthusiasts in Pennsylvania. Whether one seeks a peaceful fishing experience, a tranquil camping getaway, or a chance to connect with nature, Duck Harbor Pond provides an idyllic setting to escape the hustle and bustle of everyday life and immerse oneself in the serenity of this pristine destination.

Primary fish species residing in Duck Harbor Pond
Click images for fishing tips and details about each species.
Duck Harbor Pond Amenities
Marina: NO
Boat Rental: NO
Boat Launch Ramp: YES
Campgrounds: NO
RV Hookups: NO
Lodging: NEARBY
Convenience Store: YES
Bait & Tackle: NO
Restaurant: NO
Today's Weather & Forecast
Public Boat Launch Ramps & Landings
Duck Harbor Pond Boat Ramp
Located on the southwest side of the lake, this is a one-lane, concrete ramp with limited parking.
Click here for a Pennsylvania Fishing License.
Campgrounds & RV Parks Nearby
No Campgrounds or RV parks nearby.
Duck Harbor Pond PA Map - Fishing & Camping Areas
Lake Video
Contact Information
Duck Harbor Pond
Duck Harbor Pond
Pennsylvania 18417
Fishing lakes in each state.
Duck Harbor Pond in Pennsylvania.
PENNSYLVANIA


Perch, bass and trout fishing in northeast PA
Fishing at Duck Harbor Pond, in Pennsylvania.