Pennsylvania Fishing Guides
Hire a guide to take you fishing in PA.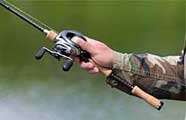 Hire a fishing guide to fish for largemouth bass, smallmouth bass, channel catfish, flathead catfish, black crappie, white crappie, walleye, steelhead, rainbow trout, brook trout, brown trout, lake trout, bluegill, rock bass, white bass, white perch, yellow perch, coho salmon, chinook salmon, stripers, chain pickerel, muskie, northern pike and sauger in local lakes.
Pennsylvania Fishing Guides

Al Bradley Fishing Guide - 215 378-1523
Al Bradley - al@paoutdoorpals.com
Focus Species: Largemouth bass, smallmouth bass, pickerel, pike and crappie. Fish on private and public lakes in my 18ft Crestliner bass boat.
Other Local Guides
For the ultimate fishing experience, hire a professional guide. They know the PA fishery inside out and have determined the best techniques for catching fish at various times of the year.
Acme Dam Fishing - 724 547-0363
Bill Lessman - bill@acmedamfishing.com
Focus Species: bass, pike, and musky. Guided Float Tube & Mid-Summer Early Evening Shore Fishing in the mountain lakes of Fayette, Somerset, & Westmoreland counties in Southwestern Pa.
Cross Current Guide Service
info@crosscurrentguideservice.com
We fish the Upper Delaware River System in NY & PA. Fly fish for wild brown and rainbow trout or fly & light tackle fishing for smallmouth bass.
Striper Lore Guide Service - 814 941-3007
Brian Keller info@striperlore.com
Fishing guide on Raystown Lake, specializing in live bait fishing for stripers.
Tri-State Angler - 336 957-4630
Marty Shaffner - info@tristateangler.com
Focus Species: trout , smallmouth and steelhead. Licensed fly fishing guide service serving North Carolina, Tennessee and Virginia for trout and smallmouth bass on the Watauga, South Holston and New rivers.
Allegheny Guide Service - 814 723-5912
Red Childress - musky@westpa.net
Focus Species: musky, walleye, trout, panfish, pike. We provide guided fishing trips for trophy musky, walleye, trout and pike in Northwest PA and Southern Tier New York .
Troutfishers Guide Service - 423 360-1468
Randy Ratliff. Focus Species: trout, smallmouth, and steelhead. Licensed fly fishing guide service serving Eastern Tennessee, Western North Carolina, Southwest Virginia, and Northwest Pennsylvania for trout, smallmouth and steelhead.
Rivers Outdoor Adventures - 570 943-3151
Tim Skoraszewski - info@riversflyfishing.com
Focus Species: Brownt, rainbow and brook trout, steelhead, smallmouth and largemouth bass. Offering trips for trophy bass, trout, and steelhead from Erie County to Philadelphia. Our guides are licensed professionals and are capable of providing productive fishing trips 24x7x365.
Keystone Connection - 724 902-6082
Jeff Knapp - info@keystoneconnection.com
Focus Species: Smallmouth bass, largemouth bass, walleye, muskie. Jet boat fishing on the Middle Allegheny River for smallmouth, walleyes and muskies with veteran outdoor writer Jeff Knapp. Educational guide services on other select western Pennsylvania waters.
Pennsylvania Fishing Guide Services
In addition to catching fish, guides teach you techniques which you will use over a lifetime of fishing. Learn tips on rods, reels, line, knots, lures, hook types, techniques and much more...all by spending the day in a boat with a local guide.
Fishing guide information for other states.
PENNSYLVANIA