Guide To The Best Bass Fishing Lakes In Wisconsin
Top Bass Fishing Lakes In WI
Fish for largemouth and smallmouth bass.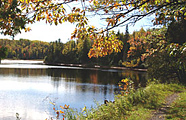 Visit the Bass Knowledge Center for valuable information about bass and bass fishing. Wisconsin is home to some very good bass fishing, especially smallmouth. You can find both types of bass in most of the warmer waters and smallies in some of the colder waters.
Major Wisconsin lakes with healthy populations of bass include Beaver Dam Lake, Big Eau Pleine Reservoir, Big Green Lake, Castle Rock Lake, Chetac Lake, Fence Lake, Geneva Lake, Gile Flowage Lake, Grindstone Lake, Holcombe Flowage, Lac Courte Oreilles, Lac Vieux Desert, Lake Butte des Morts, Lake Chippewa, Lake du Bay, Lake Kegonsa, Lake Koshkonong, Lake Michigan, Lake Monona, Lake Mendota, Lake Onalaska, Lake Pepin, Lake Poygan, Lake Puckaway, Lake Superior, Lake Winnebago, Lake Wissota, Long Lake, Namekagon Lake, Pelican Lake, Petenwell Lake, Pewaukee Lake, Rainbow Flowage, Shawano Lake, Shell Lake, Tomahawk Lake, Trout Lake, Turtle Flambeau Flowage and Willow Reservoir. Ponds, rivers, parks and smaller lakes are also likely to produce bass. Many of the lakes that ice over in winter provide ice fishing opportunities.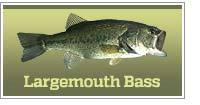 World record: 22 lbs 4 oz
State Record: 11 lbs 3 oz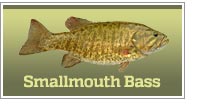 World record: 11 lbs 15 oz
State Record: 9 lbs 1 oz
Click the images and links above for species details.
Top 5 Bass Fishing Lures For Wisconsin
When bass are shallow, spinnerbaits, crankbaits and stickbaits are the most productive. As they move deeper, worms and jigs are among the top producers.
Wisconsin Bass Records
The state record largemouth bass was caught in Ripley Lake.
The state record smallmouth bass came from Indian Lake.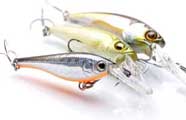 If you have information, articles or photos relating to bass fishing in Wisconsin which you would like to see published in this website, please submit them here for consideration.
Click here to learn about all types of fishing in Wisconsin.
Bass are one of the most sought after of all the game fish. Its appeal spans cultures, age groups and genders to tap on the heart strings of anglers everywhere. Join us in our endeavor to offer information about bass fishing on your favorite bass lake in Wisconsin.
Understanding the primary seasonal movements of smallmouth bass and largemouth bass is key to locating them on local lakes in the Badger State.
Bass fishing basics video.

Catch big bass!
Bass fishing information by state.
The lifecycle of bass
The more you know about the seasonal migration of bass, the more likely you are to be looking in the right area next time you visit Wisconsin bass fishing lakes. Visit the bass fishing page for more in-depth information about bass activities.
WISCONSIN