Fishing At Okatibbee Lake
AKA: Okatibbee Reservoir
What to fish for...
Guide to fishing for largemouth bass, channel catfish, black crappie, white crappie, bluegill and green sunfish at Okatibbee Lake in Mississippi.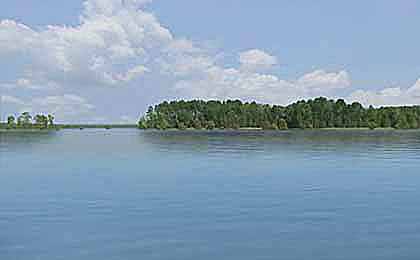 The largest lake in the Meridian area, scenic Okatibbee Lake is a 4,100-acre lake in the southeast part of the state. Heavy forest, rocky banks and a few swimming beaches line the twenty eight miles of shoreline.
Okatibbee Lake is located in the eastern part of Mississippi and is a popular destination for anglers seeking a diverse fishing experience. The lake covers approximately 4,000 acres and offers ample opportunities for anglers to catch a variety of fish species. One of the most sought-after species in Okatibbee Lake is the crappie. Anglers can target both black crappie and white crappie using a variety of techniques, such as jigging, trolling, and spider rigging. The lake's structure, including submerged timber and brush piles, provides ideal habitats for crappie to congregate and offers anglers excellent chances of landing a good catch.
In addition to crappie, Okatibbee Lake is known for its population of largemouth bass. Anglers can enjoy bass fishing by casting their lines near the lake's shoreline, submerged structures, and vegetation. The lake's diverse habitat provides ample cover for bass, creating a thrilling fishing experience. Whether using topwater lures, plastic worms, or crankbaits, anglers have a good chance of hooking into a feisty largemouth bass.
Bluegill, a type of sunfish, can be found in abundance and provide exciting fishing opportunities for anglers of all ages. Channel catfish, known for their size and delicious taste, are highly sought after by catfish enthusiasts. Anglers can target these catfish using various baits such as stinkbaits, chicken livers, or cut bait.
Boating is a popular activity at Okatibbee Lake, allowing anglers to explore different areas of the lake and access prime fishing spots. Whether you prefer fishing from a boat or simply cruising around the lake, Okatibbee offers opportunities for various boating activities. Additionally, camping facilities are available near the lake, providing anglers and outdoor enthusiasts with the option to extend their stay and enjoy the serene beauty of the area.
Okatibbee Lake in Mississippi offers anglers the opportunity to fish for black crappie, white crappie, largemouth bass, bluegill, channel catfish, and sunfish. With its diverse fish populations, scenic surroundings, and recreational activities such as boating and camping, Okatibbee Lake is a fantastic destination for fishing enthusiasts of all ages and skill levels.
Crappie, bass, catfish and bream reside here, and all are often caught in larger sizes. West Bank Park in the southwest corner of the lake has a nice boat launch ramp. Twiltley Boat Ramp and Collinsville Boat Ramp are located on the west side of the lake at Twiltley Branch Park. Pine Springs Park on the east side, and Gin Creek Campground in the northwest corner also have launch ramps. All these boating access areas have concrete ramps and parking. At or nearby campgrounds, boat ramps and parks there are areas for fishing from the bank. Fishing jetties are located at Pine Springs Park and Tailrace Park.

Primary fish species residing in Okatibbee Lake
Click images for fishing tips and details about each species.
Okatibbee Lake Amenities
Marina: YES
Boat Rental: NO
Boat Launch Ramp: YES
Campgrounds: YES
RV Hookups: YES
Lodging: YES
Convenience Store: YES
Bait & Tackle: YES
Restaurant: YES
Today's Weather & Forecast
Public Boat Launch Ramps & Landings
Collinsville Boat Launch Ramp
Located mid lake, west side, off Hamrick Road W, this is a two-lane, concrete ramp with a dock and paved parking.
Gin Creek Boat Launch Ramp
Located in the northwest section of the lake, off Center Hill Martin Road, this is a two-lane, concrete ramp with a dock and paved parking.
Okatibbee Recreational Lake Boat Launch Ramp
Located in the southwest section of the lake, off Tailrace Road, this is a two-lane, concrete ramp with a dock and paved parking.
Public Boat Launch Ramp
Located mid lake, east side, off Pine Springs Road, this is a two-lane, concrete ramp with a dock and paved parking.
Twiltley Boat Launch Ramp
Located mid lake, west side, off Hamrick Road W, this is a two-lane, concrete ramp with a dock and paved parking.
Click here for a Mississippi Fishing License.
Campgrounds & RV Parks Nearby
Twiltley Branch Campground - 601 626-8068
Pelican's Cove RV Resort & Marina - 601 626-8080
Okatibbee Creek Park - 601 737-2370
601 737-2370 - 601 737-2370
Okatibbee Lake MS Map - Fishing & Camping Areas
Lake Video
Contact Information
Okatibbee Lake
West Bank Park
8490 Okatibbee Dam Road
Collinsville, MS 39325
601 626-8431
Fishing lakes in each state.
Okatibbee Lake in MS
MISSISSIPPI


Fishing for crappie and bass in southeast MS.
Okatibbee Lake, in Mississippi.