Guide To Crappie Fishing In Mississippi
All about fishing for white and black crappie.
Mississippi is known for its excellent crappie fishing, with both black crappie and white crappie being popular targets for anglers.
Black crappie are one of the two primary crappie species found in Mississippi. They are known for their distinctive black mottled pattern and tend to prefer clearer waters with vegetation and submerged structures. Anglers often target black crappie in lakes, reservoirs, and slow-moving rivers. Popular techniques for catching black crappie include using live minnows, small jigs, or artificial baits. The best time to catch black crappie in Mississippi is during the spring spawning season when they move into shallow waters near submerged structures to lay their eggs.
White crappie are the other prominent crappie species found in Mississippi. They have a lighter coloration with vertical bars and are generally more tolerant of turbid waters compared to black crappie. White crappie can be found in a variety of habitats, including lakes, reservoirs, rivers, and oxbows. Anglers target them using similar techniques as black crappie, such as using live minnows, jigs, or artificial baits. The spring and fall seasons are typically productive for white crappie fishing in Mississippi, with early morning and evening hours being the most active times.
Mississippi's numerous lakes, reservoirs, and rivers provide ample opportunities for crappie fishing. Anglers can enjoy pursuing both black crappie and white crappie throughout the year, with the spring and fall seasons offering particularly fruitful catches. Whether you prefer the challenge of targeting black crappie or the versatility of pursuing white crappie, Mississippi's crappie fishing scene promises exciting fishing adventures and the chance to reel in a stringer full of delicious crappie.
Crappie Fishing Waters In MS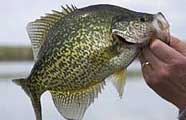 Crappie are everywhere in MS. Ponds, rivers and lakes all have the possibility of at least a few crappie. The major lakes, including Aberdeen Lake, Arkabutla Lake, Ross Barnett Reservoir, Bay Springs Lake, Columbus Lake, Enid Lake, Grenada Reservoir, Lake Beulah, Lake Bogue Homa, Lake Washington, Lake Whittington, Moon Lake, Okatibbee Lake, Pickwick Lake, Sardis Lake and Tunica Lake, all have healthy populations of crappie.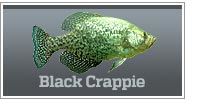 World record: 6 lbs 0 oz
State Record: 4 lbs 4 oz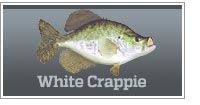 World record: 5 lbs 3 oz
State Record: 5 lbs 3 oz
Click the images and links above for species details.
Top 5 Crappie Fishing Lures For Mississippi
Crappie jigs work well in water from 2' to 40' deep, and are the most popular artificial lure for crappie ever. When crappie are shallow, spinners, small crankbaits and underspins are the often very productive. As they move deeper, spoons are among the top producers if the crappie are active. Review details for the best crappie rig options. Understanding the seasonal movements of crappie can enhance your chances of using these lures in the ideal locations.
Mississippi State Record Crappie
The state record black crappie was caught from Arkabutla Reservoir.
The state record white crappie came out of Enid Reservoir.
The state record Magnolia crappie came out of Lake Charlie Capps.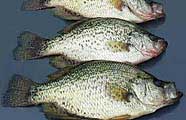 Small jigs, live minnows, spinners and other small lures will catch crappie. Use light line and work the baits slowly - especially in cold water. Crappie are actually a member of the sunfish family and can be found in many local lakes. Crappie are known by many different local names. Paper mouth, goggleye, bridge perch, slabs and speckled perch, are just a few.
Crappie Fishing Basics Video
Check out crappie information, by state.
The life cycle of crappie.
The more you know about crappie, the easier it will be to locate and catch them in Mississippi lakes and rivers. Visit the crappie fishing page for details about their seasonal migrations.
MISSISSIPPI