Crappie Fishing In North Carolina
Guide to fishing for black and white crappie.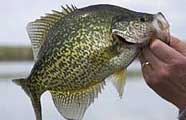 Crappie are actually a member of the sunfish family and can be found in many North Carolina lakes. Crappie are known by many different local names. Paper mouth, goggleye, bridge perch, slabs and speckled perch, are just a few.
North Carolina offers excellent crappie fishing opportunities, with two primary species of crappie found in its waters: black crappie and white crappie. Both species are highly sought after by anglers due to their delicious taste and challenging fishing experience.
Black crappie, also known as calico bass or speckled perch, can be found in various lakes, reservoirs, and rivers throughout North Carolina. They prefer clear, weedy waters and are known for their distinct dark coloration and speckled pattern. Anglers targeting black crappie often use small jigs, live minnows, or artificial lures to entice these fish. Popular crappie fishing spots in North Carolina include Jordan Lake, Falls Lake, and Lake Norman.
White crappie, on the other hand, are more prevalent in North Carolina's rivers and larger reservoirs. They have a lighter coloration and vertical stripes along their sides. White crappie tend to prefer slightly murkier waters and can often be found near submerged structures such as fallen trees, brush piles, and bridge pilings. Anglers targeting white crappie often use similar techniques as with black crappie, including small jigs, live minnows, and artificial lures.
Both black crappie and white crappie provide anglers with exciting fishing opportunities throughout the year. Crappie fishing in North Carolina is particularly popular during the spring spawning season when these fish move into shallower waters. Anglers can often find success by targeting areas with suitable habitat, such as submerged vegetation, docks, or brush piles.
It's important for anglers to be mindful of size and creel limits when fishing for crappie in North Carolina to ensure the sustainability of the populations. Additionally, practicing catch-and-release for larger crappie can help maintain the quality of fishing for future generations. So, grab your fishing gear, head to one of North Carolina's many crappie fishing destinations, and enjoy the thrill of reeling in these sought-after panfish.
Crappie Waters In NC
It is not an overstatement to say that crappie are everywhere in North Carolina. To begin with, most major lakes in NC have healthy schools of crappie. Those lakes include Apalachia Lake, Badin Lake, Belews Lake, Blewett Falls Lake, Buckhorn Reservoir, Chatuge Lake, Falls Lake, Fontana Lake, Graham-Mebane Lake, Harris Lake, High Rock Lake, Hiwassee Lake, Hyco Lake, Jordan Lake, Kernersville Lake, Kerr Lake, King Mountain Reservoir, Lake Benson, Lake Cammack, Lake Crabtree, Lake Gaston, Lake Glenville, Lake Hickory, Lake Higgins, Lake James, Lake Mackintosh, Lake Mattamuskeet, Lake Nantahala, Lake Norman, Lake Rhodhiss, Lake Sutton, Lake Tillery, Lake Townsend, Lake Waccamaw, Lake Wylie, Mayo Reservoir, Mountain Island Lake, Moss Lake, Phelps Lake, Randleman Lake, Roanoke Rapids Lake, Salem Lake, Santeetlah Lake, Shearon Harris Reservoir, Tar River Reservoir and W Kerr Scott Reservoir. In addition crappie can be found in most ponds, rivers and smaller lakes.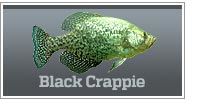 World record: 6 lbs 0 oz
State Record: 4 lbs 15 oz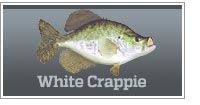 World record: 5 lbs 3 oz
State Record: 3 lbs 15 oz
Click the images and links above for species details.
Top 5 Crappie Fishing Lures For North Carolina
Crappie jigs work well in water from 2' to 40' deep, and are the most popular artificial lure for crappie ever. When crappie are shallow, spinners, small crankbaits and underspins are the often very productive. As they move deeper, spoons are among the top producers if the crappie are active. Review details for the best crappie rig options. Understanding the seasonal movements of crappie can enhance your chances of using these lures in the ideal locations.
The state record black crappie was caught out of Asheboro City Lake #4.
The state record white crappie was caught from a private lake in Wake County
Crappie Fishing Basics Video
Check out crappie information, by state.
The life cycle of crappie.
The more you know about crappie, the easier it will be to locate and catch them in North Carolina lakes and rivers. Visit the crappie fishing page for details about their seasonal migrations.
NORTH CAROLINA