Crappie Fishing In South Dakota
Guide to fishing for white and black crappie.
South Dakota offers fantastic opportunities for crappie fishing, with both black crappie and white crappie being popular targets for anglers. The purpose of this page is to share basic information about crappie fishing and crappie lakes in the state.
Crappie Fishing Basics Video
Black crappie and white crappie are similar in appearance, but there are subtle differences that can help identify each species. Both species have distinctive dark spots on their sides, but black crappie tend to have irregularly scattered spots while white crappie have more uniform spots arranged in vertical lines.
Crappie can be found in various water bodies throughout the state, including lakes, reservoirs, ponds, and rivers. They prefer areas with plenty of submerged vegetation, fallen trees, and underwater structures as these provide excellent cover and foraging opportunities.
Spring and fall are the best seasons for crappie fishing in South Dakota. During the spring, crappie move into shallower waters to spawn, making them more accessible to anglers. Anglers often use jigs, minnows, and small crankbaits to entice crappie into biting. In the fall, crappie return to shallower waters, making it another prime time to target them.
Crappie fishing is popular among anglers of all ages and skill levels. These fish are known for their schooling behavior, and once you find a productive spot, you can often catch multiple fish in a short period. Whether you're a seasoned angler looking for a challenge or a beginner wanting to introduce someone to the joys of fishing, South Dakota's crappie fishing offers an exciting and rewarding experience.
Crappie Fishing Waters In SD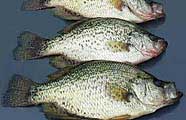 If you want to locate the bigger schools of crappie in SD try some of the major lakes including Angostura Reservoir, Belle Fourche Reservoir, Big Stone Lake, Bitter Lake, Lake Kampeska, Lake Madison, Lake Pelican, Lake Poinsett, Lake Sharpe, Lake Thompson, Lake Traverse, Lake Whitewood, Lewis And Clark Lake and Waubay Lake. Crappie can also be found in smaller lakes, rivers and ponds throughout the state.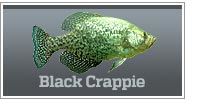 World record: 6 lbs 0 oz
State Record: 3 lbs 8 oz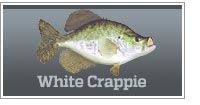 World record: 5 lbs 3 oz
State Record: 3 lbs 9 oz
Click the images and links above for species details.
Top 5 Crappie Fishing Lures For South Dakota
Crappie jigs work well in water from 2' to 40' deep, and are the most popular artificial lure for crappie ever. When crappie are shallow, spinners, small crankbaits and underspins are the often very productive. As they move deeper, spoons are among the top producers if the crappie are active. Review details for the best crappie rig options. Understanding the seasonal movements of crappie can enhance your chances of using these lures in the ideal locations.
South Dakota State Record Crappie
The state record black crappie was caught from a SDSU pond.
The state record white crappie came out of a private pond.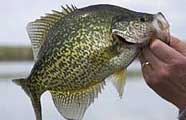 Crappie are actually a member of the sunfish family and can be found in many South Dakota lakes. Crappie are known by many different local names. Paper mouth, goggleye, bridge perch, slabs and speckled perch, are just a few.
Check out crappie information, by state.
The life cycle of crappie.
The more you know about crappie, the easier it will be to locate and catch them in South Dakota lakes and rivers. Visit the crappie fishing page for details about their seasonal migrations.
SOUTH DAKOTA