Guide To Taking Kids Fishing At Top Spots In South Dakota
Ideas and locations to take kids fishing in SD.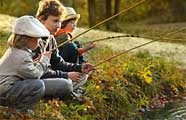 Fishing and the great outdoors offers kids an alternative to many influences they encounter in their busy lives today. Ice fishing, on safe ice, is a great winter activity for kids. A single fishing trip could be the turning point in a young life, and we encourage you to invest the time in South Dakota kids. The rewards are endless and it takes so little effort.
Taking kids fishing in South Dakota can be a wonderful way to introduce them to the joys of the outdoors and the thrill of catching fish. South Dakota offers plenty of family-friendly fishing opportunities suitable for young anglers.
Various fish species can be targeted when fishing with kids in South Dakota. Some of the popular species include bluegill, yellow perch, crappie, and largemouth bass. These fish are abundant in many of the state's lakes, ponds, and rivers, making it easier for kids to have a successful and rewarding fishing experience.
Urban fishing locations are ideal for families with young children who may not have access to more remote fishing spots. In cities like Sioux Falls and Rapid City, there are well-maintained urban ponds and reservoirs that are regularly stocked with fish, providing a convenient and accessible fishing opportunity for kids.
When taking kids fishing, it's essential to make the experience enjoyable and educational. Parents or guardians should consider using simple fishing gear suitable for kids, such as lightweight rods and easy-to-handle reels. Patience is key, as fishing with kids can be a slow and leisurely activity.
To ensure a positive experience, it's a good idea to bring along snacks, drinks, and comfortable seating. Additionally, teaching kids about fish conservation and the importance of catch-and-release practices can instill a sense of environmental responsibility and respect for nature.
Fishing with kids in South Dakota is not only an opportunity to bond as a family but also a chance to create lasting memories and instill a love for outdoor activities and fishing that can last a lifetime.

Places in South Dakota to take kids fishing
Consider these small lakes, ponds, creeks and urban fishing locations as places to take a kid fishing in the Mount Rushmore State.
Huron
- Ravine Lake
Pierre
- Lake Sharpe
Sioux Falls
- Rotary Nolin Park
Rapid City
- Canyon Lake Park
- Founders Park
- Jackson Park
- Old Storybook Park
- Roosevelt Park
- Sioux Park
Watertown
- Lake Pelican
Top 3 tips for taking kids fishing in SD
1. Make sure that the goal is to have fun. Catching fish is a bonus.
2. Keep it simple. Simple tackle, techniques and locations.
3. Keep the focus on the kids. Be a hero by helping them enjoy the day.
Click here for additional tips to create a successful day of fishing for kids.
Kids Fishing Video
South Dakota Kids Fishing Photos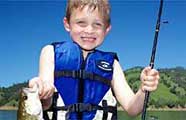 Kids, fishing and smiles naturally go together. Take a kid fishing and you just might change the course of their life. Then take pictures and send us one of them holding their prized catch. We will happily post it here.
Kids fishing locations and information, by state.
Help us identify other youth fishing spots in SD.
If you are aware of a great place to take kids fishing in your area, please let us know. We can add it to our list. Every kid that catches a fish will appreciate the fact that you made the effort.
SOUTH DAKOTA