Guide To Taking Kids Fishing In Michigan
Ideas and locations to take kids fishing in MI.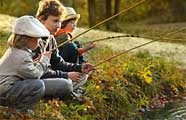 Fishing and the great outdoors offers kids an alternative to many influences they encounter in their busy lives today. A single fishing trip could be the turning point in a young life, and we encourage you to invest the time in Michigan kids. The rewards are endless and it takes so little effort.
Michigan offers numerous opportunities for kids to enjoy the joys of fishing. With its abundance of lakes, ponds, and urban fishing locations, children can experience the thrill of catching fish and create lasting memories. Many fish species are particularly suitable for kids' fishing adventures, including bluegill, perch, crappie, and sunfish. These smaller species are often found in lakes and ponds and are known for their willingness to bite, making them ideal targets for young anglers.
Urban fishing locations in Michigan provide convenient access for families to introduce their children to the joys of fishing. Parks, reservoirs, and designated fishing ponds within city limits offer a safe and accessible environment for kids to cast their lines. Places like Kensington Metropark in Milford, Belle Isle Park in Detroit, and Gallup Park in Ann Arbor are popular destinations where children can fish, learn about the ecosystem, and enjoy outdoor activities.
Michigan's Department of Natural Resources (DNR) also organizes events and programs specifically designed for kids and families. These events often provide fishing equipment, bait, and expert guidance, creating a fun and educational experience for children of all ages. Some events include "Free Fishing Weekends" where fishing licenses are not required, allowing families to enjoy fishing without any additional costs.
Michigan's urban fishing locations not only offer great fishing opportunities but also provide amenities such as picnic areas, playgrounds, and nature trails. This allows families to make a day of their fishing trip, enjoying a picnic lunch or exploring the surrounding natural beauty.
When taking kids fishing, it is important to teach them about fishing ethics, including catch-and-release practices and respecting the environment. Educating children about proper handling of fish, using barbless hooks, and releasing undersized fish will instill a sense of responsibility and conservation.
Michigan's urban fishing locations offer a gateway for kids to discover the joy of fishing and foster a love for the outdoors. By providing accessible fishing spots and organizing family-friendly events, the state encourages young anglers to connect with nature, learn about the environment, and create cherished memories with their families. So grab a fishing rod, bait up, and introduce your kids to the wonders of fishing in the great state of Michigan.

Places in Michigan to take kids fishing
Consider these small lakes, ponds, creeks and urban fishing locations as places to take a kid fishing in the Great Lakes State.
Ann Arbor
- Delhi Metropark
- Ford Lake Park
Battle Creek
- Battle Creek Linear Park
Bay City
- Bay City Rec Area
Belleville
- Lower Huron Metropark
Benton Harbor
- Carronde Park
- Galien Fishing Platform
Brighton
- Huron Meadows Metropark
Brownstown
- Lake Erie Metropark
Brevoort
- Brevoort Lake
Cheboygan
- Mackinaw City Pier
Detroit
- Elizabeth Park
- Hines Park
- Lake Erie Metropark
- Tri-Centennial St Park
Dexter
- Dexter-Huron Metropark
- Hudson Mills Metropark
Grand Rapids
- Riverside Park
Harbor Springs
- Bear River Pier
- Petoskey East Side Pier
Harrison Township
- Lake St. Clair Metropark

Michigamme
- Lake Michigamme
Midland
- Emerson Park
- Stratford Woods Park
Milford
- Kensington Metropark
New Boston
- Oakwoods Metropark
- Willow Metropark
Newaygo
- Ed H. Henning County Park
Ray
- Wolcott Mill Metropark
Shelby Township
- Stony Creek Metropark
Traverse City
- Traverse City Public Park
- Traverse City State Park
Waterford
- Bald Mountain Rec Area
- Cass Lake
White Lake
- Indian Springs Metropark
Top 3 tips for taking kids fishing in MI
1. Make sure that the goal is to have fun. Catching fish is a bonus.
2. Keep it simple. Simple tackle, techniques and locations.
3. Keep the focus on the kids. Be a hero by helping them enjoy the day.
Click here for additional tips to create a successful day of fishing for kids.
Kids Fishing Video
Kids, fishing and smiles naturally go together. Take a kid fishing and you just might change the course of their life. Then take pictures and send us one of them holding their prized catch. We will happily post it here.
Youngsters with their prized catch
---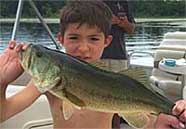 Joey Colucci, now age 8, displays his latest catch of a 17" bass he caught on an artificial worm. This nice Michigan bass came form Lake Cora in Paw Paw, MI.
---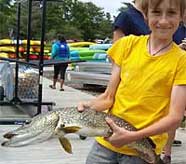 Ivan Vershynin, age 12, caught this really nice northern pike (27.5 inches long) on a jitterbug in the Huron River.
---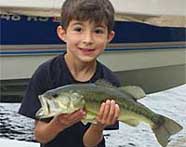 Joseph Colucci, proudly shows off the bass he caught while fishing at Lake Cora in Paw Paw, MI. This largemouth bass was 20" long and weighed 5 lb. Joey caught it with an artificial worm.
---
Kids fishing locations and information, by state.
Help us identify other youth fishing spots in MI.
If you are aware of a great place to take kids fishing in your area, please let us know. We can add it to our list. Every kid that catches a fish will appreciate the fact that you made the effort.
MICHIGAN