Guide To Top Producing Lures & Bait for Bluegill, Sunfish & Panfish
All about bluegill, panfish, bream and sunfish baits and lures
Big bluegill, redear sunfish, rock bass, warmouth and other sunfish feed primarily on minnows, worms, small fish and crustaceans. All panfish eat pretty much anything edible they can get into their small mouths. Light line (2# to 4#) is a key to working the baits and improving catches. Using live minnows is a good way to attract the larger specimens. Earthworms, waxworms, nightcrawlers and insects (crickets, grasshoppers, etc.) are also good choices for all sizes.
---
Best lures and baits for bluegill, redear sunfish, rock bass and warmouth.
SMALL JIGS

Use small jigs in light weights, 1/64 oz to 1/4 oz for all depths, water conditions and seasons.
SMALL SPINNERS
Use small spinners for shallow, active fish. (Blue Fox Flash Spinner - Cabela's)
MINI SPOONS

Use mini spoons 1/8 oz to 1/4 oz when fish are in deeper water. (PK Spoon Jigging Spoon - Sportsman's Warehouse)
UNDERSPINS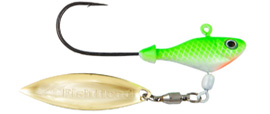 Use small underspins in shallow to mid-depth water. (Fish Head Underspins - Tackle Warehouse)
MINI CRANKBAITS

Use mini crankbaits in shallow water. (XTS Micro Light Mini Crankbaits - Bass Pro Shops)
SALMON EGGS

Use salmon eggs for all panfish fishing conditions.
WORMS

Use worms, nightcrawlers or wax worms for all panfish fishing conditions.
PREPARED BAITS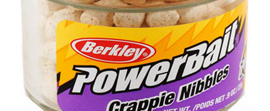 Use prepared baits for all panfish fishing conditions. (Berkley PowerBait Crappie Nibbles - Dick's Sporting Goods®)
Best lures and baits for smaller species of sunfish.
Flier Sunfish, Green Sunfish, Hybrid Sunfish, Longear Sunfish, Pumpkinseed Sunfish, Redbreast Sunfish & Spotted Sunfish
Sunfish diet consists of zooplankton, insects, worms, small fishes, fish larvae, fish eggs, crustaceans and virtually any live creature they can get in their mouth. This group of smaller species eat the same diet as the larger species, just smaller in size. Smaller lures and hooks are required to catch these smaller panfish.
For additional information on panfish and sunfish fishing, visit the panfish fishing page.
Locate fishing opportunities by state.
Fishing Information