Popular Panfish Fishing Options In West Virginia
Guide to fishing for sunfish in WV lakes and ponds.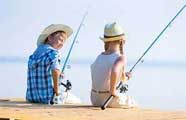 Throughout the state of West Virginia you can find waters with populations of sunfish, including bluegill, redbreast sunfish, redear sunfish, rock bass, white bass and yellow perch.
West Virginia provides excellent opportunities for panfish fishing, which is particularly popular among youth and beginner anglers. Two common panfish species found in the state are sunfish and perch, both of which offer exciting fishing experiences for young anglers.
Sunfish, including species like bluegill and redear sunfish, are abundant in many West Virginia waters, including ponds, lakes, and slow-moving rivers. These small but spirited fish are known for their willingness to bite and can provide hours of entertainment for young anglers. Sunfish are typically found near submerged structures, such as fallen trees or weed beds, where they feed on insects and small aquatic organisms. They can be caught using simple and accessible fishing techniques, such as using worms, small pieces of bait, or even tiny artificial lures. Sunfish are a great species for young anglers to target, as they are often eager biters and provide a rewarding fishing experience.
Perch, specifically yellow perch, are another popular panfish species in West Virginia. These fish can be found in lakes and reservoirs throughout the state and are known for their delicious taste. Perch often congregate in schools near submerged structures, particularly during the spawning season. Young anglers can target perch using small jigs, live bait such as minnows or worms, or even small spinners. Catching perch can provide a sense of accomplishment for young anglers and an opportunity to enjoy a fresh fish dinner with their family.
Panfish fishing in West Virginia is a great way to introduce youth to the joys of fishing. The simplicity of the gear and the accessibility of panfish make it an ideal fishing experience for beginners. It allows young anglers to practice their casting skills, learn about different fishing techniques, and develop patience and perseverance on the water.
West Virginia's abundance of ponds, lakes, and rivers provides ample opportunities for youth to engage in panfish fishing. Many fishing locations offer youth fishing events, designated fishing areas, and educational programs to promote youth involvement in fishing and conservation efforts. These initiatives help foster a love for the outdoors, teach young anglers about fish species and their habitats, and instill a sense of environmental stewardship.
Panfish fishing in West Virginia offers a gateway to the world of fishing for young anglers, allowing them to develop valuable skills and a lifelong appreciation for the sport. The excitement of catching sunfish and perch, combined with the beauty of West Virginia's natural surroundings, creates memorable fishing experiences for youth and their families.
Panfish & Perch Lakes
You can catch sunfish most everywhere in West Virginia. Fish for them in ponds, creeks, rivers and lakes. Major WV lakes with sunfish include Beech Fork Lake, Bluestone Lake, Burnsville Lake, Cheat Lake, Jennings Randolph Lake, Moncove Lake, Mount Storm Lake, O'Brien Lake, Stonewall Jackson Lake, Summersville Lake and Tygart Lake.
Top Producing Panfish Lures & Bait
Check out the top producing lures and bait for bluegill, redear sunfish, rock bass and warmouth, as well as other smaller sunfish. Click here for the best lures for white bass, yellow bass, white perch and yellow perch.

In-state panfish, sunfish and perch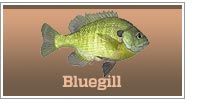 World record: 4 lbs 12 oz
State Record: 2.75 lbs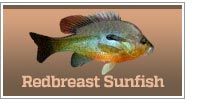 World record: 2 lbs 0 oz*
State Record: N/A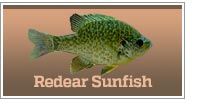 World record: 5.4 lbs
State Record: N/A
World record: 3.0 lbs
State Record: 1.75 lbs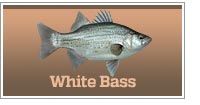 World record: 6.8 lbs
State Record: 4.56 lbs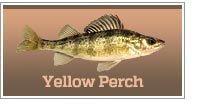 World record: 4 lbs 3 oz
State Record: 1.93 lbs
Click the images and links above for species details.
West Virginia State Record Sunfish
The state record bluegill was caught from a private pond.
The state record rockbass was caught in Big Sandy Creek.
The state record white bass came from New River.
The state record yellow perch was caught from Summersville Lake.
The term "panfish" comprises many species, each called by a variety of names. The bluegill tops the list and is the most common.
One or more species of sunfish populate virtually all warm water streams, ponds and lakes throughout West Virginia, and around the world for that matter. They can survive in waters that provide their natural food source of minnows, insects, crustaceans and worms. Their competitive nature amongst themselves, for food, makes them relatively easy to catch.
Bluegill Fishing Basics Video
The core principles shown in this video will work for most sunfish, perch and other panfish.
Panfish are prolific spawners and repopulate the waters as fast as they are harvested. A common problem with panfish fishing is that the waters are under-fished causing panfish to overpopulate. As a result they tend to stay small in size due to lack of food source.
Sunfish information in other states.
Learn the lifecycle of a panfish
There is a host of panfish anglers can pursue. Visit the panfish fishing page for details on many of these sunfish you might encounter in West Virginia fishing waters.
WEST VIRGINIA