Panfish Fishing In Oregon
Guide to fishing for sunfish in OR lakes and ponds.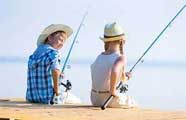 Throughout the state of Oregon you can find waters with populations of sunfish, including bluegill, green sunfish, pumpkinseed, redear sunfish, warmouth, white bass and yellow perch. Ice fishing for perch, bluegill or other sunfish is a great way to get kids involved with fishing and the great outdoors.
Oregon offers exceptional opportunities for panfish fishing, making it a great activity for youth anglers to enjoy. Panfish species such as sunfish and perch are abundant in the state's lakes, ponds, and rivers, providing young anglers with exciting and accessible fishing experiences.
Sunfish, including bluegill and pumpkinseed, are popular panfish species in Oregon. They are known for their vibrant colors, willingness to bite, and relatively small size, making them ideal for youth fishing. Sunfish can be found in various freshwater bodies throughout the state, including ponds and smaller lakes. Young anglers can target sunfish using simple tackle setups, such as a light spinning rod or a cane pole, with small hooks and bait such as worms or small pieces of dough.
Perch are another common panfish species in Oregon. Yellow perch, in particular, can be found in lakes and reservoirs across the state. They offer a fun and rewarding fishing experience for young anglers. Perch are known for their schooling behavior, so once you locate a group, you can often catch several in quick succession. Anglers can target perch using small jigs, spinners, or live bait such as worms or minnows.
Panfish fishing is an ideal activity for youth anglers, as it allows them to develop their fishing skills, learn about fish behavior, and enjoy the thrill of catching fish. These species are typically found in easily accessible locations, including urban ponds and family-friendly fishing spots, making it convenient for families to engage in youth fishing adventures.
When taking youth anglers fishing in Oregon, it's important to teach them about fishing ethics, conservation, and responsible angling practices. This includes respecting size and bag limits, practicing catch-and-release, and leaving the fishing area clean and free of litter.
Oregon's panfish fishing opportunities provide a wonderful introduction to the world of fishing for young anglers. The excitement of catching sunfish and perch, combined with the beautiful natural surroundings, creates lasting memories and nurtures a lifelong love for fishing and the outdoors.
Panfish & Perch Lakes
Most of us enjoy a fish fry of tasty panfish. So do the predator fish. The sunfish are a part of the food chain in most of the warmer lakes in Oregon. They can be found in ponds, parks, rivers and streams. The major lakes with decent panfish fishing include Agency Lake, Beulah Reservoir, Brownlee Reservoir, Crump Lake, Drews Reservoir, Fern Ridge Reservoir, Hart Lake, Lake Owyhee, Phillips Lake, Siltcoos Lake, Tahkenitch Lake, Tenmile Lakes, Upper Klamath Lake and Warm Springs Reservoir.
Top Producing Panfish Lures & Bait
Check out the top producing lures and bait for bluegill, redear sunfish, rock bass and warmouth, as well as other smaller sunfish. Click here for the best lures for white bass, yellow bass, white perch and yellow perch.

In-state panfish, sunfish and perch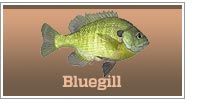 World record: 4 lbs 12 oz
State Record: 2 lbs 5.5 oz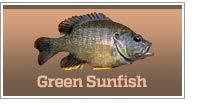 World record: 2.2 lbs
State Record: 0 lbs 11 oz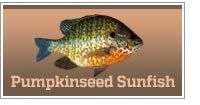 World record: 2 lbs 4 oz
State Record: 0 lbs 7.68 oz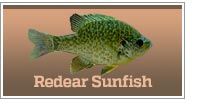 World record: 5.4 lbs
State Record: 1 lbs 15.5 oz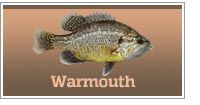 World record: 2.4 lbs
State Record: 1 lbs 14.2 oz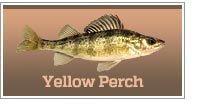 World record: 4 lbs 3 oz
State Record: 2 lbs 2 oz
Click the images and links above for species details.
Oregon State Record Sunfish
The state record bluegill was caught from a private pond.
The state record green sunfish came from the Umpqua River.
The state record pumpkinseed sunfish came out of Lake Oswego.
The state record redear sunfish came out of Reynolds Pond.
The state record warmouth came out of Columbia Slough.
The state record Sacramento perch was caught out of the Lost River.
The state record yellow perch was caught from Brownsmead.
The term "panfish" comprises many species, each called by a variety of names. The bluegill tops the list and is the most common.
One or more species of sunfish populate virtually all warm water streams, ponds and lakes throughout Oregon, and around the world for that matter. They can survive in waters that provide their natural food source of minnows, insects, crustaceans and worms. Their competitive nature amongst themselves, for food, makes them relatively easy to catch.
Bluegill Fishing Basics Video
The core principles shown in this video will work for most sunfish, perch and other panfish.
Panfish are prolific spawners and repopulate the waters as fast as they are harvested. A common problem with panfish fishing is that the waters are under-fished causing panfish to overpopulate. As a result they tend to stay small in size due to lack of food source.
Sunfish information in other states.
Learn the lifecycle of a panfish
There is a host of panfish anglers can pursue. Visit the panfish fishing page for details on many of these sunfish you might encounter in Oregon fishing waters.
OREGON