Panfish Fishing In New Hampshire
Guide to fishing for sunfish in NH lakes and ponds.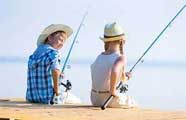 New Hampshire offers excellent opportunities for panfish fishing, making it an ideal choice for youth fishing experiences. Panfish, such as sunfish and perch, are often the primary targets for young anglers due to their abundance, willingness to bite, and manageable sizes. Sunfish, including bluegill and pumpkinseed, are prevalent in many lakes, ponds, and rivers across the state. These colorful fish are known for their scrappy fights and can be caught using simple tackle and bait setups, making them perfect for introducing young anglers to the joys of fishing.
Perch, another popular panfish species, can also be found in abundance in New Hampshire waters. Yellow perch and white perch are commonly targeted by anglers of all ages. They can be found in various lakes, ponds, and slow-moving rivers, offering a diverse range of fishing environments to explore. Perch are known for their delicious meat, making them a rewarding catch for young anglers looking to bring home a tasty meal.
Panfish fishing provides an opportunity for kids to learn basic fishing skills, including casting, baiting hooks, and reeling in fish. The relatively simple tackle and techniques required for panfish fishing make it accessible and enjoyable for young anglers. Additionally, the excitement of catching panfish regularly keeps kids engaged and enthusiastic about the sport.
To make the experience even more enjoyable, there are youth fishing events and derbies organized throughout the state. These events often provide young anglers with the opportunity to fish in stocked ponds or designated areas, where they have a higher chance of success. These events often come with educational activities, demonstrations, and prizes, creating a fun and supportive atmosphere for kids to learn and connect with other young anglers.
Introducing kids to panfish fishing in New Hampshire not only nurtures a lifelong passion for fishing but also promotes an appreciation for the state's natural resources. It teaches young anglers the importance of conservation, responsible fishing practices, and respecting the environment. Panfish fishing in New Hampshire provides an ideal platform for families to bond, create lasting memories, and pass down the love of fishing to the next generation.
Throughout the state of New Hampshire you can find waters with populations of sunfish, including bluegill, pumpkinseed sunfish, rock bass, white perch and yellow perch. Ice fishing for perch is very popular, and a great way to introduce kids to fishing.
Panfish & Perch Lakes
While panfish can be found in most every type of water, major lakes typically contain larger populations of one or more species of sunfish. Major New Hampshire lakes with healthy populations of panfish include Bow Lake, Comerford Lake, Great East Lake, Lake Sunapee, Lake Wentworth, Lake Winnipesaukee, Mascoma Lake, Massabesic Lake, Moore Reservoir, Newfound Lake, Ossipee Lake, Paugus Bay, Silver Lake, Squam Lake, Umbagog Lake and Winnisquam Lake.
Top Producing Panfish Lures & Bait
Check out the top producing lures and bait for bluegill, redear sunfish, rock bass and warmouth, as well as other smaller sunfish. Click here for the best lures for white bass, yellow bass, white perch and yellow perch.

In-state panfish, sunfish and perch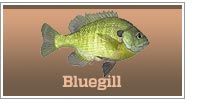 World record: 4 lbs 12 oz
State Record: 2 lbs 0.64 oz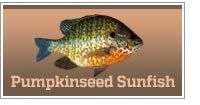 World record: 2 lbs 4 oz
State Record: 1 lbs 1.76 oz
World record: 3.0 lbs
State Record: 1 lbs 8 oz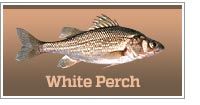 World record: 4.6 lbs
State Record: 3 lbs 11.5 oz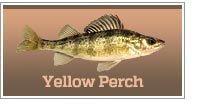 World record: 4 lbs 3 oz
State Record: 2 lbs 6 oz
Click the images and links above for species details.
New Hampshire State Record Sunfish
The state record bluegill was caught from Goodwins Pond.
The state record pumpkinseed sunfish came out of Lake Winnipesaukee.
The state record rockbass was caught in Island Pond.
The state record white perch was caught out of Lake Winnipesaukee.
The state record yellow perch was caught from Head's Pond.
Panfish are prolific spawners and repopulate the waters as fast as they are harvested. A common problem with panfish fishing is that the waters are under-fished causing panfish to overpopulate. As a result they tend to stay small in size due to lack of food source.
The term "panfish" comprises many species, each called by a variety of names. The bluegill tops the list and is the most common.
One or more species of sunfish populate virtually all warm water streams, ponds and lakes throughout New Hampshire, and around the world for that matter. They can survive in waters that provide their natural food source of minnows, insects, crustaceans and worms. Their competitive nature amongst themselves, for food, makes them relatively easy to catch.
Bluegill Fishing Basics Video
The core principles shown in this video will work for most sunfish, perch and other panfish.
Sunfish information in other states.
Learn the lifecycle of a panfish
There is a host of panfish anglers can pursue. Visit the panfish fishing page for details on many of these sunfish you might encounter in New Hampshire fishing waters.
NEW HAMPSHIRE