Fishing At Squam Lake
AKA: Squam Lakes, Little Squam Lake
What to fish for...
Guide to fishing for largemouth bass, smallmouth bass, rainbow trout, lake trout, landlocked salmon, pumpkinseed sunfish, redbreast sunfish, white perch, yellow perch and chain pickerel at Squam Lake in New Hampshire.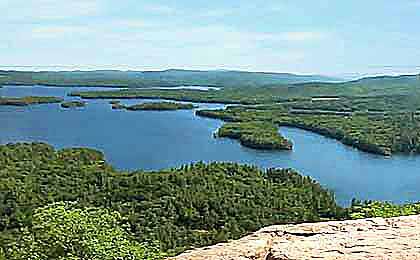 Nestled in the Lakes Region of central New Hampshire, Squam Lake is a 6,700-acre lake with over 60 miles of shoreline. The lake consists of a main upper lake and a smaller lower lake (Little Squal Lake).
Squam Lake, located in the town of Holderness, New Hampshire, is a breathtaking destination for fishing enthusiasts. As one of the state's largest lakes, Squam Lake offers exceptional fishing opportunities in a serene and picturesque setting. The lake is known for its diverse fish population, making it a sought-after spot for anglers of all skill levels. Popular fish species found in Squam Lake include smallmouth bass, largemouth bass, rainbow trout, lake trout (togue), pickerel, and white perch. Anglers can explore the lake's varied shoreline, rocky structures, and submerged vegetation to target these prized fish.
In addition to fishing, Squam Lake is a paradise for boating enthusiasts. Boaters can enjoy cruising along the lake's peaceful waters, surrounded by stunning views of the surrounding mountains and forests. The lake's calm and clear waters provide an ideal setting for various water activities, such as motor boating, kayaking, canoeing, and paddleboarding. Whether you prefer a leisurely exploration or an exhilarating adventure, Squam Lake offers a remarkable boating experience.
Camping options are available near Squam Lake, allowing visitors to fully immerse themselves in the natural beauty of the area. Campgrounds and nearby state parks offer amenities such as tent sites, RV hookups, and access to hiking trails. Camping near Squam Lake allows visitors to wake up to the tranquil sounds of nature, enjoy stunning lake views, and create lasting memories in the heart of New Hampshire's wilderness.
Squam Lake's exceptional fishing prospects, boating opportunities, and nearby camping facilities make it an ideal destination for outdoor enthusiasts. Whether casting a line, exploring the lake's pristine waters by boat, or spending nights under the stars at a nearby campground, Squam Lake promises an unforgettable and rejuvenating experience amidst the captivating landscapes of New Hampshire.

A short natural channel between the two bodies of water allows boaters to travel between them. There is a public boat launch ramp on this connecting waterway. Fishing enthusiasts enjoy the pursuit of bass, trout, salmon, sunfish, perch and pickerel in this breathtakingly beautiful setting. The area is a great place for a fishing trip or a family vacation, and it is a great choice for ice fishing in winter. Smallmouth bass fishing is the main draw here, and at times is considered to be as good as smallie fishing gets. Lots of islands, creek channels, ledges, timber, drop-offs, rock and vegetation provide cover and ideal habitat in this clean, clear-water lake.

Primary fish species residing in Squam Lake
Click images for fishing tips and details about each species.
Squam Lake Amenities
Marina: YES
Boat Rental: YES
Boat Launch Ramp: YES
Campgrounds: YES
RV Hookups: YES
Lodging: YES
Convenience Store: YES
Bait & Tackle: YES
Restaurant: YES
Today's Weather & Forecast
Fishing Boat Rentals
Holderness Harbor
Rentals: Fishing boats, canoes, kayaks and pontoon boats
603 968-9001
Riveredge Marina
Rentals: Fishing boats and pontoon boats
603 968-4411
Squam Boat Livery
Rentals: Fishing boats and pontoon boats
603 968-7721
Public Boat Launch Ramps & Landings
Squam Lake Public Boat Launch Ramp
Located in the southwest corner of the lake, off State Route 113, this is a two-lane, concrete ramp with a dock and paved parking.
Marinas
Riveredge Marina
283 River Street
Ashland, NH 03217
603 968-4411
Squam Boat Livery
853 US-3
Holderness, NH 03245
603 968-7721
Click here for a New Hampshire Fishing License.
Campgrounds & RV Parks Nearby
Owls Landing Campground - 603 279-6266
Rockywold-Deephaven Camps Campground - 603 968-3313
Savoie's Lodging and Camping Campground - 603 279-3141
Squam Lake NH Map - Fishing & Camping Areas
Lake Video
Contact Information
Squam Lake
Rockywold-Deephaven Camps
18 Bacon Rd
Holderness, NH 03245
603 968-3313
Fishing lakes in each state.
Squam Lake in New Hampshire.
NEW HAMPSHIRE


Information about fishing lakes in NH
Fishing for bass, trout, salmon, sunfish, perch and pickerel in north-central New Hampshire.
Fishing Squam Lakes.