Guide To Improving Your Crappie Fishing In New Hampshire
All about fishing for black and white crappie.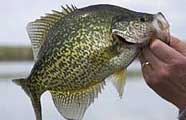 New Hampshire provides excellent crappie fishing, with black crappie being the primary species targeted by anglers. Black crappie can be found in various lakes, ponds, and reservoirs throughout the state, offering a thrilling and rewarding fishing experience. They are known for their striking appearance, with dark olive or black bodies adorned with intricate patterns of dark spots.
Lake Winnipesaukee is one of the popular destinations for crappie fishing in New Hampshire. The lake's numerous bays, coves, and submerged structures provide ideal habitats for crappie. Anglers often target them in early spring when they move into shallower waters to spawn. During this time, crappie can be found near weed beds, fallen trees, and other submerged cover, where they congregate in large numbers.
Other lakes and ponds in New Hampshire, such as Merrymeeting Lake, Bow Lake, and Newfound Lake, also offer productive crappie fishing opportunities. These water bodies provide suitable conditions for crappie, with submerged vegetation and structures serving as their preferred hiding spots and feeding grounds.
When it comes to fishing techniques, anglers often use a variety of lures and baits to entice black crappie. Small jigs, soft plastic grubs, and live minnows are popular choices. The key is to present the bait at the right depth, usually within a few feet of the surface or near submerged structures where crappie tend to congregate.
The best time to fish for black crappie in New Hampshire is typically in the spring and fall. During these seasons, crappie are more active and tend to be in shallower waters, making them more accessible to anglers. However, crappie can be caught throughout the year, with some success during the summer months by targeting deeper areas and structures.
As always, it is essential to check and adhere to local fishing regulations, including size and bag limits, to ensure the sustainability of the crappie population. With its picturesque lakes and abundant black crappie populations, New Hampshire offers a memorable and enjoyable crappie fishing experience for anglers of all skill levels.
Crappie are actually a member of the sunfish family and can be found in many New Hampshire lakes. They are also found in small ponds, rivers and small lakes across the state of New Hampshire.
Crappie Waters In NH
Crappie are a bit scarce in New Hampshire. Comerford Lake, Great East Lake, Lake Wentworth, Mascoma Lake, Massabesic Lake, Moore Reservoir, Ossipee Lake, Paugus Bay and Winnisquam Lake are the major lakes in NH with crappie. Other smaller lakes, ponds and rivers may also contain schools of crappie. Crappie are known by many different local names. Paper mouth, goggleye, bridge perch, slabs and speckled perch, are just a few.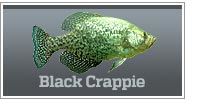 World record: 6 lbs 0 oz
State Record: 2 lbs 15.84 oz
Click the image or link above for species details.
Top 5 Crappie Fishing Lures For New Hampshire
Crappie jigs work well in water from 2' to 40' deep, and are the most popular artificial lure for crappie ever. When crappie are shallow, spinners, small crankbaits and underspins are the often very productive. As they move deeper, spoons are among the top producers if the crappie are active. Review details for the best crappie rig options. Understanding the seasonal movements of crappie can enhance your chances of using these lures in the ideal locations.
New Hampshire State Record Crappie
The state record black crappie was caught from Great East Lake.
Crappie Fishing Basics Video
Check out crappie information, by state.
The life cycle of crappie.
The more you know about crappie, the easier it will be to locate and catch them in New Hampshire lakes and rivers. Visit the crappie fishing page for details about their seasonal migrations.
NEW HAMPSHIRE