Guide To Crappie Fishing In New Mexico
All about fishing for white and black crappie.
New Mexico offers exciting crappie fishing opportunities, with the white crappie being the primary species anglers target. Known for their delicious white flesh and willingness to bite, white crappie are a popular catch in the state's lakes and reservoirs. Anglers can find white crappie in areas with submerged structures, such as brush piles, submerged trees, or along drop-offs. They are often more abundant in warmer water bodies and can be found in varying depths throughout the year.
When targeting white crappie in New Mexico, anglers commonly use techniques such as vertical jigging, casting with small jigs or spinners, or using live minnows as bait. These methods allow anglers to effectively present their offerings at the desired depths and entice the crappie to strike. White crappie can be found in schools, so once anglers locate a productive area, they can enjoy consistent action and potentially reel in numerous fish during a successful outing.
New Mexico's lakes and reservoirs provide ample opportunities for crappie fishing, and anglers can enjoy the scenic beauty of these water bodies while pursuing their favorite sport. Whether casting near submerged structures or trolling along the edges of weed beds, anglers can have a rewarding experience targeting white crappie in New Mexico's diverse fishing locations.
Crappie Waters In NM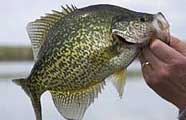 Many of the warmer waters in NM contain crappie. The larger lakes in the state with healthy schools of crappie include Abiquiu Reservoir, Brantley Lake, Caballo Lake, Conchas Lake, Elephant Butte Reservoir, Navajo Lake, Red Bluff Reservoir, Santa Rosa Lake, Sumner Lake and Ute Lake. Ponds, rivers and small lakes may also be home to schools of crappie.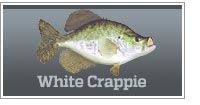 World record: 5 lbs 3 oz
State Record: 4 lbs 9 oz
Click the images and links above for species details.
Top 5 Crappie Fishing Lures For New Mexico
Crappie jigs work well in water from 2' to 40' deep, and are the most popular artificial lure for crappie ever. When crappie are shallow, spinners, small crankbaits and underspins are the often very productive. As they move deeper, spoons are among the top producers if the crappie are active. Review details for the best crappie rig options. Understanding the seasonal movements of crappie can enhance your chances of using these lures in the ideal locations.
New Mexico State Record Crappie
The state record white crappie came out of the Black River.
Crappie are actually a member of the sunfish family and can be found in many New Mexico lakes. Crappie are known by many different local names. Paper mouth, goggleye, bridge perch, slabs and speckled perch, are just a few.
Crappie Fishing Basics Video
Check out crappie information, by state.
The life cycle of crappie.
The more you know about crappie, the easier it will be to locate and catch them in New Mexico lakes and rivers. Visit the crappie fishing page for details about their seasonal migrations.
NEW MEXICO