Guide To Fishing At Red Bluff Reservoir
AKA: Red Bluff Lake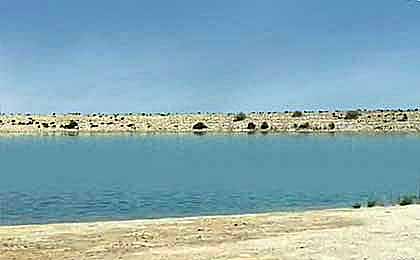 Located primarily in Texas, Red Bluff Reservoir is an 11,000-acre lake on the southern border of the state, 15 miles south of Malaga. The small portion that resides in New Mexico invites anglers to come fish from the bank, or boat.
Red Bluff Reservoir in New Mexico is a hidden gem for fishing enthusiasts, offering a tranquil setting and a variety of fish species. The reservoir is known for its excellent angling opportunities, with species such as largemouth bass, white bass, catfish, and walleye drawing anglers from near and far.
Largemouth bass are a popular target in Red Bluff Reservoir, and the lake's structure provides ideal habitat for these feisty fish. Anglers can explore the submerged vegetation, rocky points, and drop-offs to find bass hiding and feeding. Techniques such as casting with jigs, soft plastics, or crankbaits can entice largemouth bass to strike. The reservoir's peaceful surroundings and abundance of bass make it an attractive destination for bass anglers.
White bass are also plentiful in Red Bluff Reservoir, particularly during their spawning runs in the spring. Anglers can experience the excitement of catching multiple white bass in a single outing. Casting with jigs, spinners, or small crankbaits near points or drop-offs can be effective in enticing these voracious feeders. The lake's clear waters and schooling behavior of white bass make it an exciting destination for anglers seeking fast-paced action.
Catfish enthusiasts will find Red Bluff Reservoir to be an appealing spot. The reservoir is home to both channel catfish and flathead catfish, providing opportunities for anglers to target these bottom-dwelling predators. Fishing with stink baits, chicken liver, or cut bait near the lake's bottom can attract catfish. Anglers can enjoy the challenge of battling these strong fish while enjoying the peacefulness of the reservoir.
Boating is a popular activity in Red Bluff Reservoir, with boat ramps available for easy access to the water. Anglers can navigate the reservoir's surface, explore different fishing spots, and enjoy the serene surroundings. Boating also allows visitors to engage in recreational activities such as water skiing, tubing, or simply cruising along the calm waters.
For those looking to extend their stay, camping facilities near Red Bluff Reservoir provide the opportunity to immerse themselves in the natural beauty of the area. Campers can set up their tents or park their RVs in designated campgrounds, offering a chance to relax under the starry sky, gather around campfires, and enjoy the peaceful ambiance of the reservoir and its surroundings.
Red Bluff Reservoir in New Mexico offers a rewarding fishing experience with its diverse fish species and tranquil environment. Anglers targeting bass, white bass, catfish, or walleye can enjoy the thrill of the catch while embracing the beauty of the reservoir and its surroundings. Boating facilities and camping amenities further enhance the outdoor experience, making Red Bluff Reservoir an attractive destination for anglers and nature enthusiasts seeking a memorable fishing adventure and a peaceful retreat in nature.
Anglers fishing for white bass, hybrid striped bass and largemouth bass have over 30 miles of shoreline with a variety of structure and cover as home to the fish species residing here.

What to fish for...
Fishing for largemouth bass, white bass, striped bass and hybrid striped bass at Red Bluff Reservoir in New Mexico.
Primary fish species residing in Red Bluff Reservoir
Click images for fishing tips and details about each species.
Red Bluff Reservoir Amenities
Marina: NO
Boat Rental: NO
Boat Launch Ramp: YES (in TX)
Campgrounds: YES (in TX)
RV Hookups: NO
Lodging: YES (in TX)
Convenience Store: NO
Bait & Tackle: NO
Restaurant: NO
Today's Weather & Forecast
Public Boat Launch Ramps & Landings
Red Bluff Dam Park & Public Boat Launch Ramp
Located at the southern tip of the lake, off Red Bluff Lake Road, this is an earthen launch area with gravel parking.
Click here for a New Mexico Fishing License.
Campgrounds & RV Parks Nearby
Red Bluff Dam Park & Public Boat Ramp Campground - 325 651-5556
Red Bluff Reservoir NM Map - Fishing & Camping Areas
Lake Video
Contact Information
Red Bluff Reservoir
Red Bluff Dam Park & Public Boat Ramp
3407-A S. Chadbourne
San Angelo, Texas 76903
325 651-5556
Fishing lakes in each state.
Red Bluff Reservoir in NM
NEW MEXICO


Fishing for white bass, hybrid striped bass and largemouth bass in southern NM.
Red Bluff Reservoir, in New Mexico.