Guide To Great Trout Fishing Locations In New Mexico
All about fishing for rainbow, cutthroat, brook, brown and lake trout in local lakes and streams.
New Mexico is a paradise for trout fishing, offering a wealth of lakes and rivers teeming with various trout species. Rainbow trout, brown trout, and cutthroat trout are among the most sought-after species in the state. Anglers can find these trout species in both still waters and flowing rivers, providing a diverse and exciting fishing experience.
The renowned San Juan River is a prime destination for trout fishing in New Mexico. Known for its trophy-sized rainbow and brown trout, this famous tailwater fishery draws anglers from all over the country. Fly fishing is especially popular on the San Juan River, with its crystal-clear waters and abundant insect hatches that provide ideal conditions for catching trout.
Another notable trout fishing destination in New Mexico is the Pecos River. Flowing through picturesque canyons and valleys, the Pecos River offers excellent opportunities to catch wild brown trout and rainbow trout. The river's remote stretches provide a serene angling experience, while the nearby Pecos Wilderness offers a chance to combine trout fishing with hiking and camping.
New Mexico's high mountain lakes are also prized locations for trout fishing. Heron Lake, Eagle Nest Lake, and Fenton Lake are just a few examples of the picturesque mountain lakes that are stocked with trout and provide exceptional fishing experiences. These alpine waters offer anglers the chance to catch rainbow trout, brown trout, and sometimes even brook trout in a stunning natural setting.
When it comes to state records, New Mexico boasts some impressive catches. The state record for rainbow trout stands at over 31 pounds, while the record for brown trout exceeds 20 pounds. These records highlight the potential for landing trophy-sized trout in New Mexico's waters.
Whether casting dry flies on a mountain stream, drifting nymphs on a tailwater, or trolling lures in a serene lake, trout fishing in New Mexico provides a wealth of opportunities for anglers of all skill levels. The state's diverse trout species, coupled with its stunning landscapes, make it a destination that promises memorable fishing experiences and the chance to reel in impressive trout.
Trout Waters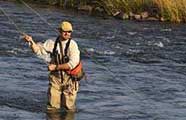 Abiquiu Reservoir, Caballo Lake, Eagle Nest Lake, El Vado Lake, Heron Lake, Navajo Lake, Springer Lake, and Stone Lake are some of the larger lakes in the state with a population of trout. In addition, some smaller lakes and rivers may also contain trout. Several lakes in the state offer ice fishing for trout.

Trout Species In The State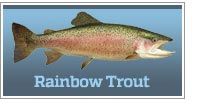 World record: 42 lbs 2 oz
State Record: 31 lbs 12.5 oz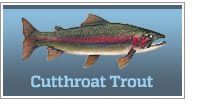 World record: 41 lbs 0 oz
State Record: 10 lbs 2 oz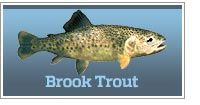 World record: 14 lbs 8 oz
State Record: 5 lbs 0 oz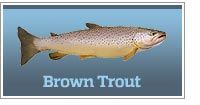 World record: 40 lbs 4 oz
State Record: 20 lbs 4 oz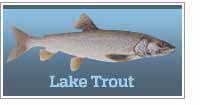 World record: 72 lbs 0 oz
State Record: 31 lbs 6 oz
Click the images and links above for species details.
Select the best trout lures and baits
Trout spinners, crankbaits and jerkbaits work well for shallow, reasonably active fish. Salmon eggs, worms and prepared baits will work at virtually all depths.
New Mexico State Record Trout
The state record rainbow trout was caught from Santa Cruz Lake.
The state record cutthroat trout was taken out of Latir Lakes.
The state record brook trout was taken out of Hidden Lake.
The state record brown trout came from the Chama River.
The state record lake trout was caught in Heron Lake.
Visit the New Mexico Game & Fish website for information regarding trout stocking in New Mexico.
Watch trout fishing videos to see trout anglers in action.
Additional trout information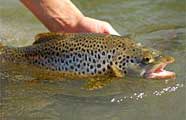 The 5 primary trouts are the rainbow, brook, brown, cutthroat and lake trout. Browns are considered the most difficult to catch and brookies are the easiest. Pure cold water is key to survival of the trouts.
Trout Conservation
Trout Unlimited
Trout locations and info, by state.
The habits of trout.
Trout are considered some of the most difficult fish to fool. Once you locate New Mexico waters with a population of trout, the challenge becomes identifying trout flies and lures that will trigger strikes. Visit the trout fishing page to learn more about the habitat each of the trouts prefer.
NEW MEXICO