Guide To Great Trout Fishing Locations In Maryland
All about fishing for rainbow, cutthroat, brook, brown, golden and lake trout in area lakes and streams.
Maryland is a paradise for trout fishing enthusiasts, offering a variety of trout species and diverse fishing locations. The state is home to three primary trout species: rainbow trout, brown trout, and brook trout, each providing unique angling experiences.
Rainbow trout are widely distributed in Maryland's lakes, rivers, and streams. These acrobatic fish are known for their vibrant colors and energetic fights, making them a favorite among trout anglers. Popular trout fishing destinations for rainbow trout include the Gunpowder Falls and Savage River, both of which offer pristine habitats and challenging fishing conditions.
Brown trout, known for their elusive nature and wily behavior, can be found in select Maryland streams and rivers. The North Branch of the Potomac River and the Youghiogheny River are known for their brown trout populations. These cunning fish require stealthy approaches and delicate presentations, offering a rewarding challenge for experienced anglers.
Brook trout, Maryland's only native trout species, thrive in cold, clean, and well-oxygenated mountain streams. They are highly prized for their beauty and the pristine environments in which they are found. The streams of western Maryland, such as the Savage River and the North Branch of the Potomac River, provide excellent opportunities for brook trout fishing.
In terms of state records, Maryland boasts impressive trout catches. The current state record for rainbow trout stands at over 14 pounds, while the record for brown trout weighed over 18 pounds. Brook trout records are more modest due to their smaller average size, with the current record standing at just over 6 pounds. These records demonstrate the potential for anglers to land remarkable-sized trout while fishing in Maryland's waters.
Whether it's casting a fly on a mountain stream or drifting bait in a scenic river, Maryland's trout fishing opportunities are abundant. The state's diverse trout species, combined with its beautiful lakes, rivers, and streams, provide anglers with endless possibilities for pursuing these elusive and captivating fish. Maryland's trout fishing scene continues to attract enthusiasts seeking thrilling angling adventures and the chance to create unforgettable fishing memories.
Trout Waters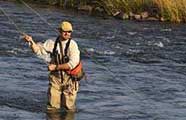 Many of the major reservoirs with healthy populations of trout include Deep Creek Lake, Jennings Randolph Lake, Lake Habeeb, Liberty Reservoir, Piney Run Lake, Rocky Gorge Reservoir, Triadelphia Reservoir and Youghiogheny River Lake. The Potomac River also has quality trout fishing. Maryland has a stocking program for ponds, rivers and lakes with trout. Visit the Maryland Department of Natural Resources - Fisheries Service website for details and schedules on trout stocking in Maryland.

Trout Species In The State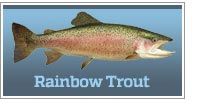 World record: 42 lbs 2 oz
State Record: 14.2 lbs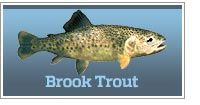 World record: 14 lbs 8 oz
State Record: 6.1 lbs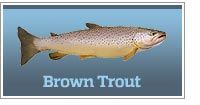 World record: 40 lbs 4 oz
State Record: 18.2 lbs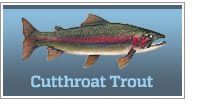 World record: 41 lbs 0 oz
State Record: 7.6 lbs
Click the images and links above for species details.
Select the best trout lures and baits
Trout spinners, crankbaits and jerkbaits work well for shallow, reasonably active fish. Salmon eggs, worms and prepared baits will work at virtually all depths.
Maryland State Record Trout
The state record rainbow trout was caught from Savage River Reservoir.
The state record brook trout was taken out of the Potomac River.
The state record brown trout came from the Potomac River.
The state record cutthroat trout came from the Potomac River.
Watch trout fishing videos to see trout anglers in action.
Additional trout information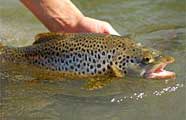 The 5 primary trouts are the rainbow, brook, brown, cutthroat and lake trout. Browns are considered the most difficult to catch and brookies are the easiest. Pure cold water is key to survival of the trouts.
Trout Conservation
Trout Unlimited
Trout locations and info, by state.
The habits of trout.
Trout are considered some of the most difficult fish to fool. Once you locate Maryland waters with a population of trout, the challenge becomes identifying trout flies and lures that will trigger strikes. Visit the trout fishing page to learn more about the habitat each of the trouts prefer.
MARYLAND