Guide To Great Trout Fishing Locations In New Jersey
All about fishing for rainbow, brook, brown and lake trout in area lakes and streams.
New Jersey offers fantastic trout fishing opportunities for anglers of all skill levels. The state is known for its robust populations of both stocked and wild trout, providing a diverse and exciting fishing experience.
Several trout species can be found in New Jersey's waters, including rainbow trout, brown trout, brook trout, and lake trout. Rainbow trout are the most commonly stocked species and can be found in lakes, ponds, and rivers across the state. Brown trout, known for their wily nature and impressive size, thrive in larger rivers and streams. Brook trout, native to the state, are found in pristine cold-water streams and offer a unique angling experience. Lake trout, while less common, can be targeted in select deep lakes.
New Jersey's lakes, rivers, and streams are home to numerous trout fishing destinations. Popular trout fishing lakes include Round Valley Reservoir, Merrill Creek Reservoir, and Lake Wawayanda. These lakes are regularly stocked with trout, providing anglers with ample opportunities to hook into these prized fish.
When it comes to rivers and streams, the state boasts a variety of trout fishing hotspots. The Pequest River, known for its trout hatchery and educational center, attracts anglers seeking a memorable fishing experience. Other notable trout streams include the Musconetcong River, South Branch Raritan River, and Paulins Kill.
New Jersey has seen impressive catches of trout throughout the years, with several state records highlighting the trophy potential. The state record for rainbow trout stands at 13 pounds, while the record for brown trout exceeds 21 pounds. These records reflect the outstanding size and quality of trout that can be found in New Jersey's waters.
Trout fishing in New Jersey is a year-round endeavor, with different seasons offering unique angling opportunities. Spring and fall are particularly productive for trout fishing, as the weather cools down and trout become more active. Anglers often employ a variety of techniques, including fly fishing, spin fishing, and bait fishing, to target trout in different water conditions.
Whether pursuing stocked or wild trout, New Jersey's lakes, rivers, and streams offer a wealth of opportunities for anglers to enjoy the thrill of trout fishing. With proper gear, knowledge of fishing regulations, and respect for the environment, anglers can create memorable experiences and potentially reel in trophy-sized trout in the Garden State.
Trout Waters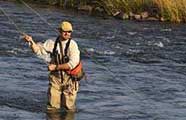 Rockaway River and many of the major lakes including Lake Hopatcong, Merrill Creek Reservoir, Monksville Reservoir, Oak Ridge Reservoir, Round Valley Reservoir, Spruce Run Reservoir, Swartswood Lake and Wanaque Reservoir have one or more species of trout. Consider ice fishing for trout in winter at some of these fisheries. Many other streams, rivers and some ponds also contain trout.

Trout Species In The State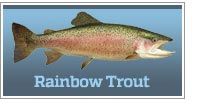 World record: 42 lbs 2 oz
State Record: 13 lbs 0 oz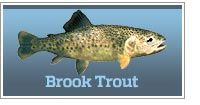 World record: 14 lbs 8 oz
State Record: 7 lbs 3 oz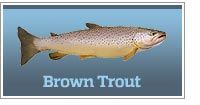 World record: 40 lbs 4 oz
State Record: 21 lbs 6 oz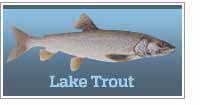 World record: 72 lbs 0 oz
State Record: 32 lbs 8 oz
Click the images and links above for species details.
Select the best trout lures and baits
Trout spinners, crankbaits and jerkbaits work well for shallow, reasonably active fish. Salmon eggs, worms and prepared baits will work at virtually all depths.
New Jersey State Record Trout
The state record rainbow trout was caught from Lake Hopatcong.
The state record brook trout was taken out of the Rockaway River.
The state record brown trout came from Round Valley Reservoir.
The state record lake trout was caught in Round Valley Reservoir.
Click here to find a list of New Jersey waters stocked with trout. Watch trout fishing videos to see trout anglers in action.
The 5 primary trouts are the rainbow, brook, brown, cutthroat and lake trout. Browns are considered the most difficult to catch and brookies are the easiest. Pure cold water is key to survival of the trouts.
Additional trout information
Trout Conservation
Trout Unlimited
Trout locations and info, by state.
The habits of trout.
Trout are considered some of the most difficult fish to fool. Once you locate New Jersey waters with a population of trout, the challenge becomes identifying trout flies and lures that will trigger strikes. Visit the trout fishing page to learn more about the habitat each of the trouts prefer.
NEW JERSEY