Trout Fishing In Arkansas
Guide to fishing for rainbow, cutthroat, brook, brown and lake trout in AR lakes and streams.
Arkansas offers exceptional trout fishing opportunities, with its picturesque lakes and rivers providing ideal habitats for various trout species. Anglers can target rainbow trout, brown trout, and cutthroat trout in the state's pristine waters, creating a haven for trout fishing enthusiasts. The purpose of this page is to share basic information about trout fishing and identify trout fishing waters in the state.
Rainbow trout are the most commonly stocked trout species in Arkansas. These vibrant fish are known for their acrobatic fights and are frequently stocked in lakes and tailwaters below dams. Anglers can find rainbow trout in popular locations such as the Little Red River, White River, and Bull Shoals Lake. These waters provide ample opportunities for anglers to catch rainbow trout, with some individuals exceeding 10 pounds in weight.
Brown trout are another prized trout species found in Arkansas. Known for their elusive nature and impressive size, brown trout offer a rewarding challenge for anglers. They can be found in select tailwaters and freestone rivers such as the White River and the Spring River. Brown trout tend to be more wary and selective in their feeding habits, requiring anglers to use a variety of techniques such as fly fishing or presenting natural-looking lures to entice these wary fish.
Cutthroat trout, although less common in Arkansas, can be found in certain areas of the state. These native trout species offer a unique angling experience for those seeking a true wilderness adventure. Some remote streams and lakes in the Ouachita National Forest and the Ozark National Forest provide opportunities for anglers to catch cutthroat trout.
Arkansas boasts impressive state records for trout, showcasing the potential for trophy-sized catches. The current state record for rainbow trout exceeds 19 pounds, caught in the White River. For brown trout, the state record stands at over 40 pounds, caught in the Little Red River. These records demonstrate the remarkable trout fishing opportunities that Arkansas's lakes and rivers offer to avid anglers.
Whether fishing in well-known trout destinations like the White River or exploring lesser-known streams and lakes, Arkansas's trout fishing scene provides a diverse range of experiences for anglers of all skill levels. From the thrill of battling a trophy rainbow trout to the serene beauty of casting a fly on a secluded river, Arkansas's trout fishing is a haven for those seeking both excitement and tranquility in their angling pursuits.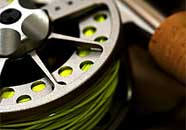 Trout Waters
Most people would never guess that world record trout are caught in Arkansas. Yet, the world record brown trout was caught in Little Red River. The previous world record it replaced also came from Arkansas. The White River and North Fork River also yield many nice trout including rainbow, brook, cutthroat and brown trout. For lakes, try Bull Shoals Lake or Greers Ferry Lake.

Trout Species In The State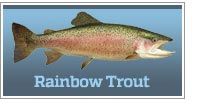 World record: 42 lbs 2 oz
State Record: 19 lbs 1 oz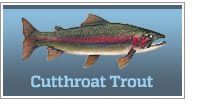 World record: 41 lbs 0 oz
State Record: 10 lbs 2 oz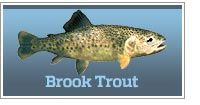 World record: 14 lbs 8 oz
State Record: 5 lbs 0 oz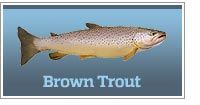 World record: 40 lbs 4 oz
State Record: 40 lbs 4 oz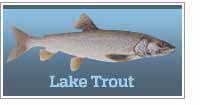 World record: 72 lbs 0 oz
State Record: 11 lbs 5 oz
Click the images and links above for species details.
Select the best trout lures and baits
Trout spinners, crankbaits and jerkbaits work well for shallow, reasonably active fish. Salmon eggs, worms and prepared baits will work at virtually all depths.
Arkansas State Record Trout
The state record rainbow trout was caught from the White River.
The state record cutthroat trout was taken out of the White River.
The state record brook trout was taken out of the North Fork River.
The state record brown trout came from the Little Red River.
The state record lake trout was caught in Greers Ferry Lake.
Additional trout information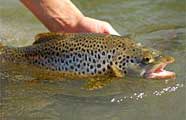 The 5 primary trouts are the rainbow, brook, brown, cutthroat and lake trout. Browns are considered the most difficult to catch and brookies are the easiest. Pure cold water is key to survival of the trouts.
Visit the Arkansas Game & Fish Commission for details regarding trout stocking in Arkansas.
Watch trout fishing videos to see trout anglers in action.
Additional trout information
Trout Conservation
Trout Unlimited
Trout locations and info, by state.

The habits of trout.
Trout are considered some of the most difficult fish to fool. Once you locate Arkansas waters with a population of trout, the challenge becomes identifying trout flies and lures that will trigger strikes. Visit the trout fishing page to learn more about the habitat each of the trouts prefer.
ARKANSAS