Guide To Striped Bass & Hybrid Striper Fishing In Arkansas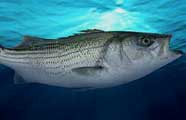 Arkansas is known for its excellent striped bass fishing, with opportunities to catch both purebred striped bass and hybrid stripers. These hard-fighting fish provide anglers with thrilling battles and the chance to reel in trophy-sized catches.
One popular destination for striped bass fishing in Arkansas is Lake Ouachita. This sprawling reservoir is home to both purebred striped bass and hybrid stripers. Anglers can target these fish by trolling large diving plugs, live bait fishing, or casting topwater lures. Lake Ouachita has produced impressive striped bass catches, with some fish exceeding 40 pounds in weight.
Another major lake for striped bass fishing in Arkansas is Lake Hamilton. This smaller but productive lake offers a chance to catch both purebred stripers and hybrid stripers. Anglers can find success targeting these fish near points, deep channels, and other areas where stripers are known to gather. Lake Hamilton has seen its share of impressive catches, with striped bass weighing over 30 pounds.
State records for striped bass and hybrid stripers in Arkansas showcase the potential for trophy-sized catches. The current state record for purebred striped bass stands at over 64 pounds. For hybrid stripers, the state record exceeds 27 pounds. These records highlight the trophy fish that Arkansas's waters hold and the excitement that awaits striped bass anglers in the state.
In addition to Lake Ouachita and Lake Hamilton, other major lakes in Arkansas, such as Beaver Lake and Greers Ferry Lake, offer opportunities for striped bass fishing. These lakes are stocked with striped bass and hybrid stripers, providing anglers with a chance to test their skills and land impressive catches.
Arkansas's dedication to maintaining healthy populations of striped bass and hybrid stripers, along with its impressive fishing waters, has made the state a top destination for anglers seeking these iconic gamefish. Whether pursuing purebred striped bass or hybrid stripers, anglers in Arkansas have the opportunity to reel in trophy-sized catches and create memorable fishing experiences.
If you want to catch a monster fish in Arkansas, one of your best bets would be a striper or wiper. These brutes can take over a half hour to land and strip 200 yards of line off your reel so fast you may need to cool off the reel with water. The smaller ones run in packs and feed in frenzies. While they are feeding you can catch them till your arms get tired.
Striped Bass Lakes
Choose from Beaver Lake, Bull Shoals Lake, DeGray Lake, Greers Ferry Lake, Lake Chicot, Lake Dardanelle, Lake Hamilton, Lake Ouachita and Norfork Lake as the best lakes to catch stripers in Arkansas.

Striped Bass
Inland world record: 64 lbs 8 oz
State Record: 64 lbs 8 oz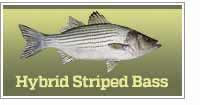 World record: 27 lbs 5 oz*
State Record: 27 lbs 5 oz*
Click the images and links above for species details.
Arkansas State Record Striped Bass
The state record striped bass was caught from the White River.
The state record hybrid striped bass came from Greers Ferry Lake.
Fishing for Stripers in Arkansas
When fishing for stripers concentrate on the deeper waters in the lake. If you can locate schools of shad, stripers are often close by. When the baitfish are shallow over the deep water, you can catch stripers on crankbaits or by swimming spoons at appropriate depths. Check Arkansas fishing reports for current striper information. And for the ultimate thrill try large topwater baits if you see any surface feeding action. When the stripers are deep, jigs and jigging spoons work well. Live and cut bait will also take striped bass when they are in medium to deeper water. Fish nearby or in the river channel if it is a defined depth change. Trolling is also an excellent way to fish for stripers. Use flashy lures in bigger sizes.
While stripers are native to salt water, they naturally migrate into fresh water streams to spawn. Their eggs must remain in motion in order to hatch so the fresh water rivers and streams become the ideal spawning grounds for stripers. Landlocked stripers then populate the lakes.
Striper Fishing Video
Learn the basics for catching striped bass.
Striped bass fishing information, by state.

Learn the migration of stripers
The more you know about the seasonal migration of striped bass, the more likely you are to be looking in the right area next time you visit Arkansas striper fishing lakes. Visit the striped bass fishing page for more in-depth information about striper movements.
ARKANSAS