Striped Bass & Hybrid Striper Fishing In Iowa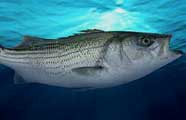 Hybrid stripers, also known as wipers, are a popular sportfish in Iowa, prized for their hard-fighting nature and impressive size. These fish are a cross between striped bass and white bass, combining the best qualities of both species. While hybrid stripers are not native to Iowa, they have been successfully stocked in several major lakes across the state, providing anglers with exciting fishing opportunities. The purpose of this page is to share basic information about striped bass and hybrid stripers fishing and identify popular striper waters in the state.
Striper Fishing Video
Learn the basics for catching striped bass.
One of the major lakes in Iowa known for its hybrid striper population is Big Creek Lake. Located near Polk City, Big Creek Lake has been stocked with hybrid stripers to enhance the fishing experience. Anglers can target hybrid stripers by trolling or casting with artificial lures such as crankbaits or swimbaits. These powerful fish often put up a spirited fight, making for an exhilarating angling experience.
Another popular lake for hybrid striper fishing in Iowa is Rathbun Lake. Rathbun Lake, located in southern Iowa, has a reputation for producing large hybrid stripers. Anglers can target these fish by casting near rocky points, submerged structures, or along the shoreline. Live bait, such as shad or large minnows, can be effective in enticing strikes from hybrid stripers in Rathbun Lake.
When it comes to state records, Iowa has seen some impressive hybrid striper catches. The current state record for hybrid striper stands at over 19 pounds. This state record serves as a testament to the potential of Iowa's lakes for producing trophy-sized hybrid stripers.
It's important to note that the availability and success of hybrid striper fishing can vary from year to year, depending on factors such as stocking efforts, water conditions, and natural reproduction. Anglers are encouraged to check with local fishing regulations and consult local fishing reports or tackle shops for up-to-date information on hybrid striper fishing opportunities.
Overall, Iowa's major lakes provide exciting opportunities for anglers to pursue hybrid stripers. Whether it's casting from the shoreline, trolling from a boat, or using various lures and bait, targeting hybrid stripers in Iowa can lead to memorable fishing experiences and the chance to land a trophy-sized fish.
Striped bass are rare in IA. The state record was caught from Lake Rathbun in 1983. Since that time stocking of striped bass has been discontinued. Recently hybrid striped bass (the cross of a female ocean striped bass and a male white bass.) have been stocked in urban lakes such as Ada Hayden Heritage Park Lake, Black Hawk Lake, Blue Heron Lake, Copper Creek Lake, Coralville Reservoir, Gray's Lake, Lake MacBride, Lake Manawa, Lake Wapello, Pleasant Creek Lake, Prairie Park Fishery, Rathbun Lake, Red Rock Reservoir, Roberts Creek Lake, Sand Lake, Saylorville Reservoir and Three Mile Lake.

Striped Bass
Saltwater world record: 81 lbs 14 oz
State Record: 9.25 lbs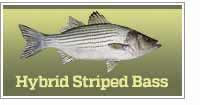 World record: 27 lbs 5 oz
State Record: 19.63 lbs
Click the images and links above for species details.
Iowa State Record Striped Bass
The state record striped bass was caught from Rathbun Reservoir.
The state record hybrid striped bass came from Saylorville Reservoir.
While stripers are native to salt water, they naturally migrate into fresh water streams to spawn. Their eggs must remain in motion in order to hatch so the fresh water rivers and streams become the ideal spawning grounds for stripers. Landlocked stripers then populate the lakes.
Fishing for Stripers in Iowa
When fishing for stripers concentrate on the deeper waters in the lake. If you can locate schools of shad, stripers are often close by. When the baitfish are shallow over the deep water, you can catch stripers on crankbaits or by swimming spoons at appropriate depths. Check Iowa fishing reports for current striper information. And for the ultimate thrill try large topwater baits if you see any surface feeding action. When the stripers are deep, jigs and jigging spoons work well. Live and cut bait will also take striped bass when they are in medium to deeper water. Fish nearby or in the river channel if it is a defined depth change. Trolling is also an excellent way to fish for stripers. Use flashy lures in bigger sizes.
Striped bass fishing information, by state.
Learn the migration of stripers
The more you know about the seasonal migration of striped bass, the more likely you are to be looking in the right area next time you visit Iowa striper fishing lakes. Visit the striped bass fishing page for more in-depth information about striper movements.
IOWA