Fishing At Storm Lake
AKA: Big Storm Lake
What to fish for...
Guide to fishing for channel catfish, black crappie, walleye, white bass and yellow perch at Storm Lake in Iowa.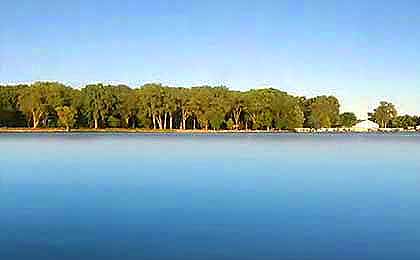 The town of Storm Lake wraps around the northern shores of Storm Lake, a 3,200-acre lake in northwest Iowa. Visitors will find over eight miles of shoreline to explore from a boat or from shore.
Storm Lake in Iowa is a premier fishing destination, renowned for its diverse fish populations and scenic beauty. This 3,200-acre lake offers anglers a wide range of opportunities to catch a variety of popular fish species.
One of the sought-after fish species in Storm Lake is the walleye. The lake is known for its excellent walleye fishery, attracting anglers from near and far. Anglers can target walleye using various techniques such as trolling with crankbaits or spinner rigs, casting with jigs, or live bait rigging. The lake's structure, including points, drop-offs, and submerged structures, provides ideal habitat for walleye. Spring and fall are typically the most productive seasons for walleye fishing in Storm Lake.
Black crappie is another popular species in Storm Lake. Anglers can find good numbers of crappie near submerged structures, such as brush piles or fallen trees. Small jigs, minnows, or artificial baits are effective in enticing these panfish. Spring and early summer are often the best times to target crappie in the shallower areas of the lake.
Storm Lake is also home to other fish species, including largemouth bass, bluegill, channel catfish, and white bass. Largemouth bass can be found near weed beds, submerged structures, or rocky areas, providing thrilling fishing experiences for anglers. Bluegill, known for their feisty nature, can be targeted using small jigs, worms, or crickets near vegetation or submerged structures. Channel catfish can be pursued using cut bait, stinkbaits, or live bait in areas with good cover. White bass, known for their schooling behavior, can provide exciting action during their spring and fall runs.
Boating is a popular activity on Storm Lake, with multiple boat ramps available for easy access to the water. Anglers can enjoy cruising along the lake, finding their favorite fishing spots, and taking advantage of the lake's vast expanse. Whether it's a motorized boat, kayak, or canoe, boating adds another dimension of enjoyment to the fishing experience.
Camping facilities are available near Storm Lake, allowing anglers to extend their fishing trips and fully immerse themselves in the natural beauty of the area. Campgrounds offer amenities such as RV hookups, tent sites, picnic areas, and hiking trails, ensuring a comfortable and enjoyable stay for visitors.
Storm Lake in Iowa offers excellent fishing opportunities for a variety of popular fish species, including walleye, black crappie, largemouth bass, bluegill, channel catfish, and white bass. With its boating options, camping facilities, and diverse fishing opportunities, Storm Lake provides a complete outdoor experience for anglers of all levels, making it a top destination for fishing in Iowa.
There is a fishing jetty and pier, boat launching, rental boats, camping and plenty of places with easy access for fishing from the bank. Anglers favorite species here are walleye, perch and crappie. There is good fishing for catfish and white bass as well.

Primary fish species residing in Storm Lake
Click images for fishing tips and details about each species.
Storm Lake Amenities
Marina: YES
Boat Rental: NO
Boat Launch Ramp: YES
Campgrounds: YES
RV Hookups: YES
Lodging: YES
Convenience Store: YES
Bait & Tackle: YES
Restaurant: YES
Today's Weather & Forecast
Public Boat Launch Ramps & Landings
Lakeside Boat Launch Ramp
Located mid lake, east side, off Lakeshore Drive, this is a two-lane, concrete ramp with a dock and gravel parking.
South Side Boat Launch Ramp
Located mid lake, on the south side of the lake, off Mallard Avenue, this is a two-lane, concrete ramp with a dock and paved parking.
Storm Lake Boat Launch Ramp
Located mid lake, west side, off W Marina Road, this is a four-lane, concrete ramp with docks and lots of paved parking.
Click here for a Iowa Fishing License.
Campgrounds & RV Parks Nearby
Lakeside Marina & Campground - 712 732-7465
Sunrise Campgrounds - 712 732-8023
Storm Lake Sunrise Campgrounds - 712 732-8023
Storm Lake IA Map - Fishing & Camping Areas
Lake Video
Contact Information
Storm Lake
Iowa Department of Natural Resources
712 657-2638
Fishing lakes in each state.
Storm Lake in IA
IOWA


Fishing for walleye, perch and crappie in northwest IA.
Storm Lake, in Iowa.