Guide To Top Lures & Bait for Yellow Perch & White Bass
All about baits and lures for white and yellow bass, and white and yellow perch.
These species eat a diet very similar to other species of sunfish, with emphasis on small fish, shad and minnows. They also eat worms, small fish, insects and crustaceans. Use these lures in slightly larger sizes, than for smaller sunfish.
---
Best lures and baits for perch, yellow and white bass.
SMALL JIGS

Use small jigs in light weights, 1/8 oz to 1/4 oz for all depths, water conditions and seasons.
SMALL SPINNERS
Use small spinners for shallow, active fish. (Blue Fox Flash Spinner - Cabela's)
MINI SPOONS

Use mini spoons 1/8 oz to 1/4 oz when fish are in deeper water. (PK Spoon Jigging Spoon - Sportsman's Warehouse)
UNDERSPINS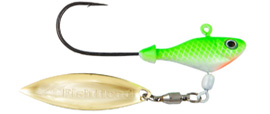 Use small underspins in shallow to mid-depth water. (Fish Head Underspins - Tackle Warehouse)
SMALL CRANKBAITS

Use small crankbaits in shallow water. (XTS Micro Light Mini Crankbaits - Bass Pro Shops)
WORMS

Use worms, nightcrawlers or wax worms for all perch fishing conditions.
PREPARED BAITS

Use prepared baits for all panfish fishing conditions. (Berkley Gulp! Minnow Fishing Soft Bait - Walmart)
For additional information on perch, yellow bass and white bass fishing, visit the panfish and perch fishing page.
Locate fishing opportunities by state.
Fishing Information