Guide To Fishing Boats Choices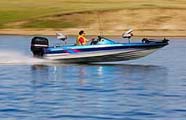 What ever your favorite fish species, there is a fishing boat designed to meet your every need. Bass boats, crappie boats, aluminum boats, jon boats and a host of other boats are available for fishing.
Bass Boats
If you love to go bass fishing in rivers, streams, and lakes, a bass boat is the ideal boat for you. Bass boats are powered by an outboard motor plus a trolling motor for very slow maneuvering within the fishing area. The decks front and rear have large fishing platforms. These boats include swivel chairs, electronics for fish finding and live fish wells for storing your catch. Bass boats are one of the most popular fishing boat sold and can be used for most types of fishing.
Aluminum Fishing Boats
Aluminum boats are most often used for freshwater fishing. They are are small, lightweight, and durable boats designed for rivers, streams, lakes, and other waterways. Smaller models can easily fit in the bed of a pickup truck or on a mountable rack on the top of the car. Aluminum boats are favored among anglers for both fuel efficiency and price. These boats are available with two types of bottoms, the V-hull or flat bottom also called the Jon boat. The Jon boat bottom is flat for easy maneuverability in shallow waterways. Aluminum boats are easily stored when not in use and require very little maintenance.
Family Fishing Boats
For many families, a combination fish and ski boat serves the interest of all family members. Those that want to fishing can do just that. The same boat can be used for family outings, water-sport activities like skiing and wake boarding. Once you determine the uses for a boat you can define the size, layout and performance features to fulfill all your dreams. Boat dealers can assist you in choosing a family boat that is just right for your family.
Pontoon Boats
For larger groups of boaters and anglers, a pontoon boat may be the answer. There is plenty of room for fishing gear, ice chests and all the family. Canopy tops provide shade during the heat of day, and most are plenty powerful to tow a water skiier or tow toys.
Boating and fishing information, by state.
Boating Safety & Boating Accidents
It is not uncommon for fishing boats to exceed sixty miles an hour. When accidents occur injuries can be significant, and often fatal. If you are involved in a boating accident, let an accident attorney assist you in establishing fault and assuring proper compensation for your injuries.
Fishing Information