Guide To Using Fishing Reports
Reading A Published Report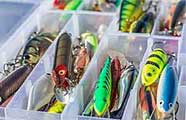 Fishing reports are created with information gathered by fishermen. It is then collected by a service which posts the information for public or private viewing. Quality information will include the conditions under which the angling took place. Weather, wind, time of day, water depth, water conditions and more should be a part of the report. In addition, the type of baits and how they were presented should be included.
Maximum benefit can be derived from fishing reports that describe exactly "where" fish are being caught. Depth is very important. Location on the lake... back in the coves versus outside points, and etc. Conditions - windy, cloudy, sunny, and etc all have an impact on when, where and how the fish can be caught. The information about "what" they were caught on only gives you an idea of what they are feeding on, and how aggressively they may pursue a bait.
Wind from the west, fish bite the best.
Wind from the east, fish bite the least.
Wind from the north, do not go forth.
Wind from the south blows bait in their mouth.
It may an old saying...but there is a bit of wisdom in these words.
Conditions can change by the hour. So when reading reports, the most useful information is likely to be the sum total of all information over the last few days, or weeks, rather than the specifics of the most current posting. So finding that the fish have been caught shallow over the last few weeks is more important to know than the exact lure mentioned in the recent posting.
Often archived reports from prior years can help you identify seasonal patterns for a specific body of water. Review the prior years to find consistent information for summer months of June, July and August. The information will be different than that for the fall months of September and October. Winter months of November, December, January and February will show information unique to this time of year, possibly including ice fishing details. Pay special attention to the spring (March, April and May) postings from prior years, as they should provide information to help you predict the approximate time for the spawn.
By state.
Fishing Information