Tactics For Catching Big Northern Pike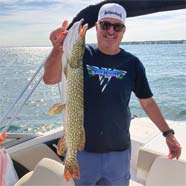 Northern Pike Introduction
All about fishing for northern pike in local waters, with lakes listed by state. These toothy critters can grow to over 50 pounds, and put up a very admirable fight. Choose a state to find lakes offering northerns.
Given the option, northern pike hang around shallow weedy areas where they can ambush prey. In lakes without vegetation they follow schools of baitfish and/or sunfish, in and out of the shallows. Pike are cruisers whether they are around cover or in open water. If you are not getting bit right away, move on and try another area until you find them. They are voracious feeders and will eat anything they can catch. If you can locate them, and get their attention, you're likely to get hooked up. Northerns are cousins of muskie, and the hybrid of these are called tiger muskies.
Northern Pike Fishing On The Fox River.
Watch several nice northern pike get hooked and landed during this northern pike trip to Fox River.
Fishing Shallow
Begin your search by fishing shallow and focusing on weeds if they exist. Topwater lures allow you to cover a lot of water quickly, and will attract active fish. If they won't hit topwater lures, go to spinners, spinnerbaits, shallow crankbaits or swimbaits. Keep moving and switch up lures until you find the right area and the most effective lures.
Mid Depths
Focus your attention just outside weedy or shallow feeding areas. Crankbaits, jerkbaits, swimbaits or casting spoons are good choices here. You may have to slow down the presentation if the fish are not aggressive.
Fishing Deep
Begin your search in the deeper water, nearby shallow feeding areas. Experiment with depth until you locate willing participants. A fish finder can be very helpful here. Flutter spoons, deep diving crankbaits and bait (live bait where allowed) are good options.
Trolling
Anytime the fish move deeper than 8 or 10 feet, trolling is a good option. Boat speeds of 2 mph to nearly 3 mph seem to be most effective, and can vary with lure choice and rigging method. When northerns move deep they can hang out in waters 40 or 50 feet deep, sometimes deeper. Identifying the depth can be made easier by trolling, as the depth of the lures can be controlled. Experiment until you identify the best depth range. Planer boards, downriggers and leaded line are options for deep trolling. Crankbaits, jerkbaits, deep divers, spoons and spinners can all be effective when trolling. Adding minnows, worms or cut bait can enhance your chance of getting bit, especially on slow days.
Ice Fishing
Ice fishing for northern pike is popular during winter on lakes that freeze over. It can also produce thrilling moments coaxing the big ones up through a hole in the ice.
Northern Pike Ice Fishing Basics.
Catch big northern pike through the ice for great winter-time fishing fun. Get the basics for the proper equipment and techniques.
Proven fishing lures for northern pike. Use bright colors and create lots of commotion. Check out a list of the top, proven northern pike lures. Wire leaders are a must as these pike have very sharp teeth.
Northern Pike
Esox Lucius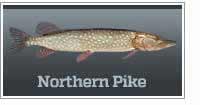 Also known as jack, jackfish, great northern pike and pickerel. Ideal water temperature: 58° to 70°
IFGA record: 55 pounds, 1 ounce
Be cautious when handling northern pike as they are all muscle with extremely sharp teeth.
Fishing for northern pike, by state.
Fishing Information