Fish Finders
Let technology improve your fishing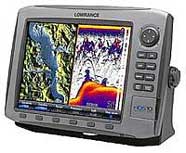 If you fish for fun, or participate in any level of tournament fishing, a fish finder can improve your odds of having a successful day at the lake. And the options for these marine electronics seems endless. The average fisherman can gain valuable knowledge about the fishing conditions from even the entry-level fish finders.
Fish finder manufacturers are competing at a rapid pace to have the most innovative technology available to fishing professionals and amateur fishermen alike. The technology today offers color screens defining fish, bottom configurations, the thermocline, bait fish, structure and more. Additionally, many fish finders include GPS navigation systems allowing one to mark the location of favorite fishing spots. Some of the more popular units are manufactured by Lowrance, Garmin, Humminbird and Raymarine.
Fish Finders, Transducers and Accessories.
Visit your local tackle store or bass boat dealer for a demonstration of the many fish finders available in a wide price range.
Locate information about fishing in every state.
Fishing Information