Guide To Fly Fishing
Gear, Trips, Equipment & Fly Fishing Vacations
Is Fly Fishing an Art or a Science?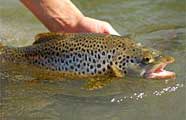 Some people view fly fishermen on rivers and streams whipping their line through the air as a work of art worthy of portraits and paintings. True fly fishermen study the science of fly fishing to understand the river, their fly fishing equipment, and the species of fish they are trying to catch. The science involves knowing when to use certain types of flies, the mechanics involved in fly casting, when and where to fish on the river, understanding fish species, which fly fishing equipment to use, and many other variables involved in fly fishing.
Fly Tying Tips

Jamie Clous offers tips for tying great flies that produce fish and stand the test of fishing pressure. Below this video, there's a complete listing of other fly fishing videos you might enjoy. Visit often as we are continually adding new videos to help you catch more fish on a fly rod.
Below this video, there's a complete listing of other fly fishing videos you might enjoy. Visit often as we are continually adding new videos to help you catch more fish using fly fishing techniques. Also listed are videos for other fishing interest.
Exactly What Is A River?
Fly fisherman fish both rivers and open waters; however, our focus here is primarily on river fishing. Rivers can be both natural or man-made, and both can produce excellent fly fishing conditions. Man-made rivers flow from lake dams and are subject to periodic water release schedules, which affect currents, oxygen levels, and the location of trout. A natural river's source can be rainfall, snow melt, or natural springs and often begin in mountain and hills. Natural rivers are also subject to seasonal water level conditions and variables that affect fly fishing.
Hatcheries
Fly fishing rivers are sometimes stocked by hatcheries that release specific species into rivers to mitigate fish levels. Hatcheries are often state funded entities that maintain and monitor fish levels in particular rivers to ensure tourism remains high. These are great areas to fish since many hatcheries are often mandated to maintain a specific level of fish a particular river.
Fishing Maps
River maps will help you determine where amenities and resources are available on any particular river. A quality map will show you boat launching areas, camping areas, distances, and bends in a river where trout congregate.
Fly Patterns
Fly patterns are the various types of flies or "lures". Fly patterns come in many varieties, such as dry flies, wet flies, emergers, nymphs, and streamers. Each of these "families" have a large variety of unique flies Gary LaFontaine said that there are three methods of choosing a particular fly: empiricism (trial and error tempered by previous experience), generalism (actually a denial that fly choice is very important), and naturalism (bug watching).
Fly Tying
Fly tying is in and of itself a passion that many die hard fly fishermen share as they go that extra mile to tie their own flies Online fly tying lessons are readily available for fly fishermen wanting to learn to make their own flies If you have the right fly tying equipment and after you become proficient, you can make your own custom flies in a matter of minutes.
Trout and salmon fishing in The Pacific Northwest
See some beautiful country, impressive colorful water and some of the best cold-water fishing in the USA. Salmon, trout, steelhead and more at the end of a fly line is fishing at it's finest.
Fly Fishing Strategy
If you plan on fly fishing on a river, one of the first things you should do is seek out a recent river report on the river you plan to fish. River reports provide you with information such as:
• dam generation and water levels
• weather
• water temperatures
• types of fly patterns you should use
Rivers usually span over many miles, and choosing the best spot can be intimidating if you are unaware of factors that contribute to successful fishing trip. One thing you should know is that fish are probably not active on all parts of the river on any given day. With a little planning, you should narrow your destination down to a specific location on a river that will produce the best fishing on the particular day you plan to fish.
or example, if you plan to go fishing on a river that has a dam that is actively releasing water, you will want to plan to fish several miles downstream away from the water generation source. One thing to keep in mind is that it takes newly released water about 12 hours to travel a few miles downstream. So, if a dam is releasing water on the morning you plan to fish, you should target down river locations.
Fly Casting
Fly casting is much different than typical bait casting. In fact, research in applied science has been performed by the Fly Casting Institute to record fly-casting motion during sessions at MSU in Bozeman, Montana in order to understand the bio mechanics and even medical issues surrounding fly casting.
Instead of casting bait and letting the weight of the bait pull the line, the weight of the line puts the fly at the location you want to fish. To become proficient at fly casting, you must learn to use the fly rod to cast fly line rather than the weight of a bait.
It is recommended that you enroll in a fly casting class to take lessons and receive fly casting instructions from a professional fly fisherman. Usually, you can find fly casting classes available at your local fly shop or fly-fishing clubs in your area. It's difficult to try to learn fly casting from a book or online videos. You actually have to get out on a river or an open area and cast for yourself. Practice makes perfect.
Leaders and Tippets
River fish are extremely perceptive and take notice to the disturbance in the water as the line and fly float on top. Depending on the speed of the current, this can greatly hamper your fly fishing experience. To mitigate this disturbance, fly fishermen use a Leader, a roughly 12 inch piece of transparent line, between the fly and the fly line. It is designed to be invisible to fish and prevent spooking when fish see the line as it lands on the water, and often made of monofilament nylon. As such, they are thin often susceptible to breaking. Leaders are rated by diameter and measures range from 0X to 8X. Smaller leaders should be used with smaller fly sizes.
Tippets are used at the end section of a leader to actually tie the fly. Tippet sizes range from 7X to 20 pounds and come in tinted light olive or clear colors. There are frog hair tippets and braided metal to withstand shock and fish teeth as they bite.
Miscellaneous Factors Effecting Fly Fishing
There are so many factors that determine a successful fly fishing trip. If you are not confident in your ability to determine variables that affect fly fishing activity, you should consider taking a professional fly fishing guide. A fly fishing guide will do the work for you and/or help you understand the many factors involved that make or break your fly fishing trip such as:
• Fish temperament
• Hot spots and undiscovered spots
• Fly patterns and color
• Fly line, leaders, and tippet sizes
• Water temperatures and levels
• Seasons and weather
• Food sources
• Local knowledge
Summary
Fly fishing is not only a hobby, it is a passion shared by many anglers around the world. The interconnected experience you receive from fly fishing is transcendental and rewarding. Get involved with the fly fishing club in your area and you will begin to reap the rewards of the favorite American pastime that so many fly fishermen already enjoy.
Our thanks...
to the great folks at Ozark Angler for their contribution and shared fishing knowledge on this page.
Try fly fishing for trout, by state.
Fly fishing for trout, salmon and steelhead.
Honing your fly-fishing skills will greatly enhance your chance for success every time you head out on a fishing excursion. Trout, salmon and steelhead can all be caught on live bait or spinning gear, but a fly rod is the perfect weapon to hook and land these wily targets in cold streams and rivers.
If you have information, articles or photos relating to fly fishing which you would like to see published here, we would be happy to hear from you. We will gladly give you credit for your contribution, please contact us if you are interested.
Fishing Information