Guide To Great Trout Fishing Locations In South Carolina
All about fishing for rainbow, brook and brown trout in area lakes and streams.
South Carolina may not be synonymous with trout fishing, but the state offers exciting opportunities for anglers looking to pursue these elusive cold-water species. South Carolina is home to both rainbow trout and brown trout, providing a diverse trout fishing experience for anglers of all skill levels.
Rainbow trout are the most commonly stocked trout species in South Carolina. These vibrant fish are known for their acrobatic leaps and aggressive feeding behavior. Several lakes and rivers in the state, such as Lake Jocassee and the Chattooga River, are popular destinations for rainbow trout fishing. Anglers can target rainbow trout using a variety of techniques, including fly fishing, spin casting, and bait fishing with worms or artificial lures.
Brown trout, prized for their size and wily nature, can also be found in select South Carolina waters. These cautious and wary fish offer a challenge for anglers seeking a more elusive catch. Lakes such as Lake Jocassee and Lake Hartwell are known for their brown trout populations. Brown trout are often targeted with fly fishing techniques, using realistic fly patterns to imitate their preferred food sources.
South Carolina has its fair share of impressive trout catches, with several state records highlighting the potential of its trout fisheries. The state record for rainbow trout is a testament to the quality of fish that can be found in South Carolina's waters. These records serve as a source of inspiration for anglers and showcase the potential for landing trophy-sized trout in the state.
Trout fishing in South Carolina is not limited to lakes alone. The state's rivers and streams, such as the Chattooga River and the Saluda River, offer excellent opportunities for anglers to pursue trout. These scenic waterways provide a natural habitat for trout, with stretches of moving water and secluded pools that are perfect for casting a fly or drifting a bait.
South Carolina may not be the first destination that comes to mind when thinking of trout fishing, but the state offers a rewarding experience for anglers seeking rainbow trout and brown trout. With a range of lakes and rivers that support trout populations, anglers can enjoy the thrill of pursuing these beautiful and challenging species. Whether you're casting on a serene lake or wading in a rushing river, trout fishing in South Carolina promises excitement, natural beauty, and the chance to land trophy-sized fish.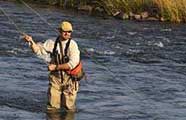 Trout Waters
Lakes in South Carolina with a significant population of trout include Clarks Hill Lake, Lake Blalock, Lake Bowen, Lake Jocassee, Lake Monticello, Lake Tugalo, Parr Reservoir and Lake Russell. The Chatanooga River offers trout fishing. Some other, smaller lakes, ponds and rivers contain trout as well.

Trout Species In The State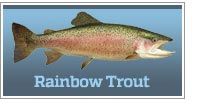 World record: 42 lbs 2 oz
State Record: 11 lbs 5 oz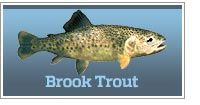 World record: 14 lbs 8 oz
State Record: 4 lbs 10 oz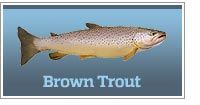 World record: 40 lbs 4 oz
State Record: 17 lbs 9.5 oz
Click the images and links above for species details.
Select the best trout lures and baits
Trout spinners, crankbaits and jerkbaits work well for shallow, reasonably active fish. Salmon eggs, worms and prepared baits will work at virtually all depths.
South Carolina State Record Trout
The state record rainbow trout was caught from Lake Jocassee.
The state record brook trout was taken out of the Chattooga River.
The state record brown trout came from Lake Jocassee.
Visit the South Carolina Department of Natural Resources website for information on trout stocking in SC.
Watch trout fishing videos to see trout anglers in action.
Additional trout information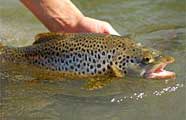 The 5 primary trouts are the rainbow, brook, brown, cutthroat and lake trout. Browns are considered the most difficult to catch and brookies are the easiest. Pure cold water is key to survival of the trouts.
Trout Conservation
Trout Unlimited
Trout locations and info, by state.
The habits of trout.
Trout are considered some of the most difficult fish to fool. Once you locate South Carolina waters with a population of trout, the challenge becomes identifying trout flies and lures that will trigger strikes. Visit the trout fishing page to learn more about the habitat each of the trouts prefer.
SOUTH CAROLINA