Great Trout Fishing In Ohio
Guide to fishing for rainbow, brown and lake trout in local lakes and streams.
Ohio offers excellent trout fishing opportunities, with a variety of trout species stocked in lakes and rivers throughout the state. Rainbow trout, brown trout, and brook trout are the primary species sought after by anglers.
Rainbow trout are the most commonly stocked trout species in Ohio. They are known for their vibrant colors, including a pinkish stripe along their sides. Rainbow trout can be found in designated trout fishing areas in various lakes and rivers, including the Mad River, Clear Creek, and the East Branch of the Rocky River. These fish provide exciting action for anglers, particularly during the spring and fall stocking periods.
Brown trout are another prized trout species found in Ohio waters. They are known for their elusive nature and challenging behavior, making them a favorite among experienced anglers. Brown trout can be found in select streams and rivers such as the Clear Fork of the Mohican River and the Chagrin River. These fish can grow to impressive sizes and offer a thrilling fight when hooked.
Brook trout, also known as speckled trout, are the smallest of the trout species found in Ohio. They prefer cold, clear streams and are often associated with more remote and secluded areas. Anglers can find brook trout in select streams such as Cold Creek and Clear Creek. These beautiful fish, with their vibrant colors and delicate patterns, provide a unique angling experience in Ohio.
Ohio's state records for trout reflect the potential for trophy-sized fish. The current state record for rainbow trout is over 21 pounds, brown trout stands at over 14 pounds, and lake trout record weighs over 26 pounds. These impressive catches highlight the quality of trout fishing available in Ohio's lakes and rivers.
Anglers looking to pursue trout in Ohio should consult the Ohio Department of Natural Resources (ODNR) for information on stocking schedules, fishing regulations, and access points. It's important to note that trout fishing in Ohio is primarily a put-and-take fishery, with stocked fish providing the main angling opportunities. Nevertheless, Ohio's trout fishing offers a chance for anglers to experience the thrill of catching these beautiful and elusive fish in picturesque settings.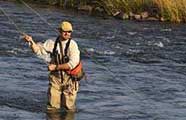 Trout Waters
Other lakes containing natural or stocked populations of trout include Antrim Park Lake, Bass Lake, Blue Limestone Park Pond, Blue Rock State Park, Crossroads Pond, Eyman Park Ponds, Foundation Park Pond, Granger Pond, Heritage Park Pond, Lake Alma State Park, Lake Erie, Lamberjack Lake, Lima Lake, Olander Lake, Norwalk Reservoir #1, Painesville Recreational Park Pond, Petros Lake, Rose Lake, Rush Run Lake, Scioto Trail State Park, Stonelick Lake, Swanton Waterworks Reservoir, Sycamore State Park Lake, Tawawa Lake, Timber Ridge Lake and Yoctangee Park Lake.

Visit the Ohio Department of Natural Resources for more information on trout fishing in Ohio.
Watch trout fishing videos to see trout anglers in action.
Trout Species In The State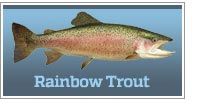 World record: 42 lbs 2 oz
State Record: 21.3 lbs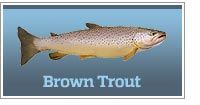 World record: 40 lbs 4 oz
State Record: 14.675 lbs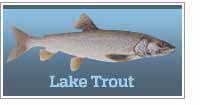 World record: 72 lbs 0 oz
State Record: 26.63 lbs
Click the images and links above for species details.
Select the best trout lures and baits
Trout spinners, crankbaits and jerkbaits work well for shallow, reasonably active fish. Salmon eggs, worms and prepared baits will work at virtually all depths.
Ohio Record Trout
Lake Erie produced the state record brown trout, lake trout and rainbow trout. It is the most prolific waters in the state to fish for big trout.
Additional trout information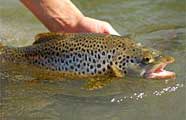 The 5 primary trouts are the rainbow, brook, brown, cutthroat and lake trout. Browns are considered the most difficult to catch and brookies are the easiest. Pure cold water is key to survival of the trouts.
Trout Conservation
Trout Unlimited
Trout locations and info, by state.
Learn the habits of trout
Trout are considered some of the most difficult fish to fool. Once you locate Ohio waters with a population of trout, the challenge becomes identifying trout flies and lures that will trigger strikes. Visit the trout fishing page to learn more about the habitat each of the trouts prefer.
OHIO