Guide To Great Trout Fishing In Ohio
All about fishing for rainbow, brown and lake trout in local lakes and streams.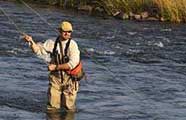 Trout Waters
Other lakes containing natural or stocked populations of trout include Antrim Park Lake, Bass Lake, Blue Limestone Park Pond, Blue Rock State Park, Crossroads Pond, Eyman Park Ponds, Foundation Park Pond, Granger Pond, Heritage Park Pond, Lake Alma State Park, Lake Erie, Lamberjack Lake, Lima Lake, Olander Lake, Norwalk Reservoir #1, Painesville Recreational Park Pond, Petros Lake, Rose Lake, Rush Run Lake, Scioto Trail State Park, Stonelick Lake, Swanton Waterworks Reservoir, Sycamore State Park Lake, Tawawa Lake, Timber Ridge Lake and Yoctangee Park Lake.

Visit the Ohio Department of Natural Resources for more information on trout fishing in Ohio.
Watch trout fishing videos to see trout anglers in action.
Trout Species In The State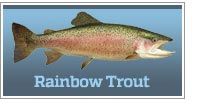 World record: 42 lbs 2 oz
State Record: 21.3 lbs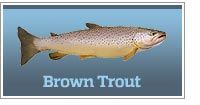 World record: 40 lbs 4 oz
State Record: 14.675 lbs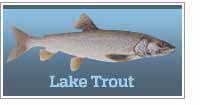 World record: 72 lbs 0 oz
State Record: 26.63 lbs
Click the images and links above for species details.
Select the best trout lures and baits
Trout spinners, crankbaits and jerkbaits work well for shallow, reasonably active fish. Salmon eggs, worms and prepared baits will work at virtually all depths.
Ohio Record Trout
Lake Erie produced the state record brown trout, lake trout and rainbow trout. It is the most prolific waters in the state to fish for big trout.
Additional trout information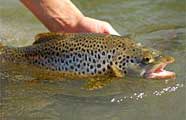 The 5 primary trouts are the rainbow, brook, brown, cutthroat and lake trout. Browns are considered the most difficult to catch and brookies are the easiest. Pure cold water is key to survival of the trouts.
Trout Conservation
Trout Unlimited
Trout locations and info, by state.
Learn the habits of trout
Trout are considered some of the most difficult fish to fool. Once you locate Ohio waters with a population of trout, the challenge becomes identifying trout flies and lures that will trigger strikes. Visit the trout fishing page to learn more about the habitat each of the trouts prefer.
OHIO