Guide To Fishing At Buckeye Lake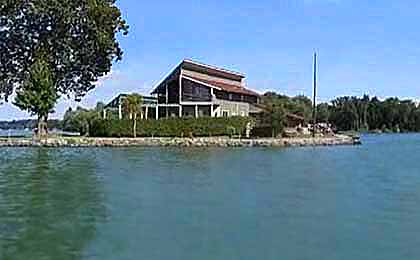 Whether you're fishing in T-shirts in summer or ice fishing in winter, Buckeye Lake is a great destination for anglers. Much of this 2,800-acre lake, in the central part of the state, is shallow (use caution), yet it yields nice stringers of bass, saugeye, crappie, catfish, white bass and hybrid stripers.
Buckeye Lake, situated in central Ohio, is a popular destination for fishing, boating, and camping enthusiasts. The lake spans approximately 3,100 acres, offering ample opportunities for outdoor recreation.
Fishing at Buckeye Lake provides anglers with a chance to target a variety of species. Largemouth bass, crappie, bluegill, and channel catfish are among the most sought-after catches. Anglers can cast their lines from the shore, utilize the lake's fishing piers, or take a boat out on the water to explore the lake's prime fishing spots. Buckeye Lake's diverse fishery ensures that anglers of all skill levels can enjoy a rewarding fishing experience.
Boating is a popular activity at Buckeye Lake, with the lake allowing various types of watercraft. Powerboats, pontoons, kayaks, and canoes can all be seen cruising across the lake's tranquil waters. Boaters can enjoy leisurely rides, engage in water sports activities, or simply soak in the beautiful surroundings. Boat ramps and marinas are available for convenient access to the water, making it easy to launch and dock watercraft.
For those looking to extend their stay, camping facilities are available near Buckeye Lake. The Buckeye Lake KOA Holiday offers a range of camping options, including tent sites, RV sites, and cabins. Campers can immerse themselves in nature, enjoy campfire cooking, and take advantage of the lake's fishing and boating opportunities.
Buckeye Lake's combination of fishing, boating, and camping options makes it a popular destination for outdoor enthusiasts in Ohio. Whether you're seeking a relaxing fishing trip, a thrilling boating adventure, or a peaceful camping experience, Buckeye Lake provides a versatile setting for all. With its diverse fish species, boating amenities, and nearby camping facilities, Buckeye Lake invites visitors to embrace the outdoors and create unforgettable memories.
Rip rap rock lines much of the 37 miles of shoreline, very little of which is available for fishing from the bank. Marinas offer rental boats, gas and supplies. Four boat launch ramps are available for public use. Small craft like canoes, kayaks and car-top boats work well for fishing along the rocky banks. Saugeye are a popular target when ice fishing in winter, plus bluegill are often cooperative.
What to fish for...
Fishing for largemouth bass, channel catfish, flathead catfish, black crappie, white crappie, bluegill, white bass, hybrid striped bass and saugeye at Buckeye Lake in Ohio.

Primary fish species residing in Buckeye Lake
Click images for fishing tips and details about each species.
Buckeye Lake Amenities
Marina: YES
Boat Rental: YES
Boat Launch Ramp: YES
Campgrounds: YES
RV Hookups: YES
Lodging: NEARBY
Convenience Store: YES
Bait & Tackle: YES
Restaurant: YES
Today's Weather & Forecast
Fishing Boat Rentals
Buckeye Lake Boat Rental
Rentals: Fishing kayaks and pontoons
614 446-0872
Public Boat Launch Ramps & Landings
Lakeshore Drive Boat Launch
Located mid lake, east side, off Lakeshore Drive NE, this is a one-lane, concrete ramp with paved parking.
Leib's Island Boat Ramp
Located in the southwest corner of the lake, off Leibs Island Road NE, this is two, two-lane, concrete ramps with paved parking.
North Shore State Park Boat Launch
Located mid lake, on the north side of the lake, off Hebron Road, this is a two-lane, concrete ramp with a dock and paved parking.
Marinas
Alexander's Landing
3940 South Bank Road
Millersport, Ohio 43046
740 467-2882
Buckeye Lake Marina
2920 Canal Dr
Millersport, OH 43046
740 467-2697
Fisher's Marina
3227 Fisher Ave
Millersport, OH 43046
740 467-2905
Click here for a Ohio Fishing License.
Campgrounds & RV Parks Nearby
Buckeye Lake-Columbus East KOA Campground - 740 928-0706
Buckeye Beach Park Campground - 740 538-5253
Buckeye Lake OH Map - Fishing & Camping Areas
Lake Video
Contact Information
Buckeye Lake
Buckeye Lake Marina
2920 Canal Dr
Millersport, OH 43046
740 467-2697
Fishing lakes in each state.
Buckeye Lake in OH
OHIO


Fishing for bass, saugeye and crappie in central OH
Buckeye Lake, in Ohio.