Fishing At Clendening Lake
AKA: Clendening Reservoir
What to fish for...
Guide to fishing for largemouth bass, smallmouth bass, channel catfish, flathead catfish, black crappie, white crappie, bluegill, white bass, yellow perch and saugeye at Clendening Reservoir in Ohio.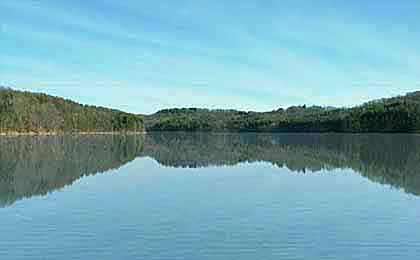 With almost 50 miles of shoreline, Clendening Lake is a favorite fishing for bass, crappie and bluegill. This 1,800-acre lake in the northeast part of the state also sports healthy populations of catfish, white bass, perch and saugeye.
Clendening Lake, located in eastern Ohio, is a popular destination for outdoor enthusiasts seeking a serene and picturesque setting. With its sprawling waters and diverse recreational opportunities, Clendening Lake is a haven for fishing, boating, and camping.
Fishing at Clendening Lake offers anglers the opportunity to target various fish species. The lake is known for its abundance of crappie, largemouth bass, bluegill, and channel catfish. Anglers can cast their lines from the shore, fish from a boat, or explore the lake's numerous coves and structures to find optimal fishing spots. With its diverse fishery, Clendening Lake ensures anglers have a rewarding and enjoyable fishing experience.
Boating is a popular activity at Clendening Lake, providing visitors with a chance to explore the expansive waters. The lake permits different types of watercraft, including powerboats, pontoon boats, and kayaks. Boaters can enjoy leisurely cruises, engage in water sports activities, or simply relax while taking in the beautiful surroundings. Boat ramps and a marina are available for convenient access to the water, making it easy for boating enthusiasts to enjoy the lake.
Camping facilities at Clendening Lake cater to those looking for an extended stay in nature. The Clendening Lake Marina and Campground offer a range of camping options, including tent sites and RV sites with electric hookups. Campers can immerse themselves in the tranquil ambiance, enjoy outdoor activities, and take advantage of the lake's fishing and boating opportunities.
With its excellent fishing, boating amenities, and camping options, Clendening Lake provides a well-rounded outdoor experience for visitors. Whether you're an avid angler, a boating enthusiast, or a nature lover seeking a peaceful camping retreat, Clendening Lake offers something for everyone. With its scenic beauty, diverse fish species, and serene atmosphere, Clendening Lake is an ideal destination for outdoor adventure and relaxation.
Three boat ramps, a marina, boat rentals, a restaurant, camping and picnic facilities enhance a visit to Clendening Lake. A few areas near public facilities provide access to the shoreline for bank fishing, and these areas typically provide a place for launch of a canoe or kayak.

Primary fish species residing in Clendening Lake
Click images for fishing tips and details about each species.
Clendening Reservoir Amenities
Marina: YES
Boat Rental: YES
Boat Launch Ramp: YES
Campgrounds: YES
RV Hookups: YES
Lodging: YES
Convenience Store: YES
Bait & Tackle: YES
Restaurant: NO
Today's Weather & Forecast
Fishing Boat Rentals
Clendening Lake Marina and Campground
Rentals: Fishing boats and pontoon boats
740 658-3691
Public Boat Launch Ramps & Landings
Clendening Lake Marina & Campground Boat Ramp
Located mid lake, on the south side of the lake, off Bose Road, this is a two-lane, concrete ramp with a dock and paved parking.
Simpson Road Boat Launch Ramp
Located in the northeast corner of the lake, north side, off Simpson Road, this is a two-lane, concrete ramp with a dock and paved parking.
Marinas
Clendening Lake Marina and Campground
79100 Bose Rd
Freeport, OH 43973
740 658-3691
Click here for a Ohio Fishing License.
Campgrounds & RV Parks Nearby
Clendening Lake Marina & Campground - 740 658-3691
Clendening Lake OH Map - Fishing & Camping Areas
Lake Video
Contact Information
Clendening Reservoir
Clendening Lake Marina & Campground
79100 Bose Rd
Freeport, OH 43973
740 658-3691
Fishing lakes in each state.
Clendening Lake in Ohio.
OHIO


Clendening Reservoir offers largemouth and smallmouth bass, crappie and bluegill fishing in eastern OH.
Fishing on Clendening Lake, in Ohio.